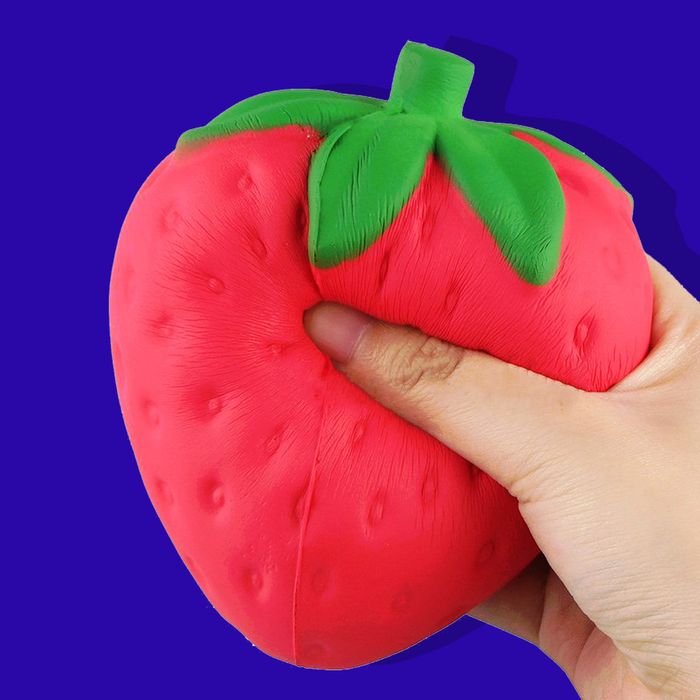 Not sure if you can tell, but this feels amazing.
Fidget spinners are literally everywhere, which means they are also no longer cool. Would any self-respecting 7-year-old show up to her first day of school with a toy her mom's co-workers are also all talking about? Absolutely not. So in an effort to find out what's next, we reached out to Judy Ishayik, owner of New York City's Mary Arnold Toys, who pointed us in the direction of squishies: Things that look like other things that are also really amazingly, satisfyingly, squishy. Here's what they're all about.
When were fidget spinners over?
Once they were everywhere. Literally, the newspaper guy down the street was selling them, so I was like, "Okay. It's a little bit saturated." I don't know if you know about Shopkins, but those were collectibles that were really hot, and it seemed there was room in the market again for collectibility. The spinners were selling out, the Shopkins were selling out — someone needed to take the place of that.
And how did the next "it" thing come about?
We started hearing about squishies in the spring. The first ones were called Kawaii Squishies, and we just thought they were super cute. As the kids were going for camp, it was something that was being packed in the trunk and then asked for on visiting day. Then more and more vendors started making them. The other day, one of my associates was pricing them in the register area, and as she was pricing them, customers were looking through what she had. We were selling some literally right out of the box, so I think it's going to be another weekly order sort of thing just like it was with the fidgets.
How do kids play with them?
A lot of them come in a key-chain version, so it's more a cool accessory. People mostly make squishy collections, though. I've seen cool videos of smushing squishies on the internet. They're so cool to touch, just like a really cool texture. It's sort of like a kiddie stress ball. Like a cool fidget toy, I suppose, you could call it.
So is that part of their marketing?
I think so. It's cuteness factor, and then collectibility. And then it's also just a satisfying squeeze. That sounds weird, but.
What makes for a good squishy?
The slower they rise, the better. After cuteness, that's what people should pay attention to.
What are some of the hot styles?
The fruit are doing really well. Bread is doing really well. I know we sold out of the apple super quickly, and the hamburger. We just got in a unicorn, I'm sure that's gonna go. We got in strawberry shortcake — not the doll — but the actual cake. Super, super cute. And then we have some that look like panda bears. They're food and animals.