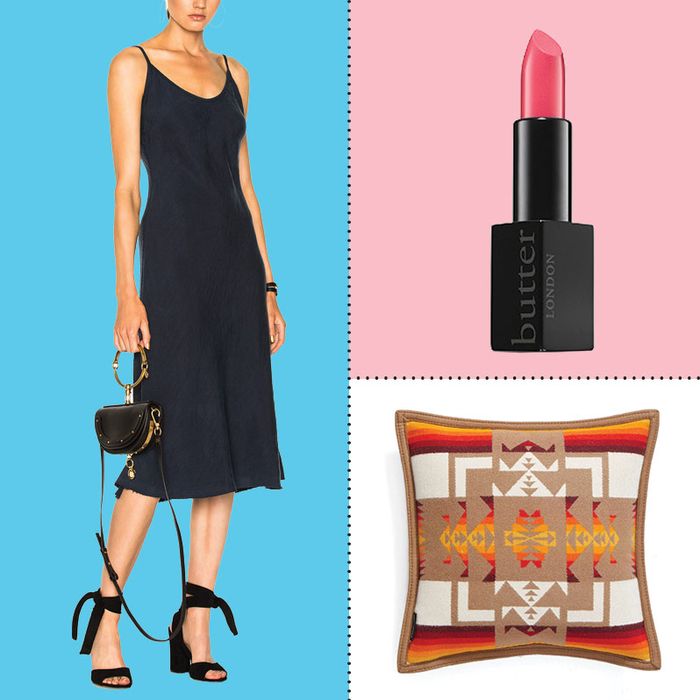 This week, we got more comfortable with the fact that summer is indeed over, and began thinking about colder-weather things like jackets, tights, and bread-makers in earnest. Below, the best of what we culled from the internet's various sales bins, including a pair of insanely discounted Maryam Nassir Zadeh heels and a backpack-tote combo.
Looking for a pair of fall flats that don't look like everyone else's fall flats? We like these silky sort of slipper-inspired Vince ones.
Original Price: $225
Photo: afront
Next time it rains and you don't want to spoil your outfit with full-on boots, try these rubber Hunter slip-ons instead.
Original Price: $115
A mint bud vase from Chicago-based homewares line Shiraleah.
Original Price: $29
This simple bomber jacket (that's a little bit longer than your typical bomber) comes courtesy of Abercrombie & Fitch, of all places.
Original Price: $120
Update: This is no longer on sale. But here's another bomber jacket that is.
Luckily, there is no rule about wearing leopard after Labor Day.
Original Price: $160
If your fall or winter resolution is to finally make homemade bread. Also, there's a gluten-free setting. (It's one of the many discounted homewares from Jet's warehouse sale that we wrote about the other day.)
Original Price: $70
Pay your respects to New York's OG concept shop with this Opening Ceremony tote. It also comes in a darker denim and a pale pink.
Original Price: $55
Tights season is nigh. These Wolfords have a sexy little design up top, but are all business down below.
Original Price: $67
Love 'em or hate 'em, some classic Spanx. (There are now only a few sizes left; here's another pair of on-sale Spanx.)
Original Price: $42
A cotton jacket from Current/Elliott that can also be worn as a cardigan.
Original Price: $268
We have a deep love for both gingham and piping, so these place mats and napkins are giving us chills.
Original Price: $18
Are we a little too obsessed with gingham? Maybe. (Incidentally, we just bought this wallet.) But this DVF minidress is just darling.
Original Price: $348
A red-and-tan cross-body bag from DVF with a very cool stitched handle.
Original Price: $398
Now for our beauty portion of this sales post. A creamy, long-lasting Butter lipstick, discounted as part of Ulta's 21 Days of Beauty sale.
Original Price: $22
This makes your skin brighter and smoother by scrubbing away dead skin — but without making your face feel raw.
Original Price: $79
A different kind of face scrub: This one's a cleanser, from Murad, that specifically targets acne.
Original Price: $30
Upgrade your glassware with these Riedel Cabernet glasses.
Original Price: $30
A leather skirt that won't bankrupt you.
Original Price: $210