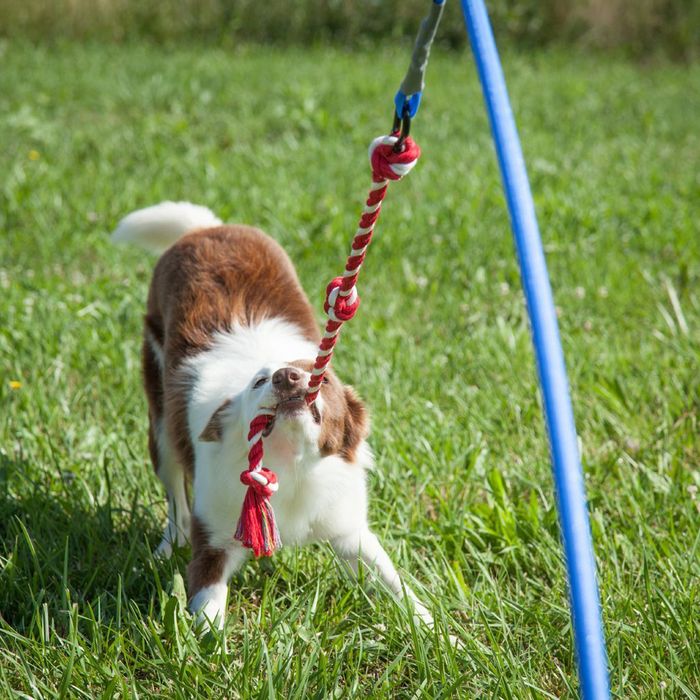 This pup is having a blast with the Tether Tug.
Last week, we brought you the 20 most-wanted toys of the upcoming holiday season. I'm back today to tell you that we learned something else while walking through all of those holiday toy fairs: the best new toys and gear for dog and cats. Here's what everyone's clamoring for. (And while you're at it, we've also got the best Halloween costumes for dogs and a whole slew of the very best in pet products and accessories.)
Do you love when your dog gets all that extra energy out, but absolutely hate when you have to touch all of the slobbery, gross toys? There is now the Tether Tug. This outdoors-only contraption is much like a tether ball for humans, only it's for dogs. It toy comes with a base that gets driven into the ground and holds up a fiberglass pole. On that fiberglass pole is a rope with a toy attached to it. The dogs go crazy playing tug-of-war with the toy, and the pole just bends and pulls according to their needs. No more touching gross toys. Extra perk: It's handmade in the USA.
This cool Wooly Snuffle mat helps dogs practice their sniffing and foraging skills. Owners pour dog food or snacks into what ultimately looks like a really shaggy rug, and then dogs sniff around to find their food. This is a great tool for both dogs who eat too quickly and make themselves sick and dogs who like puzzle games and challenges. The rugs are made by rural families in Thailand and are machine washable.
The goDog RhinoPlay dog toys are a series of toys for the aggressive chewers in your life. The origin story begins with a soccer ball the One World Play Project developed that was more durable than regular soccer balls and made from nontoxic foam that was waterproof, easily washable, and would never puncture. These soccer balls didn't even need to be inflated. Turned out that was actually the perfect recipe for a dog toy. Despite intense chomping from the most aggressive chewers, these toys retain their shape and won't pop. They come in four shapes: the Beast (looks like a ball), Flip (looks like a hockey puck that flips up at the edges), Vexo (above, looks like a bone) and Cirq (looks like a doughnut with space for hiding treats).
Match your Pendleton blanket to a Pendleton dog bed, which is made from a material reminiscent of soft and heavy fleece. The bed is so comfortable and full of support that the TTPM dog-product reviewers say it might even stop your pup from curling up on your couch or bed.
For the dog who never touches the ground (or goes on long-distance bike rides with parents) there's the K9 Sport Sack AIR, one of the few doggy backpacks that carries your pup on your back. This is a plus because it creates a natural barrier between your dog and the too friendly people who might come up from behind and surprise pet him. Once in the backpack, the dog's paws sit on the wearer's shoulders and it's absolutely adorable. The backpack also comes with built-in air vents, pockets for water or treats, and a bottom pad for extra comfort. It's best for dogs under 30 pounds.
This cat snack gadget infuses cat toys with catnip. Place the toys in the center of the box and pour catnip into the compartments along the edges. The nip then infuses the toys through lots of little holes, and your cats will forever be interested in playing with her toys, no matter how old.