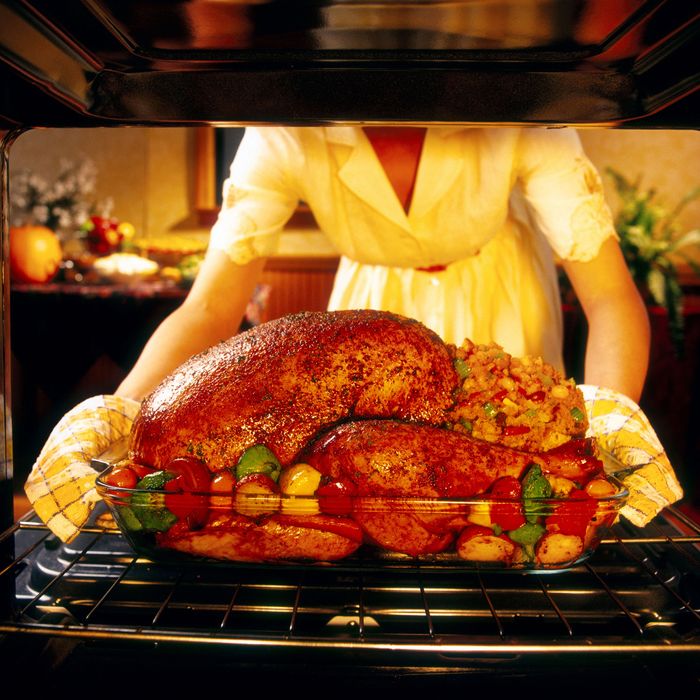 Photo: Lew Robertson/Getty Images
If you've been tasked with cooking Thanksgiving dinner and are feeling overwhelmed by the thought of roasting a turkey for the first time, you're not alone. Nicole Johnson has spent every Thanksgiving Day for the last 16 years answering calls to the Butterball Turkey Talk-Line, a hotline for anyone experiencing a turkey emergency, and she's talked with plenty of people who need to learn how to roast a turkey, stat. "A lot of times, when we get a phone call, the person will be in the grocery store, and they want us to walk through, start to finish," she explained, "what kind of turkey to buy based on how many guests they have; what kind of pan to buy."
And if there's anyone who's going to be able to give you a comprehensive shopping list of all the gear you need to roast and serve a turkey this Thanksgiving, it's Johnson and her colleagues at the Talk-Line. These turkey experts go through months of food-safety training at Butterball University to master all of the different ways to cook a turkey, so they can tell you exactly what you're doing wrong and why (but always in the most polite, kindest way possible).
"The day's never going to run perfectly smoothly," Johnson warned me on the phone, but having the right gear in your kitchen, from the best roasting pan to the best food-storage container for leftovers, can at least make the process of learning how to roast a turkey on Thanksgiving a little easier, especially for a first-time cook.
"For those who are first-time cooks, we like to recommend our tried and true way, which is just a shallow, open roasting pan, about two to two-and-a-half-inches tall along the sides. And if you have a flat rack to place in the bottom of the pan, that's ideal, because it helps elevate the turkey up off of the pan, and allows for that nice, hot circulating air. You want to make sure the pan that you have is a good conductor of heat. Sometimes, the really shiny aluminum pans — yes, they're beautiful; they're gorgeous — they're not really good conductors of heat."
"Regardless if they're a new cook or a more seasoned cook, a meat thermometer is so important. It's the most accurate way to check for doneness. You don't want to overcook your turkey, but you certainly don't want to undercook it, either. So we do recommend a meat thermometer, and it's going to register 170 degrees Fahrenheit in the breast and 180 degrees Fahrenheit in the thigh when the turkey's done. You still use a 325-degree-Fahrenheit oven from start to finish. You don't jack up that oven at all."
"We always recommend [cooking the turkey] breast side up, and so with it being breast side up in the oven, you'll notice that about two-thirds of the way through the cooking process, the breast area is starting to brown a lot faster than the rest of the turkey. Well, you don't want to continue going that route, right? Because you're going to end up with a really over-browned breast, and then the thighs and everything are going to be kind of coming up to speed. So at that point in time, we tell folks to rip off a sheet of aluminum foil, about the size of a notebook sheet of paper, and they're going to tent or lightly shield that breast area, and that's going to help prevent the breast from over-browning."
"The brand of knife does not matter, as long as it's a sharp, straightedge knife! If you own a carving knife and fork that works great, but if not, a chef's knife works just as well. One tip while carving is to steer clear of using a serrated knife, as it will shred your meat."
"Make sure your carving board is big enough for your turkey, in order to give yourself adequate working space. We prefer to use wooden carving boards. Bonus if it has grooves around the outside to catch the juices!"
"We tell people the two-hour rule. From a food-safety perspective, they do want to make sure they have that meat sliced off the bone and ideally in a shallow container, and back into the refrigerator if need be within two hours or less from it leaving the oven. In other words, you don't want to let that turkey meat sit on the counter for hours and hours. [Don't] put the whole turkey, meat intact, back in the refrigerator."
The Strategist is designed to surface the most useful, expert recommendations for things to buy across the vast e-commerce landscape. Some of our latest conquests include the best dining room decor items, coffee makers, knife sets, Japanese coffee brewer, charcoal water filter, and drinking glasses for water and more. We update links when possible, but note that deals can expire and all prices are subject to change.
Every editorial product is independently selected. If you buy something through our links, New York may earn an affiliate commission.