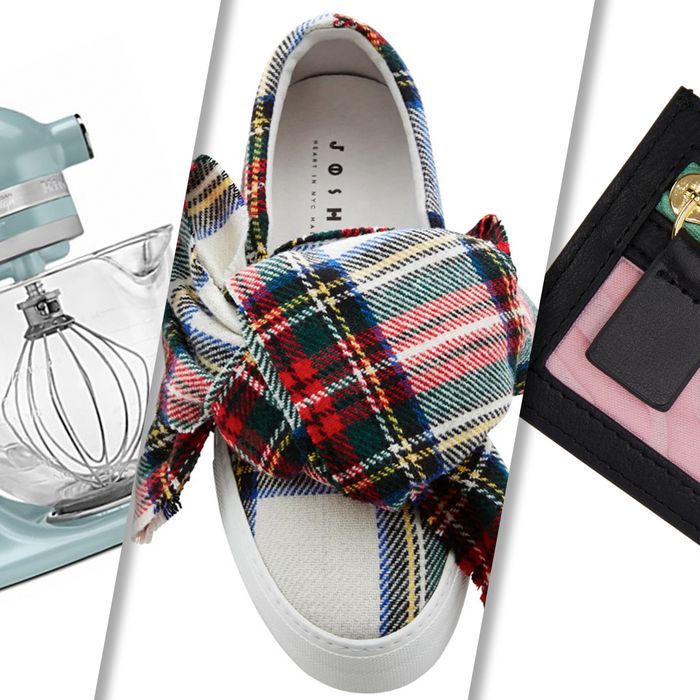 Black Friday is officially underway and there are some steep discounts, from a Proenza Schouler top to a KitchenAid mixer and a Phillip Lim satchel.
A classic trucker with a slightly different silhouette than the rest of the styles you probably own.
Light grey polka dot kicks for only $90.
A pair of $32 socks is a bit steep, yes, but these are Comme des Garcons $32 socks, and they'll immediately add a bit of Fashion to your favorite sneakers, booties, and loafers alike.
Go '70s with one of our favorite ringer tees of the season.
Study hard with a bright blue tote that reminds you to do just that.
A top that works as a sporty crop with jeans as well as an athletic sports bra.
Make sure you have a pouch that stores just the essentials next time you're running out with your tiniest clutch.
Stripes will forever be a classic you can't overdo in the closet.
While they're still a splurge, at 40% off, it may just be time to treat yourself to these Gucci stunners.
Make sure to grab that pair of sneaks that will have everyone turning their heads and asking you where they can pick up their own pair.
Before there was Vetements, there was the original. Get yours for less than $100 today.
It's hard to say no to a wallet in the most perfect shade of peach.
Satchel meets bucket meets hobo in this structured leather bag.
On-sale five-quart KitchenAid stand mixer alert!