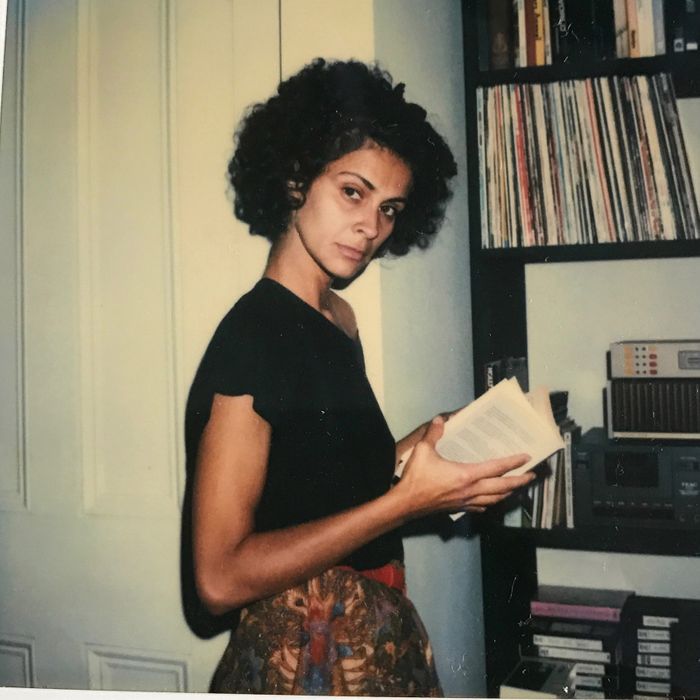 The author's mother in 1987.
My introduction to the world of beauty looked like lots of girls' introductions to the world of beauty: sitting on the edge of the bathtub watching my mother get ready in the morning. Her constant fixation was her hair, which she allowed herself extra time to focus on (and obsess over) every single day without fail. I'd watch her tend to it, mesmerized by the care she put into systematically crunching, pulling, and massaging her ringlets. My hair couldn't be more different from my mother's: It's straight, with a tendency to get oily, while hers is extremely curly, with a tendency to get big and frizzy — a transformation she fights with a, well, regimen that is (I only recently realized) as obsessive and specific as my face-care routine.
This realization was major and really threw me off. How did it take me so long to realize that my Google Doc skincare was just a sign that I was one step closer to completely turning into my mother? As a means of coping — and as a service to my curly-haired readers — I asked my mother about her crazy curly-hair-care routine, the one that ensures perfect, bouncy, and shiny curls. Full disclosure: I wouldn't say any of these products are "dupes" or "bargains"; she's admittedly a lady of luxury. But the holidays are coming up — so if you're a curly-haired girl, slip this list to your loved ones as a not-so-subtle hint. In my mom's own words:
"First, shampoo and conditioner. If I have an event, I try to wash my hair the day before; I personally think my hair looks best a day in. When my big, curly hair is too squeaky clean, it gets frizzy, and that's a bad look for me. I like to change my shampoo and conditioner up so that my hair doesn't get used to it. I like to think that surprising my follicles makes the products most effective. I also dye my hair every month, which dries it out. The Sachajuan Colour Save does the best job bringing it back from the dead, and is incredibly nourishing.
"My other go-to shampoo is Naturaltech, which doesn't protect my hair from the dye in any way, but is incredible for that deep hydration, and always leaves my curls nice and bouncy."
"On days where I have to wash my hair, I towel it dry then immediately comb it through with a wide-tooth comb, like this Mason Pearson one."
"After I comb, I mix together this Oribe Curl Gloss and L'Oreal Mythic Oil in the palm of my hand, then run the mixture through my damp hair. The curl gloss hydrates and the mythic oil nourishes and gives shine, so together they make my hair look super-shiny and bouncy. This concoction gives body to the curls and kills the frizz. It's all about avoiding frizz."