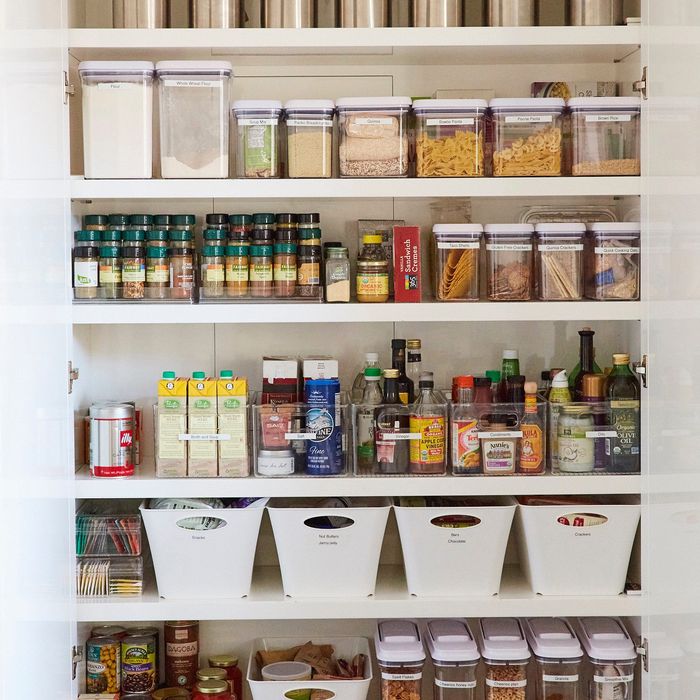 Photo: Barbara Reich and Lara Metz
If you've ever tried to organize any room — whether it's your bathroom or bedroom or home office — you've probably realized that you need to buy some kind of container to hold your stuff. But it can be tricky to know what type of storage bin is best for which purpose. So to save you from buying things that won't actually help you achieve the organized home of your Kondo-inspired dreams, I spoke with four professional organizers about their favorite storage bins for every room and purpose, including toy storage bins, clothing and shoe storage bins, and underbed storage bins.
And though every room and organizing project is different, these 12 baskets, bins, and boxes are the storage options that these organizing professionals reach for the most when tackling any client's space (and, in one case, even their own).
"One of my all-around go-to lines of bins for smaller items that are going to go on a cabinet shelf are actually called Binz. They're made by InterDesign. They're really beautiful, clear plastic bins. Most of them have handles integrated into them. I love them because they're clear, so it's easy for people to see what's inside. You don't even have to label them, much as I love labeling. What I love about them also is that you can sort of turn a shelf into a drawer. It's always hard to get to small things in the back of a shelf, which is why you want to contain them. So if you put all of your spices or all of your beauty products or small office supplies in one of these bins, you can pull the whole bin out and see exactly what your stash is." — Lisa Zaslow, Gotham Organizers
"One of my other favorite containers, also by InterDesign, is called the Zia basket. It's more of a caddy. It has a handle, and it doesn't have a top, but they do stack if you don't fill them above the edge. It's great for things that you need to move around from place to place, like for craft supplies, for makeup, for office supplies. They've got square holes in them, so you can see what's inside, but they also have a solid, plastic bottom." — Zaslow
"These Nordic baskets have a top that sort of slides off. You just lift it off. You don't have to get your finger under it to pry it off, which is why I like that one. Let's say, for example, I was using it in a kitchen. Many people have several varieties of hot tea. I could do a bin for hot tea. If I were using it in a playroom, Play-Doh could go inside of one. Figurines could go in one. They could be used for a lot of things." — Barbara Reich, founder, Resourceful Consultants
"The other one that I like is the white taper storage bins with handles. Again, really inexpensive. But because they're white, they really blend in with any white shelf, and it's just a very clean look. I would use these in a bathroom. I would use them in a kitchen, because they can be wiped down easily." — Reich
"I love the shoe bins from the Container Store. It's essentially a shoe box, but it's clear. I have probably eight or ten of them, and I've moved five times in the last two years, and they go with me everywhere. The fact that I'm able to repurpose them in each space for something different is really great. I actually have never used them for shoes, funnily enough. Right now, I have two in my linen closet: one holding clothes helpers like fashion tape and lint rollers and a little sewing kit, and the other one is holding medicine, all that stuff you don't use on a daily basis. I have some without the lids in my underwear drawer, so they're holding socks and panties and tights." — Beth Penn, founder, Bneato Bar
"The Container Store has these really nice drop-front boxes for shoes. I find that the drop-front boxes keep the dust out." — Laura Cattano, professional organizer
"The other things I use are clear, plastic drawers from the Container Store. They're not airtight, which is good, because most shoes are leather, and they want to be able to breathe. I did that in Lena Dunham's closet for all of her dress shoes, because she's not wearing them a ton. The drawers stack, and it's a drawer. So you can just grab the one that you want. And the drawer comes fully out, which I like, because you can take the whole drawer out, put the shoes on, put them back. They're very easy to use." — Cattano
"Muji is heaven. I love their soft boxes. It's a pliable canvas, but it's a treated canvas, so you can actually wipe it down, which I find very helpful. I like to clean as we go, and everything gets dirty. They're bins, zippered boxes. They come in multiple sizes. For me, it's important that the box not only hold what you're holding, but it's not so heavy that you can't lift it. So they don't seem that big, which is good. They hold a ton of clothes, but they're not huge, so when they're full, you can actually lift it." — Cattano
"I know the feng shui proponents are not a huge fan, typically, of storing stuff under the bed. But this is Manhattan, and if you need to use that space, it's a really big space. But it's important to have a good container down there because you do want something with a lid so things don't get dusty. They make some with gliders, so it makes it easy for things to slide in and out from under the bed." — Zaslow
"My approach to organizing is based on lifestyle, and most people come to me because they want it to look good. They don't just want clear, open plastic bins all over the house. Most of my clients are like, 'I don't want my living room overtaken with toys. I want, when the kids are in bed, to live in a nice adult space.' So there are some beautiful open baskets, or baskets with lids, that are larger. Good for bigger things, so you can kind of hide it, and if someone walks in, they see a beautiful basket instead of the toys." — Cattano
"Any of the big bins made by Rubbermaid are fantastic quality for outdoors. They're large. They have really secure fitting tops, so that's great if you do need to store stuff outside or things like smelly hockey equipment. They stack. You do have to label them, because these are not clear. You think you won't forget what's inside, but you will." — Zaslow
The Strategist is designed to surface the most useful, expert recommendations for things to buy across the vast e-commerce landscape. Some of our latest conquests include the best comforters, bath towels, bed sheets (twice), pillows for side sleepers, weird kneeling chair, and sleep accessories. We update links when possible, but note that deals can expire and all prices are subject to change.
Every editorial product is independently selected. If you buy something through our links, New York may earn an affiliate commission.