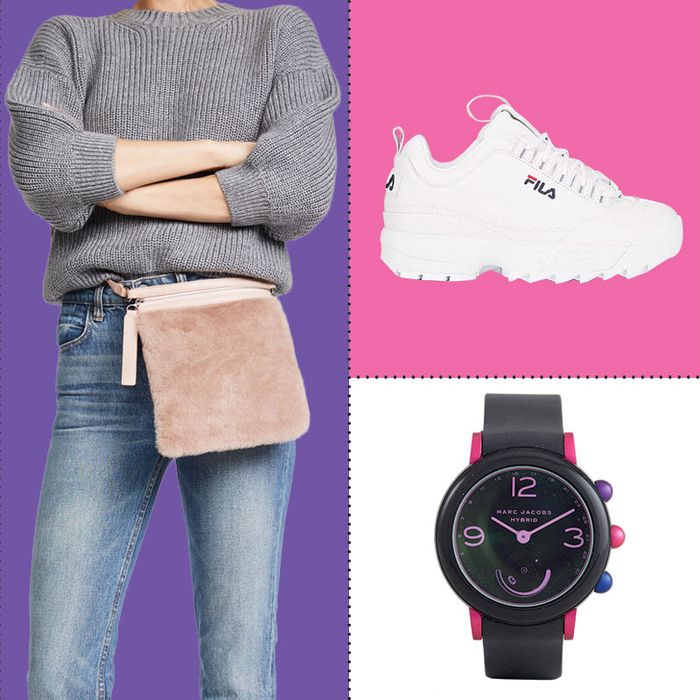 Last year, we talked to an expert at trend-forecasting agency WGSN about the best gifts to buy ahead of the Black Friday/Cyber Monday crush. This year, following the release of Business of Fashion's influential quarterly trend report, we're drilling down even further by talking to forecasters in various categories to find out what will sell out for men, for tech junkies, for kids' toys and games. Today, a chat with WGSN editor Marian Park on women's fashion and clothing gifts to buy before they sell out. (If you're nostalgic for last year's trends, see them here.)
So this is really part of an umbrella-trend movement where streetwear that men have been doing is moving into the women's world. We're not really seeing that sultry '90s pajama dressing from last year so much anymore. Now it's really all about hype culture (with Hypebae and Hypebeast and High Snobiety influencing women's clothing). It's about taking a menswear hoodie, tweaking the silhouette, and making it a luxury cozy item. That KITH x Vogue collaboration obviously has completely sold out, but that idea gets at it. Right now, the Champion shearling is going to be huge. It's a sherpa material on a hoodie silhouette.
This has already sold out, but a very similar men's version can be found on Amazon.
High-tech is huge for women — it's moving from a normcore thing to more of a gorpcore level, which we saw a lot for spring/summer 2018. There was Valentino and Isabel Marant doing anoraks, and now we're seeing tech/rain jackets with this kind of material taking over everything in the fashion industry.
Wearables for women have really shifted from Fitbit active bracelets into something more like a smartwatch. So you have Fitbit doing this smartwatch called Ionic, and fashion brands like Tory Burch or Vera Wang making activity trackers that blend technology with luxury and feature all these interchangeable bracelets. The smartwatch is truly the new activity tracker though. Marc Jacobs has created this camera-shutter activation in its activity-tracking smartwatch that helps you with selfies, that takes it to the next level. These are huge for holiday.
Something else that's happening is this British soccer-hooligan look that Gosha Rubchinskiy made happen last year with men, and now women's clothing is chasing that through. One thing to note is how women are styling it. You remember that high/low Thrasher tee and skirt and Stan Smith thing that editors were doing last year? We're moving on from that.
We've really moved from a skater thing to something more like a soft, cozy Champion color palette. They do these reverse-weave sweatshirts in these great colors like pastel pink and icy blue. I know we've been talking about millennial pink a lot, but that will continue to be strong, as will this shade of lilac (already sold out) that's coming up.
So just a few days ago, Business of Fashion released its quarterly report about the most-buzzed-about brands and Balenciaga instead of Gucci was No. 1 — and the Balenciaga knit sneaker was the No. 1 most-coveted item. It looks like a sock with a Skechers bottom — it's truly that ugly sneaker.
The ugly sneaker? Yeah, that idea really comes from '90s to Y2K, early-2000s rave culture. We saw how the Yeezy sneaker really launched that, and now it's like, the more detailed and wild, the better. If you can't get your hands on the Balenciaga, the Fila Disruptor is your shoe. It's actually been sold out everywhere, but now you can find some occasionally, so get them if you can. It has the idea of a Timberland boot but in a sneaker.
If you can't afford the Balenciaga sneaker (and many of us cannot) you probably will want the Vetements x Reebok socks.
When you're in that world but don't have that kind of money to drop, there are other things to buy, too. We're going to be seeing a lot of people gifting a Yeezy Calabasas cap, for instance. It's still that cozy-comfort streetwear look without getting too crazy expensive.