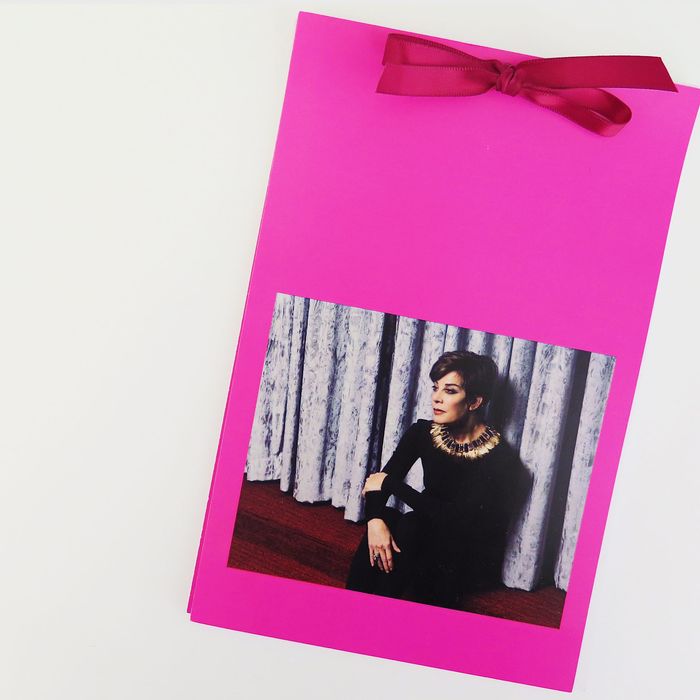 "How to Look Like Me at 70": We got our grubby hands on it.
Photo: Alexis Swerdloff
At powerful publicist Peggy Siegal's various 70th birthday parties this past July, she handed out a little pink pamphlet to the gathered guests (among them Woody Johnson, Julian Schnabel, Julia Koch, Larry Gagosian, and Blythe Danner), titled, "How to Look Like Me at 70." The 20-page booklet, a sequel to "How to Look Like Me at 60," which she claims "is still being passed around Park Avenue today," details the doctors, plastic surgeons, and beauty products that keep her looking sprightly. When a colleague alerted me to the existence of said booklet, I promptly emailed Peggy to see if I could get my hands on it, and she messengered one over. There are a lot of gems in there ("Dr. Deland is the ankle king of New York," "Dr. Imber gave me a new neck on my 59th, and a newer neck on my 66th," "Dr. Frankel gives the best toe reductions"), but I wanted to know more — and since this is the Strategist, more about her products. So I got her on the horn last week, and asked her to elaborate.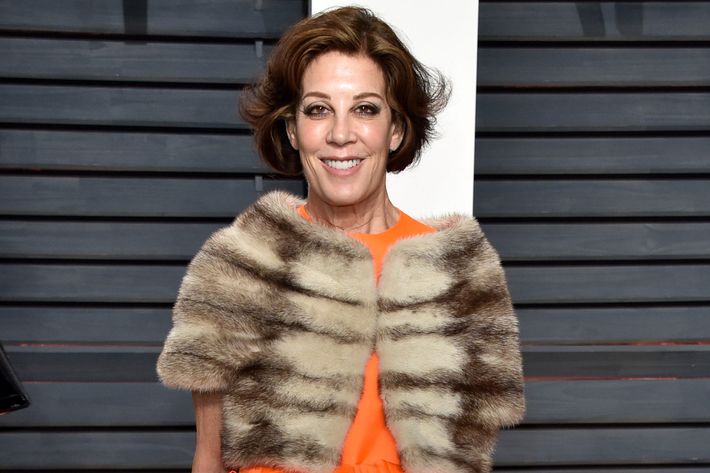 On Why She Made the Pamphlet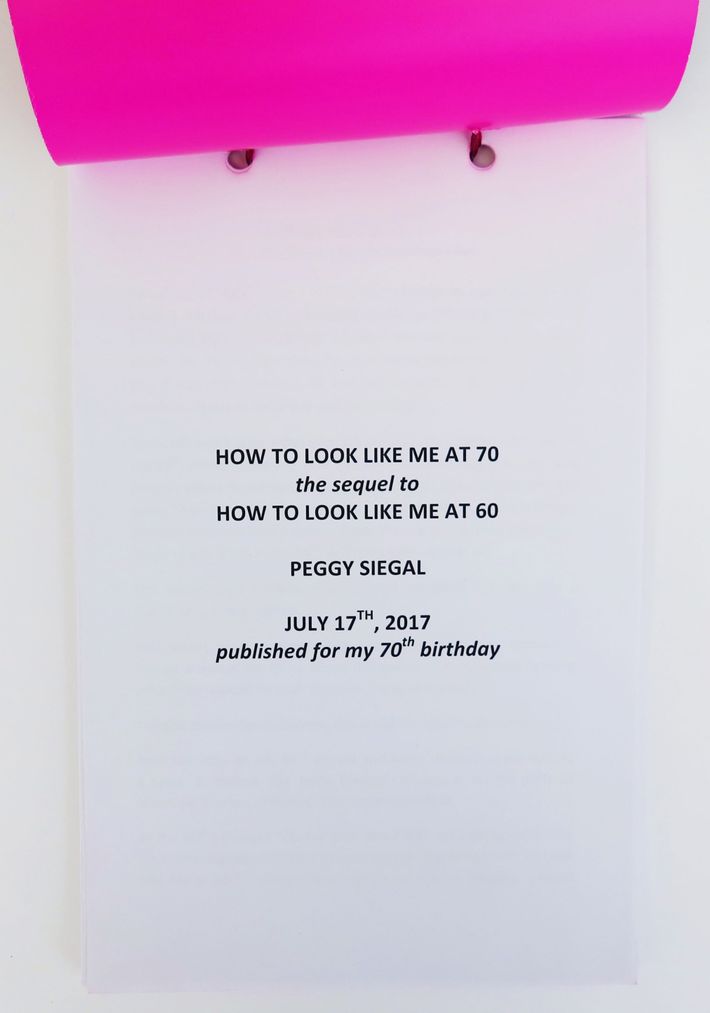 "Half those doctors in the first book are dead or retired, so I decided to make a sequel. Growing up, my mother tormented me. She never wanted me to be fat, so I agonized about my weight my whole life. I wrote this because you can't say, 'a guide to not being fat' today, so instead I say, 'well-groomed.' It's a way to look well-groomed as a tool against ageism and gender discrimination in the workplace. That's the whole thing in a nutshell."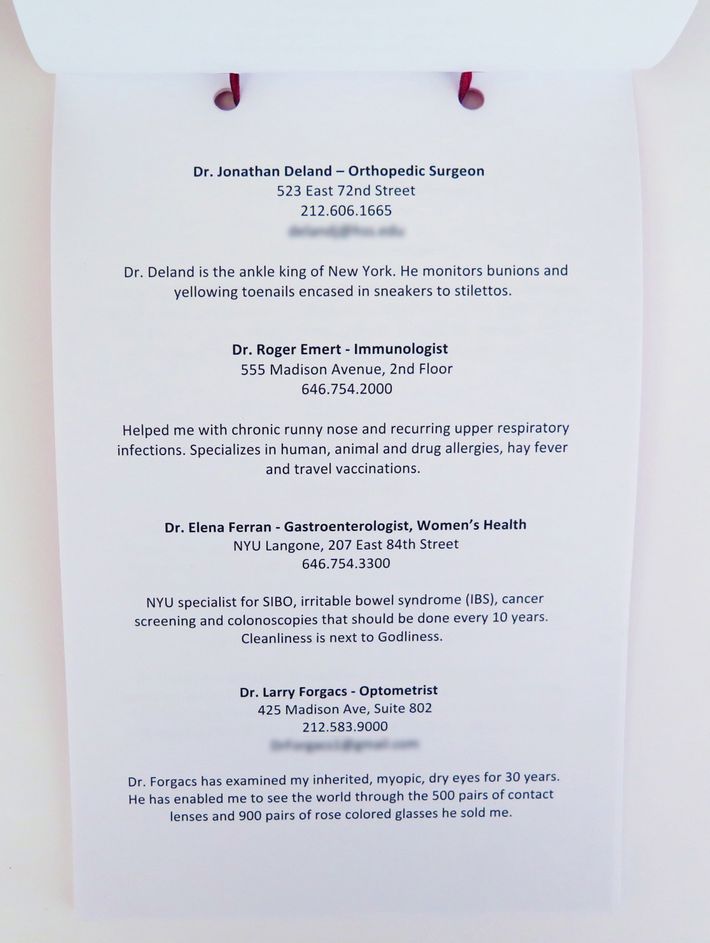 "You have to go to Mark Lowenberg. I've had veneers three times. He's the best. I have the most gorgeous teeth in the world, and I can say that because they're not mine. I bought them. I have this gorgeous smile that lights up a room – what can I tell you? Dr. Lemchen, the orthodontist on this list, you used to see Caroline Kennedy at the office. She hates when I do that to her, so I took that out of this version. Kimberly Caspare, she teaches you posture, she's a scientist, she's fantastic. Obviously, Bernie Kruger; anyone who has 83 doctors and lists them in a booklet that she gave out to Angelina Jolie needs to have her own emergency 24-hour walk-in care. Of course, there's my plastic surgeon Gerald Imber. My dermatologist, Dr. Janet Prystowsky, I got her through Ron Perlman and Mort Zuckerman. But really everyone in the pamphlet is really good."
"I'm literally walking to my medicine cabinet now. Okay, my friend Paul Wilmot, the fashion publicist, introduced me to Perricone MD, and I use a lot of his products. So there is the Nutritive Cleanser, which is the first thing I use at night and the first thing I use in the morning. The best stuff is the Face Firming Activator, it's the greatest product on Earth. It's magic, totally magic. And after that I use the Face-Finishing Moisturizer, non-tinted."
"I use Almay makeup remover pads."
"I also use Skinmedica TNS Essential Serum. My facialist in Los Angeles, Vida Emanuel, told me about this. You pump two squirts on your hands, and rub it together. Morning and night. I'm religious about it."
"I'll tell you what's really good: LipSmart lip balm. I get it at Zitomer's. And By Terry Baume de Rose. That's amazing. I've been using that forever, it really smooths my lips."
"My eyeliner is L'Oréal's Voluminous Smoldering Eyeliner. I use the brown. I make smoky eyes. I put it under my eyes and my eyelid, and I take a little brush and smudge it in, and then clean it up with a Q-tip."
"Then I use some Chanel mascara, and that's all I do."
"After I wash my hair, I use Shu Uemera's Kengo Feather. It lifts the roots, gives you a little body."
"And then right before I set my hair — usually with rollers, or sometimes I'll just brush it — I'll use Sally Hershberger Root Envy. It just picks your hair up a bit."
"Finally, I use L'oréal Elnett hair spray. I use the travel size because I hate picking up a big heavy bottle. I also buy toothpaste in travel size. I hate having a big toothpaste in the bathroom; I go through them fast, but a little one looks so much better."
"I wrote this in my booklet: I always sleep on my back, with my head cradled in a foam rubber pillow that supports my neck. This is the best way to preserve Dr. Imber's work."
"I wear Eres underwear. Wouldn't leave the house without it. I can't believe I am telling you this. It just fits. It's expensive, and you get what you pay for."
"I wear Fogal stockings because they have a gazillion colors. They fit, they're beautiful quality. I go into a department store with my shoes and skirts, and match the tights to my outfit. I have hundreds of pairs. It's an obsession; I'm not kidding."
"I primarily wear flats and kitten heels. Recently, I went to M&J Trimming and got dozens of fur balls, all different colors. I came home and took 20 pairs of my old shoes and brought them to my shoemaker at Empire Repair and had him sew them on. I must tell you, it's a show stopper. It's like having a Pomeranian. People stop me and say, 'Oh my God, where did you get them?' But they're not for inclement weather — unless you have a chauffeur who can scoop you up if it starts raining."
"I don't drink any alcohol. I went to a diet doctor recently, and I hate the taste of water, so he gave me this thing, Ideal Protein flavored water enhancer. I keep it in my purse, and then at a party, I just go to the bar, order water with ice, tear this open, and pour the powder into the drink. It's zero calories and it's delicious. I used it the other night at Elton John's AIDS Foundation gala."
The Strategist is designed to surface the most useful, expert recommendations for things to buy across the vast e-commerce landscape. Some of our latest conquests include the best women's jeans, rolling luggage, bed sheets, coffee makers, and bath towels. We update links when possible, but note that deals can expire and all prices are subject to change.

Every editorial product is independently selected. If you buy something through our links, New York may earn an affiliate commission.