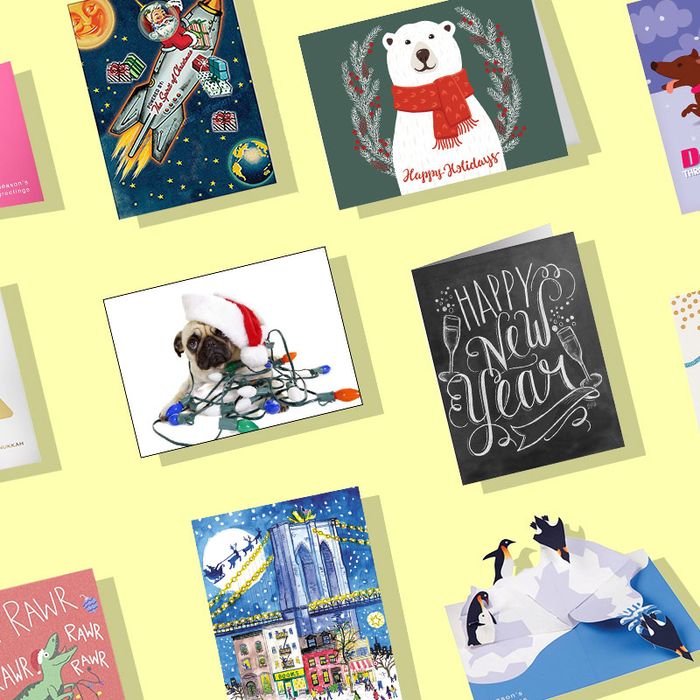 So you've picked the perfect holiday gift for that picky person and wrapped it just so. All that's left is to write a note to go with it — and given how much work you probably put into everything else, there's no reason to use whatever holiday card you pick up first at Duane Reade. Turns out there's a pretty sizable collection of holiday cards on Amazon, including pop-up Christmas cards, spinning Hanukkah cards, and quite a few options with festive (and often punny) dogs and cats.
So whether you're the type of person who sends out a bundle of thoughtful, unique Christmas cards to every distant relative on your family tree, or you just need a cute, cheap holiday card to accompany a co-worker's Secret Santa gift, there's a holiday card on Amazon for you. Below, 25 of the most tasteful and unique, but still affordable, holiday cards that you can buy.
These illustrated holiday cards are embellished with glitter, making the Brooklyn Bridge literally sparkle.
A portion of proceeds from the sales of these holiday cards will go to UNICEF, if you're looking to do some good while you spread some cheer.
Nothing like a card with a cheerful polar bear in a red scarf to wish you a happy holiday.
If you're looking for a more nondenominational holiday card, wish your loved ones peace on Earth with blue glitter.
The ornaments hanging from the reindeer's ears are made with red metallic foil, which adds some shine to an otherwise minimally designed, letterpress-style Christmas card.
This set of Hanukkah cards from the MoMA store only costs about a dollar per card and features a star of David on the front that actually spins.
These embossed cards with gold-foil-lined envelopes look more expensive than they actually are — and are especially good for those planning on flying somewhere warm this December.