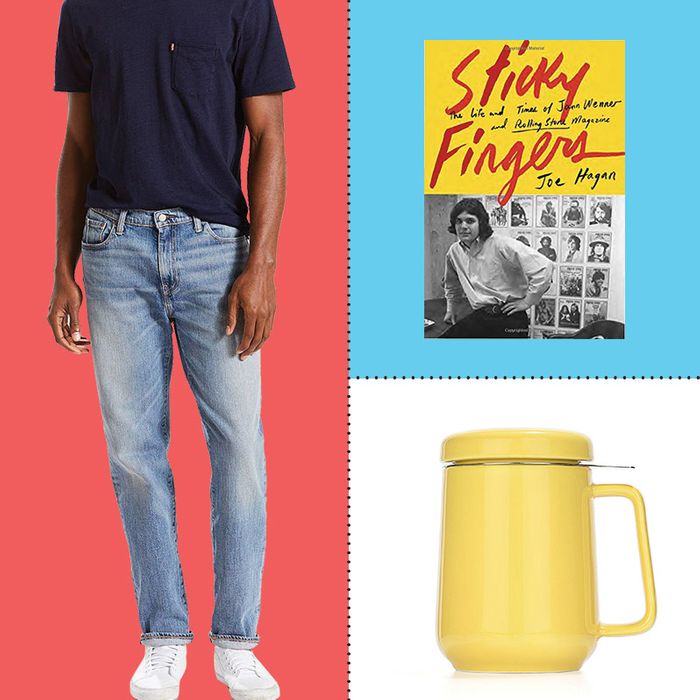 If you follow our biweekly feature Your Shopping Cart, you know that we have some eerily good intel on what things you all are buying. It led us to think that, as Strategist editors, we could turn the tables and highlight all the things we've been buying ourselves. As you'll notice, it's both a blessing and a curse to be a Strat editor; we're picky, but sometimes we just have to get on with it (it's online-shopping expertise meets IRL needs). Below, what we all bought in November.
Things that are important to me when it comes to a sweater: that it's machine washable, and that it is secretly a sweatshirt. This tied turtleneck from Anthropologie, which I bought after featuring it in a sales roundup is both of those things, and I am loving it. I've been wearing it unsnapped (like the model in the photo), but I plan on wearing it snapped in the coming weeks. Note: It's only available in a medium right now, but you can get it in a bunch of sizes on eBay.
As I continue to make my way through Rio Viera-Newton's various skin-care lists, my latest purchase is the crowd-favorite Gold & Snail under-eye patches. I've been keeping it in the fridge, as Rio suggested (I had to warn some visiting guests over the holidays that this was not something to dip chips in), and after a long day at work, I am very much enjoying putting them on while I watch my shows.
Lastly, I just bought Joe Hagan's Sticky Fingers and Tina Brown's Vanity Fair Diaries. Come to think of it, paired with our own New York anniversary book, these three books would make a great gift bundle for the New York–media junkie in your life.
The other day, my boyfriend accidentally grabbed my keys as he was leaving the house, which meant I spent 15 minutes ransacking the apartment in search of them, convinced I'd lost my mind. I immediately bought the D-ring so he'd never mistake our sets again. Would make a great stocking stuffer, incidentally.
I got to see Call Me by Your Name right before Thanksgiving (gutting) and couldn't stop thinking about Elio's jeans in the film, which were baggy, but not JNCO baggy — it made me rethink how I want to wear my denim, which has always been the skinnyish Levi's 511. On Black Friday, I went to Levi's and tried on a bunch of styles that were all too tight, except for the 541s, which are just the right amount of loose, but tapered. In a light shade, they go with all 700 of my navy shirts and sweaters.
Also before Thanksgiving, I fell into a Terrace House: Boys and Girls in the City abyss (are you watching? Email me your thoughts on the tragic figure that is Mizuki) and became very enamored of the tripod lamp in the boys' room. This one I found on Amazon is just perfect next to the couch — no more harsh overhead rental light.
Black Friday stressed me the eff out, but I did buy one thing: A half-off 23andMe DNA kit that someone's going to be very happy to receive for Christmas this year. Even though it's more expensive now, it's still $50 cheaper than it usually is.
First things first, I ran out of my beloved curly-hair conditioner (which is actually a special moisturizing treatment that I use every day because I feel like my hair just drinks up the moisture and really needs something this heavy-duty in these drying times), so I bought a new one. The 16-ounce size usually lasts a few months.
My new apartment came with lots of pets — dust bunnies. But I'm allergic, so I went to a local hardware store looking for the disposable Swiffer Dusters I used to use when I found this cute little Muppet of a duster. It's OXO and machine washable, so I figured I'd give it a try. I'm also happy to see it's got really great, hyperenthusiastic reviews on Amazon. Something you learn when you write enough of those People's Choice articles: People get really, really excited about cleaning supplies.
Here's a behind-the-scenes look at what goes on in the Strat newsroom: I bought this glass TV console and then pitched a whole article about glass coffee tables under $200.
I'm moving this month and turning 26 next month — the confluence of events made it seem a good time to get my (very first!) bed frame, headboard and all. I went with Floyd, a cool start-up from Detroit whose birch frames are made in the U.S.A., and apparently take no tools or scary Ikea-esque instruction manuals to put together.
My Eleonor Boström ceramic matchstick dog was broken in an arm-trying-to-get-into-a-sleeve incident a couple weeks back. I can't live without this thing, despite the fact that I've literally never lit a match on it, so I suspect I'll be buying another one soon. $60 is a low price to pay for a daily burst of joy, people!
My boyfriend and I moved at the beginning of the month, so most of the things I bought in November were part of an attempt to organize my new apartment, especially the exceptionally small kitchen. One problem I had been struggling with was the counter space, or lack thereof. There was no spot for a full-size dish-drying rack, and it was becoming annoying to dry dishes by hand every night (and also, I'm terrified of dish-towel germs). The solution has been this silicone drying mat, which is, admittedly, just a piece of plastic. But it works surprisingly well if you need a way to efficiently air-dry glasses and mugs and bowls when you don't have a ton of space. The ridges are low enough that the glasses don't wobble, but they still allow enough airflow so the water can fully evaporate. The silicone is easy to clean, and the whole thing quickly rolls up and can be stored in a drawer when we don't need it.
Moving also meant that, after over a year of mooching off of my roommate's beautiful Le Creuset enamel kettle, I was kettleless. I thought about asking for a new, fancy kettle for Christmas, but after a couple of caffeine-free mornings in early November, I realized waiting was untenable. So I panicked and ordered the first stainless-steel kettle under $30 I saw on Amazon. This turned out to be a good impulse purchase, because this pour-over kettle is a better fit for my needs than that Le Creuset kettle of my dreams. This kettle is small and light, the right size for my tiny kitchen, and the simple design looks sleek on the stove. It's also designed to help me make better coffee, which is the only reason I heat up water anyway. There are two small holes in the lid where I can slip in a thermometer to check the temperature and make sure it doesn't scorch my tongue or the coffee grounds, and the gooseneck spout makes controlling my pour-over a breeze.
I have also decided that my new home is a shoe-free environment, so I got these felt slippers, which are very comfortable, and look and feel way more expensive than the $30 they actually are.
I'm trying to add some more cozy accents to my desk, and this bright-yellow mug felt very hygge to me. It's the perfect color to make my fluorescent cubicle feel more homey, and it comes with a tea diffuser, so I can bring my own loose-leaf tea. Plus, the size is nice: It's large enough that I don't have to keep refilling it more often than I have to.