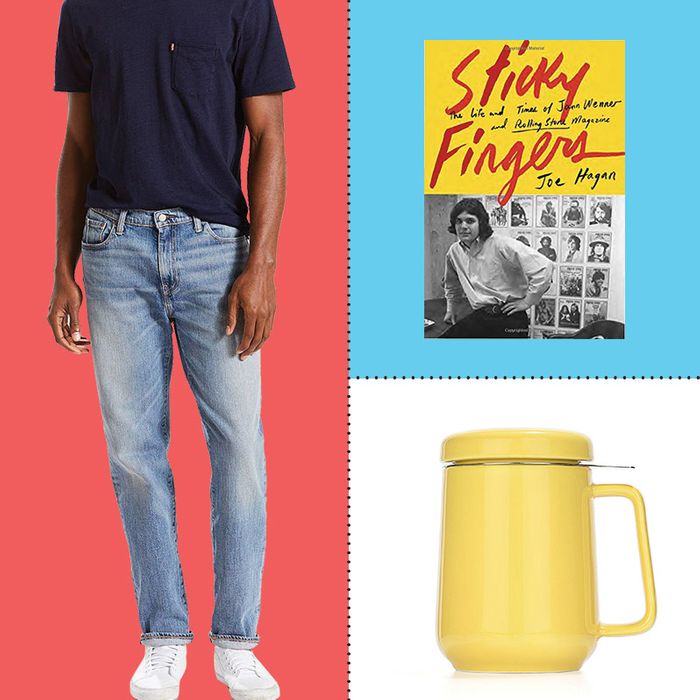 If you follow our biweekly feature Your Shopping Cart, you know that we have some eerily good intel on what things you all are buying. It led us to think that, as Strategist editors, we could turn the tables and highlight all the things we've been buying ourselves. As you'll notice, it's both a blessing and a curse to be a Strat editor; we're picky, but sometimes we just have to get on with it (it's online-shopping expertise meets IRL needs). Below, what we all bought in November.
Things that are important to me when it comes to a sweater: that it's machine washable, and that it is secretly a sweatshirt. This tied turtleneck from Anthropologie, which I bought after featuring it in a sales roundup is both of those things, and I am loving it. I've been wearing it unsnapped (like the model in the photo), but I plan on wearing it snapped in the coming weeks. Note: It's only available in a medium right now, but you can get it in a bunch of sizes on eBay.
As I continue to make my way through Rio Viera-Newton's various skin-care lists, my latest purchase is the crowd-favorite Gold & Snail under-eye patches. I've been keeping it in the fridge, as Rio suggested (I had to warn some visiting guests over the holidays that this was not something to dip chips in), and after a long day at work, I am very much enjoying putting them on while I watch my shows.
Lastly, I just bought Joe Hagan's Sticky Fingers and Tina Brown's Vanity Fair Diaries. Come to think of it, paired with our own New York anniversary book, these three books would make a great gift bundle for the New York–media junkie in your life.
The other day, my boyfriend accidentally grabbed my keys as he was leaving the house, which meant I spent 15 minutes ransacking the apartment in search of them, convinced I'd lost my mind. I immediately bought the D-ring so he'd never mistake our sets again. Would make a great stocking stuffer, incidentally.
I got to see Call Me by Your Name right before Thanksgiving (gutting) and couldn't stop thinking about Elio's jeans in the film, which were baggy, but not JNCO baggy — it made me rethink how I want to wear my denim, which has always been the skinnyish Levi's 511. On Black Friday, I went to Levi's and tried on a bunch of styles that were all too tight, except for the 541s, which are just the right amount of loose, but tapered. In a light shade, they go with all 700 of my navy shirts and sweaters.
Also before Thanksgiving, I fell into a Terrace House: Boys and Girls in the City abyss (are you watching? Email me your thoughts on the tragic figure that is Mizuki) and became very enamored of the tripod lamp in the boys' room. This one I found on Amazon is just perfect next to the couch — no more harsh overhead rental light.