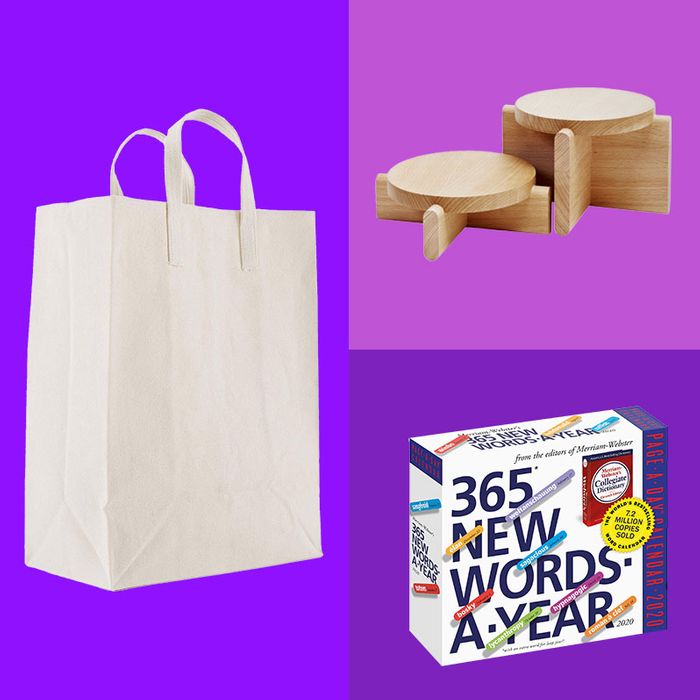 Buying a gift for your boss can be a potential minefield. Spend too much and you risk making them feel uncomfortable. Spend too little and you might as well not get anything at all. We found gifts for every type of boss there is, and all of them hit that perfect sweet spot of just personal enough.
For the boss whose office walls need a zhuzh
This poster is printed on Italian paper and looks convincingly vintage. It comes ready to hang, too!
For the boss whose office coffee table needs a zhuzh
Jean-Francois Jaussaud's intimate photographs feature acclaimed French-born artist Louise Bourgeois in her New York City studio. The collection spans the last 11 years of Bourgeois's life, before she died in 2010.
For the eco-conscious boss
Baggus make the perfect gift for just about everyone on your list, and this canvas paper bag is too cool. Impress your boss with your impeccable taste.
For the boss who always knows what to say (but never knows what day it is)
Even if they are articulate, it'll be fun for them to keep track of how many words they already know (and, of course, what day of the week it is).
For the boss who always looks put together
For the boss who's always getting sick
Kourtney Kardashian swears by this vitamin C packet that her mom told her about, which she now takes every morning. "I try to take it every morning, but if I feel slightly like I'm getting sick and 100 percent when I'm on an airplane, I take it."
For the boss who's addicted to cold brew
Cold brew is expensive. Your boss will thank you for keeping your eye on the bottom line.
For the boss who's more of a tea person
These gorgeous ceramic tea cups are handmade and oh-so wabi-sabi.
For the boss whose coffee or tea cups are always staining their desk
A set of coasters made from real carrara marble are a handsome place for your boss to set cups full of cold brew, tea, or anything else.
For the boss who can't live without their ice-cold LaCroix
Writer Dominique Pariso tipped us off to BrüMate's insulated koozies after she found that they fit her White Claws like a glove (and kept them perfectly chilled). These are slightly wider than the ones she uses — they fit regular 12-ounce cans and taller 16-ounce ones, too — so your seltzer-loving boss will never need to worry about it being lukewarm.
For the boss who's extra thirsty
When your boss needs something a little stronger than coffee, tea, or seltzer, you can't beat the original Stanley flask.
For the boss who's always saying "think outside the box"
No one uses paper weights anymore, which is why this solar-system half-dome is so delightfully random.
For the boss who's always complaining about their soggy salad
Writer Rio Viera-Newton told us about this multi-compartment salad container that comes with a separate section for greens, toppings, and dressing. Plus a fork!
For the boss who loves to cook
Ruth Reichl's chronicle of her time as editor-in-chief of Gourmet magazine is a must-read for anyone with even a casual interest in food.
For the boss who loves to snack
These are like cheese-puff balls, but (arguably) healthier, since they're basically just chunks of real cheddar, gouda, and pepper jack cheese that have been "crunchified," according to the product description.
For the boss who's on a health kick
Convenient and compact, this blender — which K-pop star Jackson Wang uses to make his daily protein drink — will let your boss create the perfect smoothie every time.
For the boss who's always jotting stuff down
A notebook whose pages take the form of a screen that can be wiped down with a wet paper towel and reused endlessly. Your boss can also email their notes to him or herself, too.
For the (low-tech) boss who's always jotting stuff down
Not too big or too small, in a zesty lemon that ensures it will never get lost in their black hole of a work bag.
For the fit boss
We love Fitbits around here, and we're sure your boss will, too. This one does it all: "It tracks steps, activity, sleep, calorie burn, heart rate, exercise minutes, and (for women) monthly periods," according to contributor and former tech columnist David Pogue.
For the fit boss who exercises instead of eats lunch
An under-the-desk elliptical machine that lets them put in some exercise from nine to five.
For the