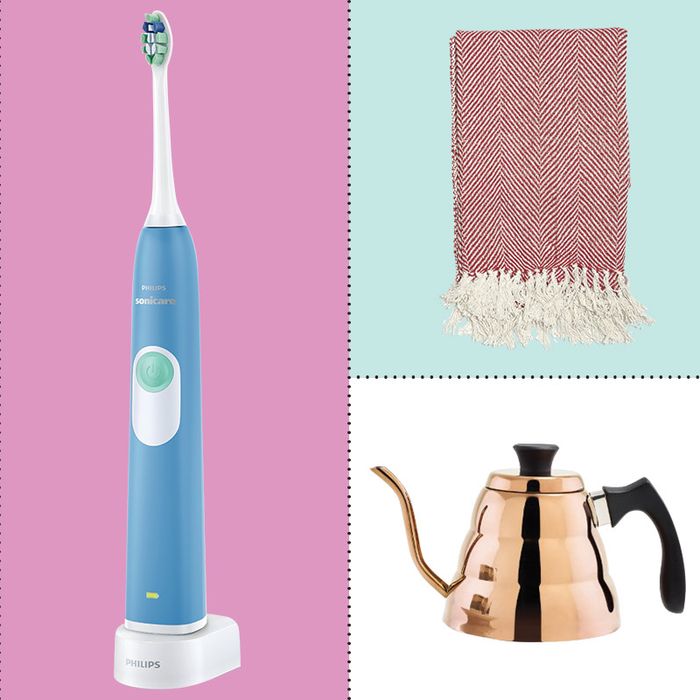 At Strat HQ, we consider ourselves experts at sniffing out things that look a lot more expensive than they are. Cheap, shiny metals like brass will do it; the lowest-ticket items from the priciest brands will, too. So in the spirit of one of our favorite posts on cheap but expensive-looking home décor, we went in search of the best expensive-looking gifts on Jet. Here, a teaser of what we found (a morsel, if you will), but for the whole enchilada of 40-plus gifts, head over to Jet to see all of our picks.
A nightstand that's about as unobtrusive as any you can find — it doesn't hold much but would look very nice with just a light stack of coffee-table books or magazines.
Perfect for someone who hosts dinner parties on the regular, the cherry-wood salad bowl comes with its own tossing (and serving) hands.
Do you know someone who appreciates that Palm Springs aesthetic? They can imagine they're hanging with the Rat Pack with this poppy ashtray — no smoking necessary.
Keep your butter spreadable the way the French do — fill the interior of the lid with butter, add a smidge of water to the base, and leave it out at room temperature.
Compared to a wooden cheese board, this marble one will be way easier to clean — the matching knife gives it that extra bit of zhuzh.
A surprisingly large throw for the price — 65-by-55 inches — it'd look great just sitting on the couch or folded up on a wall ladder.
Those Cire Trudon candles are, at this point, ubiquitous, so get your fancy friend a room spray that looks like a mini brushed-brass telescope.
This outdoorsy backpack has the retro look of a Fjallraven or Herschel without being the same thing everyone else has.
Who says pet furniture has to be an eyesore? This little lounger — it looks like a cat daybed, no? — could have come out of Pottery Barn.
Milky glass is hugely on trend right now (chef Vivian Howard is dying to get some jadeite green glass bowls for the holidays), and this bowl gives you the look for about the price of a movie.
Perhaps nobody better represents the intersection of highbrow-lowbrow better than John Derian — anyone who appreciates his quirky charm will love marking off every day of 2018 in this very affordable calendar.