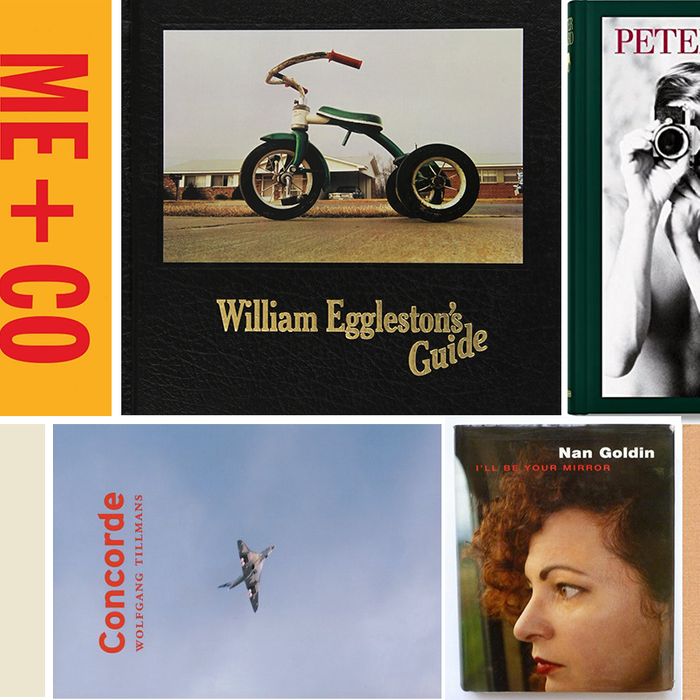 What to get the person whose head is always buried in their 'gram and who double-taps in their sleep? These, some of my own favorite photo books (a few of them new, but most of them not, and several out of print), would make great gifts for your Instagram-obsessed friends — to show (or remind) them what the medium looked like before iPhones, filters, and DMs. Best case, it will give them a reason to put their phone down for a moment and discuss the work IRL; worst case, they will have a flashy new book for their coffee table. Here are more of our favorite highly giftable coffee-table books and favorite highly giftable vintage books.
The godfather of color photography. William Eggleston's Guide is an essential volume that captures the residents of his hometown of Memphis, Tennessee from 1969 to 1971.
For four decades, businessman, art collector, and philanthropist Jean Pigozzi took selfies with his famous friends. A fun look at musicians, actors, writers, hangers-on, socialites, artists, and of course, Pigozzi himself through the years.
Coinciding with a massive retrospective at the MoMA — when I visited on a quiet Tuesday morning I saw Stephen Shore and his wife taking it in, a real New York moment! — this book includes the work he is best known for (1970's America in vivid color) as well as some of his more experimental work (large format, digital, black and white, Instagram).
Nan Goldin's work showcases the beauty and horror of life at a particular time in New York City, specifically the old Times Square and the Lower East Side. Every image, no matter how intense, comes across as delicate and honest.
Years of trips to the seaside, from Spain to China, produced this fun and sometimes absurd look at people being themselves at the beach.
For one year, from May 1998 to May 1999, photographer Juergen Teller took hundreds of photos of models who visited his West London studio. Even with the limitations of his single location, Teller makes the photographs extremely compelling.
Tillmans makes 62 color photographs of the Concorde, a "British-French
turbojet-powered supersonic passenger jet airliner," elegant and engaging.