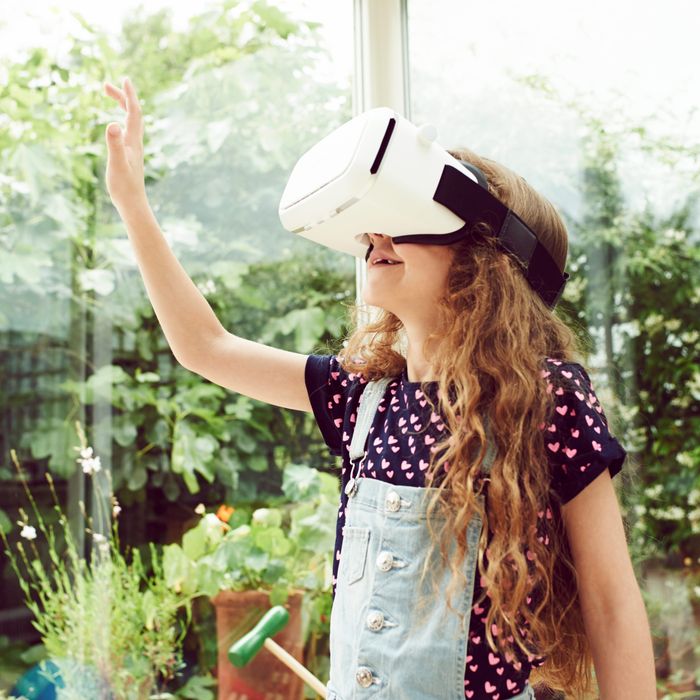 Photo: Flashpop/Getty Images
The one item you can find on the wish lists of 8-year-old boys, teenage boys, college students, and gamers alike this holiday season is a virtual-reality headset — and one of this year's most popular and requested VR headsets is the HTC Vive. That's for good reason. As Austin Evans, a tech reviewer with over 2.6 million followers on his eponymous YouTube channel, explains, "If you're just straight-up going for 'I want the best VR headset that money can buy,' I would say the Vive is the way to go." But the HTC Vive, and its closest competitor, the Oculus Rift, are both quite expensive ($599 and $399, respectively, and that doesn't include the cost of the high-powered gaming PC required to run either system).
So which VR headset should you buy for your child (or much-loved adult) this holiday season if you don't want to drop $599 on an HTC Vive? To help demystify the difference between HTC Vive and Samsung Gear VR and any of the number of VR-headset options out there, I spoke to Evans and Judner Aura, another YouTuber and tech reviewer with 1.5 million subscribers on his channel UrAvgConsumer, about their favorite VR headsets for 2017 and the best VR alternatives to the HTC Vive.
The affordable alternative to the Vive or Oculus — especially if you don't already have a full gaming PC setup — is PlayStation's VR headset. This device runs off of a PlayStation 4, which costs less than $300, so as Evans notes, "It's possible to get an entire setup for $500-ish. And, of course, if you already have a PS4, it makes it just that much easier."
The main drawback of the PSVR when compared to the Oculus or Vive is the quality. "The screens aren't quite as clear; it's not quite as high-performance," says Evans, but what you lose in performance, you more than make up for in simplicity. That's because all you have to do to make PSVR work is plug the headset into the gaming console. Plus, many of the PlayStation 4 games you may have already purchased, like Gran Turismo, support PSVR out of the box. That's a huge advantage over the other tethered VR systems, because as Evans notes, "With pretty much all these other things, if you're wanting to play a bunch of games, you're generally going to have to rebuy them."
So if you're looking for a pretty-good VR headset for gaming that's versatile, doesn't require a ton of computer knowledge, and isn't going to blow your budget, the PSVR is probably your best bet.
PlayStation VR
Mobile VR headsets, like the Samsung Gear VR or Google Daydream View, differ from the Vive or Oculus because they "have a much smaller focus, so the idea is that it's more about enjoying content versus playing games," adds Evans. Of the two, both tech reviewers agree that the Samsung Gear slightly outperforms the Google Daydream. "I do think the Gear VR is a bit more robust and a bit more comfortable," Aura says. The main drawback is that this headset is only compatible with Samsung Galaxy phones, so if you don't already own one of those smartphones, it's really not an option for you.
Even though Samsung Gear VR is more full-featured than Google Daydream, the main advantage of the latter is that it supports many different brands of Android phones, including models from LG, Motorola, Huawei, and of course, Google Pixel. The Google headset also works with Samsung Galaxy phones, but as Aura notes, "If you have a Galaxy device and you're picking, you're probably going to want to go with the Gear VR." But if you're looking for an option under $100, Google Daydream View is definitely where it's at.
Though your kid might be able to turn their face into a giant poop emoji with the iPhone X, they won't really be able to use it in a mobile VR headset. "The issue is, just because you can get VR capability doesn't mean it's going to be very good. And generally speaking, the iPhones aren't really that great at VR," explains Evans. "There's a lot of optimizations on the hardware level and the software level that — even though it works on iPhone, and you could try it — typically speaking, I don't like to recommend it, because it's kind of not a great experience."
That doesn't mean that you can't try if you're really dedicated. There are some VR-compatible apps in the App Store that can be used with a generic VR headset; Evans recommends the Zeiss VR One Plus for an aftermarket VR headset that'll help make the most of a less-than-ideal VR situation, and it's cheaper than either the Gear VR or the Daydream View.
"I would avoid the cheap sets. It's just not a great experience, and I just feel like it sort of taints people's perspective on what VR should be," says Evans, and for the most part, Aura agrees. The one exception is, if you want to test the VR waters. "I think if you're not looking to make a serious investment, those could be some decent options, just to kind of try it out and understand what it is," Aura recommends, adding, "Google kind of did this approach with the Google Cardboard, where it was a very inexpensive headset that allowed you to try out VR and kind of get an understanding of what it is and how it functions." It's an inexpensive way to dip a toe into the VR waters. Just be warned that if you're prone to motion sickness from VR, using one of these cheaper headsets, which are less calibrated than the more expensive ones, might exacerbate that issue.
Best VR headset if your kid doesn't have a PC, a PS4, or a smartphone
Unfortunately, there is none, because there's no way for you to use VR in 2017 unless you have a PC, phone, or PlayStation 4 to power it. But Google is currently working on a stand-alone VR headset, as is Facebook — so maybe 2018 is going to be your year.
The Strategist is designed to surface the most useful, expert recommendations for things to buy across the vast e-commerce landscape. Some of our latest conquests include the best women's jeans, rolling luggage, pillows for side sleepers, ultra-flattering pants, and bath towels. We update links when possible, but note that deals can expire and all prices are subject to change.
Every editorial product is independently selected. If you buy something through our links, New York may earn an affiliate commission.