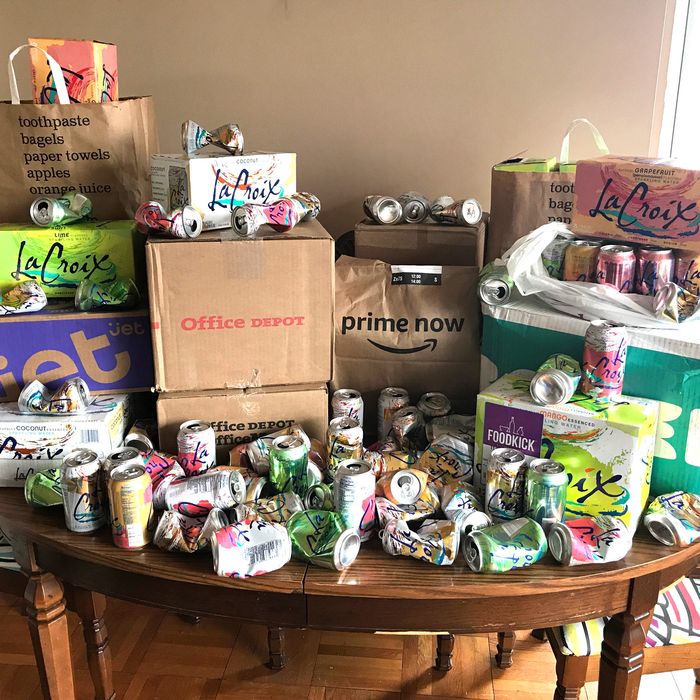 And … now I live in a LaCroix factory.
Photo: Mary Jane Weedman
I used to be one of those people who make boring dumb jokes about hipsters when they pass by Whole Foods, with its makeshift castles constructed from cases of the omnipresent flavored sparkling water. Then, about two years after it was cool, I started drinking it. Laughable amounts of it, whole cases of 12 on extreme days. There are various things to worry about when you're a LaCroix addict (is it bad for your teeth? Is it literally addictive?), but most pressing to me was: How do I get more? So I devised a plan to try out all the LaCroix vendors that offer online sales, made a spreadsheet, and set about ordering 300 cans of naturally flavored sparkling water to be delivered to my apartment. (It's been a few weeks; I've drank about half. I'm saving the empty cans to make a Christmas tree.)
This all got pretty nerdy — imagine the clacking of a machinated calculator, whizzing to find the price per ounce; staging of haul videos; my best friend supplying me with cool coconut LaCroix every so often to calm me down; etc. — so bear with me.
Except for Amazon Prime, I eliminated most vendors that require monthly subscription fees, like Amazon Fresh (though if you're already paying the $14.99-per-month subscription, and you're ordering enough to avoid the $9.99 delivery fee, it's the best-priced choice, at 51 cents a can, with very good variety, including Cúrate flavors and options to order by the single can). And you'd think Amazon in general would be easiest here, but it's actually sort of challenging when it comes to addict-size LaCroix orders. Prices vary like crazy if you don't use Pantry or Fresh: Recently, a non-Prime-eligible eight-pack of mango LaCroix was $15.79 including shipping (that's $1.97 a can, a much higher price than you'll pay from even two-hour-delivery places). Pantry can work well, though (see No. 4).
I also went to the experts. I had a conversation with John deBary, a retired bartender, LaCroix advocate, and noted LaCroix-cocktail expert, about ordering practices. We both agreed on this: LaCroix itself should do direct ordering with a subscription option. (Maybe through its parent company National Beverage Corp.)
Anyway, on to the rankings.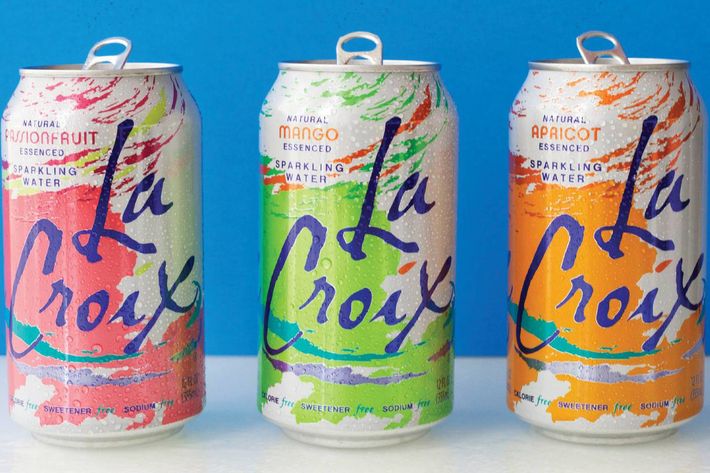 Do you happen to live within the delivery range of Corner Grocer on Orchard? It's an incredible bodega that will deliver, last time in 21 minutes, a "variety pack" of 12 cans of LaCroix ($16.99). After tip (at least $5; cans are heavy!) and taxes, it'll be about $1.41 a can. Worth it on a hangover, if you ask me. Also: Reader, I know chances are good that you, too, likely have a great bodega that may even deliver LaCroix to your home. But this place texted me after my first Seamless order — it was the owner giving me his work cell-phone number, in case I ever needed anything, 24 hours a day.
If you're ordering four cases of 12, it's pretty easy to bring your price with Pantry down to about 52 cents a can, even including the $5.99 per-box fee. Four cases are close to what will fit in your box, though, so it's pricey to order more. Options are sometimes plentiful, sometimes limited — last we checked, there was only Lime, Lemon, and Berry, but in mid-November, we were even able to order the elusive, almost impossible to locate in the wild La Cola. (The La Cola was divisive: It had a rich, almost-chocolaty taste; it would be interesting in an egg cream.) But even with fluctuating, sometimes-poor inventory and a delivery fee, Amazon is still, of course, super easy to use if you have Prime. If you don't have Prime, check out the other options below.
Both Staples and Office Depot sell LaCroix for about 63 cents a can when you maximize value; to get free shipping, you need to spend $25 for Office Depot and $50 for Staples. Staples sells 24-packs, but has better variety — Office Depot recently had only Orange, Lemon, Lime, Cran-Raspberry (yuck), and Pamplemousse (so with that last one, you're still probably set) — but you have to order at least 96 cans of LaCroix to make the $50 delivery minimum. That's a lot of cans.
Staples and Office Depot are sort of hard to distinguish already (remember when they tried to merge?), and coupons for both can be found pretty easily; UPS delivery took two days for Staples, and one and three days for Office Depot — my order was split for some reason. Staples has a very slightly higher employee rating on Glassdoor.
If all you want is a couple of 12-packs of grapefruit, go with Office Depot. But if you, like me, are willing to dedicate space in your home to a hundred coconut LaCroix (what's the plural?), choose Staples.
LaCroix 24-Pack, Coconut
I had seen so many Boxed ads everywhere that I thought, of the brands I'd seen advertised on the subway, I would much prefer Boxed, especially for bulk-ordering. But that company had terrible variety of flavor, and the box arrived a little beat up, and yet with rather excessive packaging. But I loved its subway-ad sister, Jet.com. I placed all my orders at 9 p.m. on a Monday; Jet was by far the first to arrive — at 5:59 p.m. on Tuesday, in a small purple box with a Belleville return address and little filler packaging, just tissue. It also came with a weird, faux-artsy Uniquely J advertisement-poster that I probably would have used to decorate my dorm room. You get a (very small) discount for paying by debit card, and another discount as you buy more cases (so if you buy six 12-packs of LaCroix, they go from $6.29 to $5.98 each). Combined with free one-day shipping after $35 — and you can save another dollar or so if you choose two-day shipping — they work out to about 54 cents a can. There's great variety, too, including five kinds of Cúrate flavor (I love the Kiwi Sandia) and harder-to-find flavors like Mango, Pure (unflavored), and newly debuted Tangerine.
Considering all the factors (ethics, speed, price, packaging), the FreshDirect–owned two-hour-delivery service is our favorite way to get LaCroix delivered like it's going out of style (it probably already is).
You will pay a little more when you use FoodKick, but your order will arrive almost instantly. And packaging was minimal when we tried it — just the case itself with a FoodKick sticker on it — so you'll create less waste. Some fees: $3.99 per order; $5.99 for within the hour; a tip (be generous if you're getting several cases; the friendly man who delivered my soda said it was no problem to bring a lot, because he drove, but it doesn't mean it's not heavy). If you order 48 cans, you'll pay around $0.78 per can. And the variety of flavors is tremendous, on par with Jet and Prime Pantry — Apricot, Passion Fruit, Mango, oh my!
Note: Prime Now is pretty similar to this, but again requires a Prime membership, and I've found the deliveries to be a bit slower (e.g., I ordered the LaCroix from both at 9:03 a.m. on a Sunday; FoodKick brought it around 11:40, and the Prime Now order came at 1:18). Still, deBary noted that they sometimes miss the delivery window — but that the customer service was always very helpful when that happened ("Happiness guaranteed," says the site).
LaCroix 12-Pack, Pamplemousse
The Strategist is designed to surface the most useful, expert recommendations for things to buy across the vast e-commerce landscape. Some of our latest conquests include the best women's jeans, rolling luggage, pillows for side sleepers, ultra-flattering pants, and bath towels. We update links when possible, but note that deals can expire and all prices are subject to change.
Every editorial product is independently selected. If you buy something through our links, New York may earn an affiliate commission.