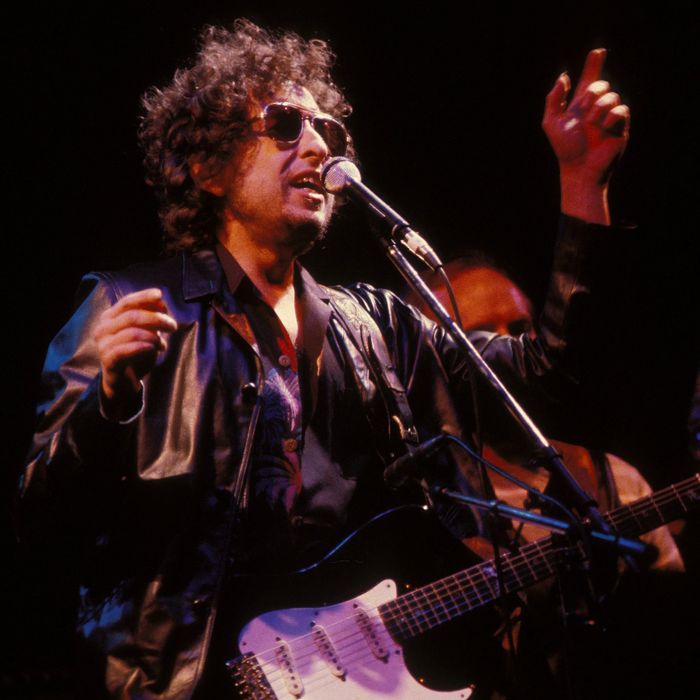 Including some surprisingly great "Born Again" Dylan.
Photo: Chip Hires/Gamma-Rapho via Getty Images
The good thing about getting gifts for rock-music nerds is that their passion provides a focus — you'll want to get them a box set. The tough thing is that it's hard to know what to get for the rock fan that has heard just about everything. You can start with this list, a mix of unusual box sets, album reissues, and one very awesome book.
Long-maligned, prog rock was gifted with a bit of a positive critical reconsideration this year, thanks largely to author David Weigel's excellent history, The Show That Never Ends: The Rise and Fall of Prog Rock, so the time is ripe for a similar reevaluation of Jethro Tull's late-' 70s albums, first among them Songs From the Wood. Actually, who am I kidding? The music on this box — so knotty and unabashedly archaic — isn't likely to ever enter any canons of cool. But if you've got even the slightest itch for Tull's blend of guitar and flute riffing and playful lyrical folderol, the music in this box — which includes the original album newly remixed, live material, and unreleased songs — is utterly enchanting.
What major artist of the rock era feels more out of place today than Frank Zappa, a virtuoso composer, guitar god, and (iffy) satirist? This thrilling three-CD set gathers live material from one of Zappa's best bands, and if the sexual provocations of "Dinah-Moe Humm" and "Camarillo Brillo" hit the ear in unfavorable ways 40 years down the line, the music is still singularly audacious. (A deluxe version of Halloween 77 comes with a Zappa mask, should you want to be recognized by fellow rock nerds at your next costume party.)
In addition to leading the mesmerizing blues-drone band Endless Boogie, Paul Major has been a serious and influential record collector and dealer for decades — discovering rarer than rare rock LPs from the '60s and '70s. (That is, rare albums that are actually good, and not just hard to get — a distinction some connoisseurs gloss over.) Feel the Music is a lovingly designed coffee-table book that reproduces Major's personal scrapbooks, catalogues, and LP album covers. It's crate-digger Nirvana. (If you're interested, a companion compilation of Major-curated music, Feel the Music Vol. 1, is also available.)
The conventional wisdom about this still-extant band is that the magic started to dim by the early '70s, after resident genies Richard Thompson and Sandy Denny walked away. But in addition to unearthing stirring rarities from the Thompson/Denny golden era, this seven-disc box offers ample evidence that the band was still eminently capable of delivering British folk-rock bliss. The resuscitated material from relatively unheralded albums like Babbacombe Lee and Nine glows, often thanks to fiddler Dave Swarbrick's gloriously homespun singing.
This year's dip into the Dylan archives features material from his much-maligned "Born Again" phase — and it's an honest-to-god revelation. The studio albums Dylan released during those years could be overly slick and didactic, but the live material included on this set — particularly from a 1980 show in Toronto — is fiery, brawny, and as committed as any live Dylan you've ever heard.
As compared to, say, a studio masterwork like Tusk, Fleetwood Mac's 1987 album Tango in the Night doesn't intuitively seem like a prime candidate for the reissue treatment, but any chance to get a glimpse into the working process of Stevie Nicks and Lindsey Buckingham is worth hearing. The demos included on the TITN box are, in some cases, more affecting than material that wound up on the finished album. And the disc of 12-inch remixes are appealing anachronisms.
New Orleans funk band the Meters have been endlessly anthologized, across different labels. A Message From the Meters does the much-needed work of compiling (almost) the entirety of their strutting, simmering singles in one place. No track is less than supremely funk; most are much more than that, and the keys to life can be heard in the hypnotic rhythms that drummer Ziggy Modeliste coaxes from his cymbals.
Most digital versions of the Texas blues hombres' first five albums sound like caca. Thankfully, the heavyweight 180-gram vinyl versions included in this set present the early ZZ sound as it was meant to be heard: thick, warm, and as zesty as singer-guitarist Billy Gibbon's famous guacamole. In particular, 1976's somewhat overlooked Tejas kicks new and wonderful kinds of ass in this format. (The groovy "Snappy Kakkie" and the exotic instrumental "Asleep in the Desert" are that album's hidden classics.)
It's a rare box set that compels feelings of "I want more," rather than "I've had enough." And that's exactly what this necessary collection of prog rock, Krautrock, and unclassifiable tripped-out jamming all originally released by the Hamburg-based label Brain Records does. Rock obsessives have long attested to the mighty power of Jane and Guru Guru — both well-represented here — but who among us knew about ominous, skyward gazing bands like Os Mundi and Grobschnitt? This is mind-blowing material.
Across its gorgeously packaged 69 songs, Savage Young Dü tells a crucial story in the development of American punk rock — how St. Paul's Husker Dü transformed, between 1979 and 1982, from noiseniks dedicated to speed and intensity to a band experimenting with melody and space (with no sacrifice of power). At times, the sound quality of the music on this box is iffy; the energy never is.
The discography of Afrobeat icon Kuti is a vast and unwieldy thing, which makes it especially nice to have a fan as sharp-eared as Erykah Badu curate a selection of his albums. The collection gathers seven of Kuti's roiling, fiery LPs — ranging from 1976's Yellow Fever to 1992's Underground System — all chosen by Badu, and accompanied by her delightfully idiosyncratic liner notes.
Along with John Coltrane and Albert Ayler, Pharoah Sanders formed jazz's holy trinity of cosmically inclined, spiritually free saxophonists. Unlike the other two, Sanders is still around, and playing as magnificently as ever. Excepting The Creator Has a Master Plan, Sanders's recorded peaks are Tauhid, Jewels of Thought, and Deaf Dumb Blind, all released between 1967 and 1970, and all contained in a lavish new vinyl LP box set from Anthology Recordings. There is very little, if any, jazz as simultaneously transcendent and earthy as the music offered here.
After his Steely Dan co-conspirator Walter Becker died earlier this year, Donald Fagen said he'd keep the band's music alive. Good thing, because the Dan's body of jazzy, sly, and whip-smart material remains unimpeachable. And while Fagen's first solo album, 1982's The Nightfly is his only album to truly approach Dan-ian heights, the three other albums included in the Cheap X-Mas box (along with a disc of rarities) get awfully close to the same sophisticated, sci-fi inflected, and misanthropic jazz-rock sweet spot. 2012's Sunken Condos, in particular, deserves renewed attention.
Not a box set; still crucial — this reissue (from the great folks at Outer Battery Records) of an obscenely rare 1985 album by Vancouver's Slow is a prime piece of proto-grunge. Bluesier and rawer than many of the other Pacific Northwest bands that would gate-crash the mainstream in the ensuing years, Slow — and Against the Glass — constitute a key link on the rock-and-roll chain from the Stooges to Soundgarden. And provenance aside, the album absolutely burns.
Does it make you feel a bit old that the Yeah Yeah Yeahs' classic 2003 debut is now getting the deluxe reissue treatment? As always, the music contained on that album will cure any such malaise. The demos, B-sides, and video footage — Karen O. remains as magnetic as ever — contained in this package are just as revivifying.
The Strategist is designed to surface the most useful, expert recommendations for things to buy across the vast e-commerce landscape. Some of our latest conquests include the best women's jeans, rolling luggage, pillows for side sleepers, ultra-flattering pants, and bath towels. We update links when possible, but note that deals can expire and all prices are subject to change.
Every editorial product is independently selected. If you buy something through our links, New York may earn an affiliate commission.