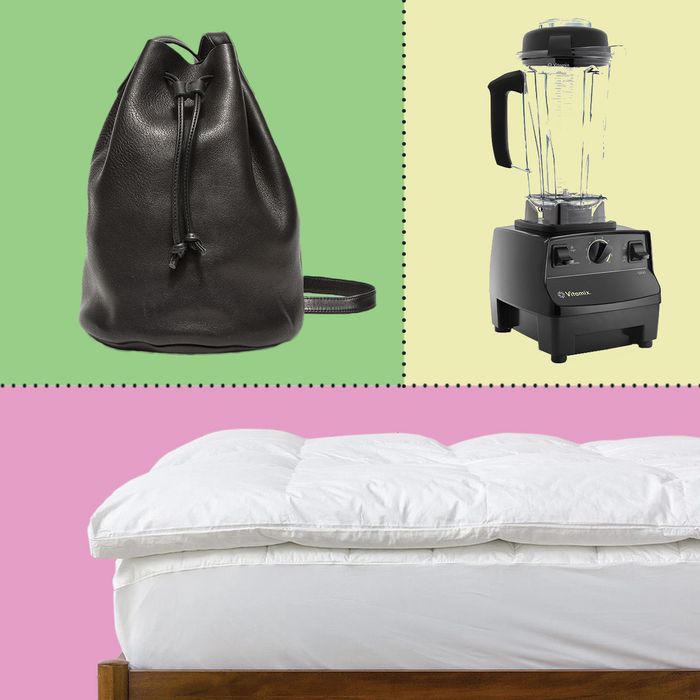 Welcome back to Your Shopping Cart, wherein we break out the top five products that you, devoted Strategist readers, all bought in droves. Think of this as the tl;dr of the Strategist: If your like-minded brethren are buying these items, maybe you'd like to, too.
It's a repeat. Our top seller this installment is a returning favorite (and the winner last time): the gold-and-snail-slime eye patches that beauty writer Rio Viera-Newton stockpiles continue to be our top seller this week. Our second-place winner is a newbie that enters the champion's circle post–Cyber Monday, the Vitamix 5200 blender that Strategist writer Maxine Builder praised for its ability to liquefy just about anything. The perfect everyday leather Baggu bag that writer Hannah Goldfield received as a gift takes the third spot, while miracle shampoo replacement Hairstory comes up right behind it in fourth place. Finally, the fifth-place winner is another familiar face, the Parachute mattress topper that senior writer Lauren Schwartzberg considers the easiest (and most affordable) way to transform your bed.
2. If You're Going to Buy One Thing Today, Make It a Vitamix Blender
Lots and lots of you were convinced by Strat staffer Maxine Builder, who cut through the noise of Cyber Monday madness to tell you the one thing to buy on a day of deals was the as-powerful-as-they-say (and very on-sale) Vitamix 5200. Says Builder, who first used the Vitamix while working in the test kitchen of a previous job, "The blender was way more powerful than I imagined it would be, and it readily handled any task I threw at it, be it making a smooth, silky milkshake with Lucky Charms or liquefying a nasty combination of pineapple, matcha powder, and celery during a 40-minute-long round of smoothie roulette on Facebook Live. And if a Vitamix can pulverize celery, with all that stringy cellulose, without skipping a beat, there's really nothing it can't do." While it's not as cheap as it was on Cyber Monday, it's still more than $100 off.
3. I've Carried This Bag Nearly Every Day for the Last 4 Years
Writer Hannah Goldfield first told us about the leather drawstring bag she received as a gift last year, and it created such a response that we decided to post it again last week. Says Goldfield, "The leather was exceptionally buttery. The simple construction and total lack of hardware meant it transcended eras and styles to be actually timeless: It would look as at home on the hip of an 18th-century fur trader as it would on a chic pod person in some proto-futuristic television show, or on me, with literally any of my outfits. It was Mary Poppins–esque in size, somehow big enough to hold my wallet and cell phone and keys and makeup bag and even a slim paperback book and a compact umbrella, though it didn't look it."
4. The Shampoo Replacement I Only Have to Use Once a Week
Anyone who's used Hairstory New Wash knows what we mean when we say it's unlike any other shampoo (to call it shampoo is actually incorrect; it's more of a shampoo-like hair product). Says writer Molly Young: "My long hair air-dries perfectly, with no 'squeaky' texture. It is shiny and falls in loose waves, like it did when I was a kid. I don't need to blow-dry it. My chronic flaky scalp (sorry!) is gone forever. I customarily wash my hair every three days. With New Wash, once a week. When friends remark that my hair looks nice, it's fun to say, 'I haven't shampooed in six months.' Which is technically accurate."