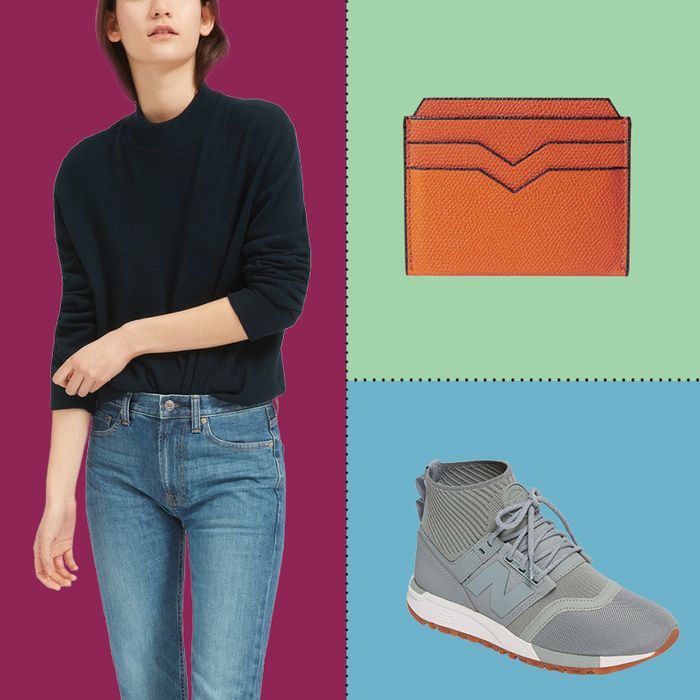 To be a Strategist editor we have to be obsessive, exacting, and a little bit crazy when it comes to finding things to buy on the internet — so you, the reader, don't have to be. Which is why we thought that letting you in on gifts we'll be giving (and the gifts we will be wanting) might be useful. See what we said last year, too. Mom, dad, friends — please don't read this.
A few years ago, Red Wing introduced its first women's line, and I've been curious about it ever since. A few weeks ago I realized that a little boutique near my apartment had some on hand, and I tried these boots on and it felt like I was walking on a goddamn cloud. They were just a little too pricey for me to bite the bullet and buy, so … that's why I'm asking for them!
Speaking of boots: I've been wearing a pair of Lands End snow boots that I got for free at my old job that are a full size too big now for … 6 years? It's time for a new pair, and I love these limited-edition navy Bean boots.
I actually sent this link to my husband a few weeks ago with the subject line: "some earrings that I like, fyi!" Readers of anything I've written on the Strategist know I love a dainty little earring, and these are particularly lovely.
I never buy myself gloves because I always feel like I'm depriving someone else of giving them to me as a gift (but it has never happened that anyone has ever gifted me any.) Anyway: cashmere, and flip top is what I'm looking for.
This slightly oversize cashmere mock neck (that is actually made to fit a man) looks to be the platonic ideal of a cashmere mock neck.
Everyone I know and love will be getting New York's 50th anniversary book this year because it's excellent and only $40 and comes with an Approval Matrix poster.
I am way too old to pull off a Champion hoodie, but I also can't imagine anything cozier. I've had my eye on this A.P.C. sweatshirt for a while — something about the metal on the drawstring really speaks to me — but could not justify spending $230 on a sweatshirt. Now that it's reduced, I still feel like, "Who spends $129 on a sweatshirt?" but maybe the answer to that is someone who's getting me a gift (or just me).
When I first saw them, I thought the Balenciaga sock sneakers were ridiculous, but the more I saw them, the nicer they became (exposure effect). Those are obviously too extravagant to ask of anyone, but after one of the guys in the cis, straight guys gift guide mentioned these New Balances, I became obsessed. I want them in gray, not orange.
I want this whole room, but specifically the leaning towel ladder in black, with its rounded corners and leather handle. I've seen it used as a magazine rack, too, which I like even better. Honestly, no one is going to get this for me so I might content myself with the very nice Yamazaki wall ladder instead.
I actually am curious to know: How long is a leather cardholder meant to last? Each of the last two I've had has lasted only five years, and I don't know if that's standard or if I'm being a prima donna about cycling through them. Anyway, my green Valextra cardholder is dying, and I would love to replace it with a fun, Strat-esque orange one.
I actually snagged a few of these as who-knows gifts for people who might give me something that I didn't quite prepare for (I don't think they'll read this). I already have the bend one, so they get the teardrop.
No joke, I think this is the best gift ever — ten bucks a month for unlimited movies (you can gift your recipients six months or a year's worth) at a ton of great theaters, with no blackout dates. I actually want this for myself, too.
Photo: Julia Gillard 2017
My New Year's resolution is to be more hands-free and carry less baggage so I decided last week that I would accomplish this by wearing a fanny pack or the possibly less stigmatized bum pack. But it's really hard to find ones that aren't super lame or specifically Hypebeast-y. So I phoned a friend who helped me find this Marlow Goods bag and now I need it.
If anyone is feeling generous towards me this Hanukkah I would very much appreciate this $350 collector's version of Tom Wolfe's Electric Kool-Aid Acid Test. Thanks.
The thing about this Lizzie Fortunato cuff is that it keeps popping back up into my life. I first saw it about six months ago in pink and thought, "Wow I never really buy myself jewelry, but I do love this." I didn't get it. And then just today, through a series of link hopping, it made its way back into my life again, this time in blue. And what perfect timing. Now I don't even have to buy it for myself.
Around October of this year, probably when I was working on some story about the best dressers or desk decor, I landed on Vitra's selection of mini designer chairs and pretty much melted. And then when I reclaimed myself, I knew what I would do with this new information: buy one for my sister who loves all things mini and design. I'm really into the B3 Wassily and this neon Selene, but I'm still on the fence if I'm trying to spend this much, in which case I'd go the Etsy route.
My boo has been dropping some not-so-subtle hints that he wants slippers and I was just introduced to this brand Fuggit that crochets cool sneakers into comfy house shoes. Seems pretty perfect.
I am still shopping for my apartment, and am looking at the holiday season as an opportunity to offset some of the costs of decorating onto my loved ones. Loved ones: if you're reading, I will take this West Elm love seat in "Velvet Moss."
I don't envy Mika Brzezinski or Gayle King's early wake-up calls. But I do deeply envy their access to five-day-a-week blowouts (and Gayle's access to Oprah). Having nice, soft, shiny hair does wonders for my general outlook on life — but getting there without a paid professional proves difficult. This Harry Josh blowdryer is supposedly the closest a person can get to morning newscaster hair at home, and it comes in a pretty mint green color. I strongly feel that receiving this would be a real "gift that keeps on giving" situation.
I love the way Baserange, a very stylish basics company that I would like to own one of everything from, packages these plain-but-not-boring mid-rise underwear.
My sister (who I hope isn't reading this) is starting a new job soon. My mom and I thought this leather Baggu tote (which I got in black before my first day of work) would be the perfect thing to give to our brand new businesswoman.
Full disclosure: Liana is my friend's clothing line. But I can't think of a person on my holiday list who wouldn't be pleased to receive her cute-but-not-overbearingly-so sparkly ankle socks.
I already received these booties as an early Christmas present, after audibly squealing when I spotted them in the Muji store. They're like Muji's version of Ugg boots, except they're entirely covered in shearling and what I imagine I would wear at a sub-arctic spa. You could file these under "For the woman who is serious about shearling:" They're delightful, a little eccentric, and extremely cozy.
A marigold glass pour-over to go with my golden "Hygge" mug. I've included this on a few gift guides in the past, but always wanted this for myself. I've been using those plastic pour-overs you find at the grocery store since my lazy college days, but this one is a beautiful upgrade — the kind you keep on the bottom shelf of your cupboard so you can impress your guests when they're trying to locate a glass. Maybe it'll actually convince me to stop hemorrhaging money at coffee shops on the way to work.
I've been on the hunt for a nicer winter scarf to replace the ones I've been wearing for years, one that's a bit more neutral in color and large enough for me to wrap around my face when it's more nippy than usual outside. This mohair muffler should do the trick. It looks like it'll make a cozy defense against New York winters and has been described as "light and frothy, dreamy clouds of warmth and softness." Mmmmm.
My boyfriend and I are both going in on this handsome olive wool coat from Oak for him: it's perfectly oversize with robe-style lapels, an unusual one-button closure, and deep, deep pockets to bury your hands in when it's cold.
My oldest sister is notoriously hard to shop for, but now that she's expecting, I'm thrilled go all out on cute baby clothes and knick-knacks for her — I'm a cool aunt now, after all. Apparently, Reformation sells baby clothes now (??) and I will not rest until I see my little niece kicking around in these Oeuf pom-pom booties.
The holiday season involves plenty of family rituals and one of mine is that I take stocking stuffers very seriously. Sometimes my siblings forget to buy them, but my favorite part of Christmas shopping is wrapping up tiny presents and dropping them in the stockings until they're practically drooping. This season I'm going the practical route and giving everyone one of these Flint lint rollers (the rose gold ones are especially nice). It sounds lame but they really are one of the best gifts you can give under $25: chic little lint rollers that are ideal for cat ladies and dog owners.
I love getting cookbooks for Christmas. Top of my list this year is Allison Roman's Dining In, followed closely by Ottolenghi's Sweet because all I really want to do is bake cakes as beautiful as Helen Goh's.
For the last few years, I've been using my dad's black, rolling Tumi suitcase as my own, and I love it — but he wants it back. So I need a new carry-on, and I've been fully suckered in by the design of Away's suitcases, especially the limited-edition ones that have Gray Malin's photographs on the interior lining.
Does a gift for my dad's dog count? He's an 11-year-old white Bichon Frise with a lazy eye who we all love, and the only toy he still gets excited about is this white Lamb Chop plush that squeaks when he chews it. He has one that's been ripped to shreds and needs to be replaced, as much for my dad's sake as the dog's.
I offered to buy my boyfriend some new slippers for Christmas, and the only ones he wants — completely unironically, it must be said — are white Crocs. So that's what he's getting, I guess.
The Strategist is designed to surface the most useful, expert recommendations for things to buy across the vast e-commerce landscape. Some of our latest conquests include the best women's jeans, rolling luggage, bed sheets, coffee makers, and bath towels. We update links when possible, but note that deals can expire and all prices are subject to change.

Every editorial product is independently selected. If you buy something through our links, New York may earn an affiliate commission.