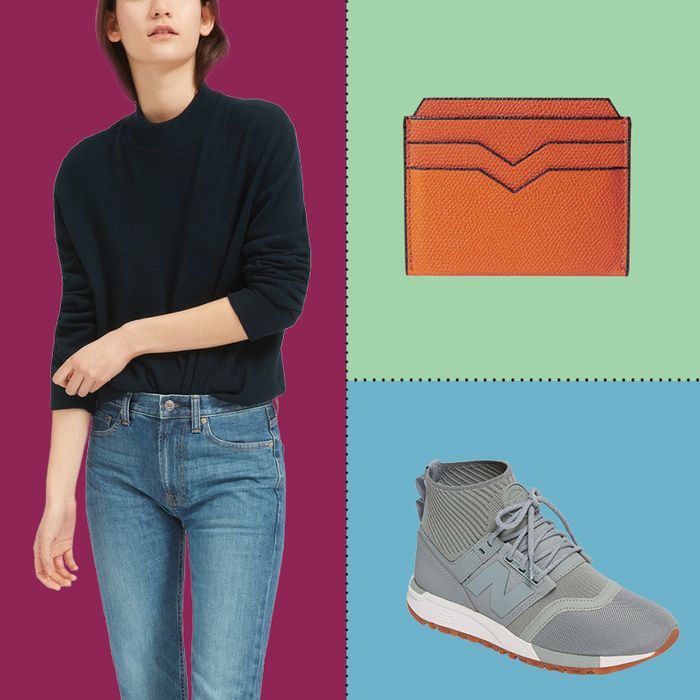 To be a Strategist editor we have to be obsessive, exacting, and a little bit crazy when it comes to finding things to buy on the internet — so you, the reader, don't have to be. Which is why we thought that letting you in on gifts we'll be giving (and the gifts we will be wanting) might be useful. See what we said last year, too. Mom, dad, friends — please don't read this.
A few years ago, Red Wing introduced its first women's line, and I've been curious about it ever since. A few weeks ago I realized that a little boutique near my apartment had some on hand, and I tried these boots on and it felt like I was walking on a goddamn cloud. They were just a little too pricey for me to bite the bullet and buy, so … that's why I'm asking for them!
Speaking of boots: I've been wearing a pair of Lands End snow boots that I got for free at my old job that are a full size too big now for … 6 years? It's time for a new pair, and I love these limited-edition navy Bean boots.
I actually sent this link to my husband a few weeks ago with the subject line: "some earrings that I like, fyi!" Readers of anything I've written on the Strategist know I love a dainty little earring, and these are particularly lovely.
I never buy myself gloves because I always feel like I'm depriving someone else of giving them to me as a gift (but it has never happened that anyone has ever gifted me any.) Anyway: cashmere, and flip top is what I'm looking for.
This slightly oversize cashmere mock neck (that is actually made to fit a man) looks to be the platonic ideal of a cashmere mock neck.
Everyone I know and love will be getting New York's 50th anniversary book this year because it's excellent and only $40 and comes with an Approval Matrix poster.
I am way too old to pull off a Champion hoodie, but I also can't imagine anything cozier. I've had my eye on this A.P.C. sweatshirt for a while — something about the metal on the drawstring really speaks to me — but could not justify spending $230 on a sweatshirt. Now that it's reduced, I still feel like, "Who spends $129 on a sweatshirt?" but maybe the answer to that is someone who's getting me a gift (or just me).
When I first saw them, I thought the Balenciaga sock sneakers were ridiculous, but the more I saw them, the nicer they became (exposure effect). Those are obviously too extravagant to ask of anyone, but after one of the guys in the cis, straight guys gift guide mentioned these New Balances, I became obsessed. I want them in gray, not orange.
I want this whole room, but specifically the leaning towel ladder in black, with its rounded corners and leather handle. I've seen it used as a magazine rack, too, which I like even better. Honestly, no one is going to get this for me so I might content myself with the very nice Yamazaki wall ladder instead.
I actually am curious to know: How long is a leather cardholder meant to last? Each of the last two I've had has lasted only five years, and I don't know if that's standard or if I'm being a prima donna about cycling through them. Anyway, my green Valextra cardholder is dying, and I would love to replace it with a fun, Strat-esque orange one.
I actually snagged a few of these as who-knows gifts for people who might give me something that I didn't quite prepare for (I don't think they'll read this). I already have the bend one, so they get the teardrop.
No joke, I think this is the best gift ever — ten bucks a month for unlimited movies (you can gift your recipients six months or a year's worth) at a ton of great theaters, with no blackout dates. I actually want this for myself, too.