With more ways to bundle up than ever before, here's a guide to everything you need to know about buying a winter coat — from what's really in a Canada Goose to how cold-weather workers pick their outerwear, plus what makes them all warm, stylish, or, ideally, both.
A Coat That Can Answer the Phone
The future of down and denim is within reach.
Photo: Mark Nerys
The USB-charged, iOS-connected coat, funded on Kickstarter last year, links to an app so you can program your ideal warmth. It can go from room temperature to 122 degrees in six minutes.
Photo: Mark Nerys
After sitting on the technology for a decade, Patagonia just debuted its first coat with PlumaFill. The super-warm, lab-developed insulation is made from tufted strands that leave enough dead space so the coat can compress into a knapsack.
—Margaret Rhodes
Photo: Mark Nerys
Google and Levi's launched this denim jacket this year. It's made of Google's conductive Jacquard fabric, which, via a swipe along the cuff, can answer an incoming phone call or change the song on Spotify.
But When Will Someone Invent This?
A coat that combats the subway sweats, as dreamed up by designer Mary Ping.
The Coat That Doesn't Exist
One that half-unzips and rests on your hips (so you can easily take your arms out and catch a breather if you find yourself overheating on the subway).
A Designer's Solution
We turned to conceptual designer Mary Ping of Slow and Steady Wins the Race, who sketched out a compromise. "It's basically two coats, a zip-up motorcycle jacket up top and a buttoned trench coat below that's segmented a little above the waist so when you unzip the top, the sleeves don't drag on the ground. I thought this could also work at department stores when you are likely to overheat, or at museums when you don't want to wait in line for the coat check."
Mouse over or tap the image below to read more.
A Short History of the Winter Coat
From the Middle Ages to Max Mara.
Knights wear "surcoats," likely made of linen and often emblazoned with their personal arms, over armor to protect themselves from rain and snow. The coats have slits in the front and back to allow the wearer to ride comfortably.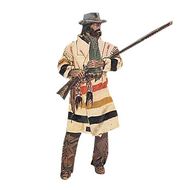 To cope with Canada's cold winters, fur traders make coats called capotes from wool blankets — which are easier to sew than bison skins. In turn, Hudson's Bay makes the first Hudson's Bay Point Blanket.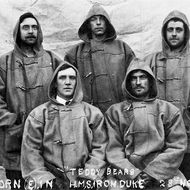 John Partridge, inspired by Polish military frock coats, makes Britain's first duffel coat, bringing toggles to the masses.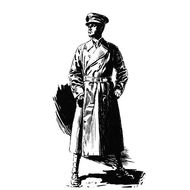 Two parties claim to invent the trench: Burberry, which patents the trench-esque Tielocken in 1912, and Aquascutum, which makes a similar coat for the British military.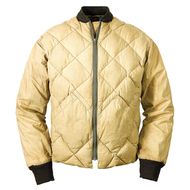 Eddie Bauer invents the Skyliner, the first quilted down garment in the U.S., based on a coat his uncle wore to keep from freezing during the Russo-Japanese War.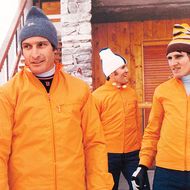 Moncler, a maker of tents and anoraks, defines après-ski style when it outfits the French ski team for the Winter Olympics in Grenoble.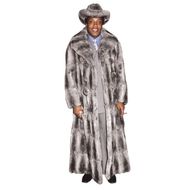 Harlem heroin dealer Frank Lucas, a.k.a. the "Original Gangster," wears a $100,000 chinchilla coat. He's arrested five years later and maintains to this day that the coat is what put him on the cops' radar.
Designer Norma Kamali creates her famous sleeping-bag coat. The design was inspired by midnight runs to the bathroom on camping trips, during which she wrapped her sleeping bag around her shoulders.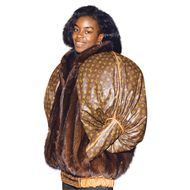 Olympic gold-medalist runner Diane Dixon poses in a bomber by Daniel Day, whose Harlem shop Dapper Dan's Boutique was beloved by rappers and boxers.
Prep-school gangsters make The North Face the jacket brand of choice for East Coast teens. A decade later, its popularity is undiminished: In 2005, students in D.C. are robbed of their North Faces, not cash.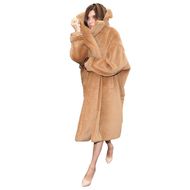 During Milan Fashion Week, Carine Roitfeld steps out in Max Mara's teddy-bear coat. Kim Kardashian and Rita Ora follow suit, making it the fuzzy coat of choice for fashion's upper echelon.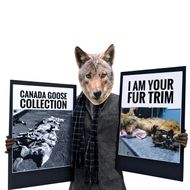 Canada Goose's New York flagship opening is met with animal-rights activists protesting its use of fur and down. The company shoots back, calling down "the world's best insulator."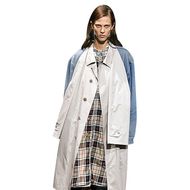 A Balenciaga model walks down the runway in what is later dubbed one of the "top trends of spring 2018" — multiple layers of coats.
—Katy Schneider
Inspecting the Innards
A closer look at the 247 pieces that make up Canada Goose's marquee (and $1,495) Snow Mantra.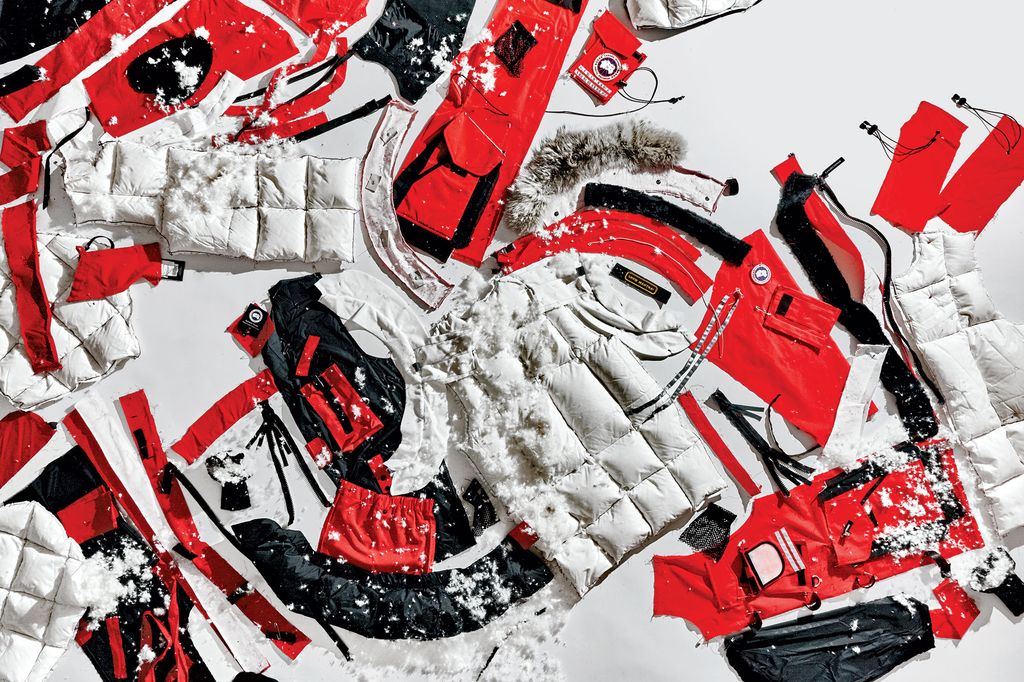 The Down
The company uses 675-fill power goose down rather than 900 or 1,000, because when considering fill power you need to consider the fabric that houses it: The higher the fill, the lighter the fabric you need in order to allow the down to loft effectively. Georgia Tech textile scientist Dr. Krishna Parachuru says, "A 675-fill power down is finer than 900-fill. When the down is finer, the space between the fibers is reduced, which keeps out cold air."
The Lining
The linings are a combination of soft-to-touch fleeces next to the face and at the cuff and then supple but durable nylon linings to build the down envelopes.
The Hood
The brim, says chief product officer Lee Turlington, has a shapable wire that allows it to be molded tightly around the face. The hood is also padded with fur, whose natural oils, says the company, protect from frostbite. Parachuru adds: "The fur's oil keeps it from getting cold itself, even when exposed to very low temperatures."
The Specs
In total, 247 pieces of material go toward building the Snow Mantra; it weighs eight and a half pounds. "I won't say it's built like a space shuttle," says Turlington. "But it's quite complicated."
The Shell
To keep the down from getting wet, the company uses an Arctic Tech polyester-cotton blend for the outer shell. Then it's treated with a weather-repellent chemical that provides it with the ability to shed moisture. While polyester and cotton aren't waterproof on their own, Parachuru says, he maintains that chemical waterproofing treatments are quite effective. "They can last for years and years," he says.
The Snow Skirt
In many winter-sport garments, a snow skirt keeps wind and snow out from the waist. The Snow Mantra has an insulated snow skirt with an elasticized band that also has a tacky gripper material around it to keep it firmly set, so it's not moving up and down.
Photo: Bobby Doherty/New York Magazine
—Jessica Silvester
And the Ingredients of Two Other Investment Parkas
One Japanese, one vegan — both obsessively designed down to the zipper.
Photo: Bobby Doherty/New York Magazine
The Hood 
Detachable and lined in down.
The Shell
Made from Pliantex, a 100 percent polyester fabric designed to be both stretchy and breathable, by a small Japanese textile company called Daiichi Orimono. According to textile scientist Dr. Krishna Parachuru, the trick is combining crimped yarn with straight yarn. "The curled yarn will allow it to stretch; the untextured yarn will help to pull back its shape, without allowing air between its fibers."
The Down 
F/CE uses white duck down from Nanga, which makes sleeping bags. "Every down feather is hand-picked from ethical down from Europe," says the company's Shannon Watson. "This one is 760 fill."
The Zipper 
"You know Ziploc bags?" Watson asks. "This is a more heavy-duty version of that. It seals out water."
Weight
2.7 pounds.
F/CE's N3B Type A
—M.R.
Photo: Bobby Doherty/New York Magazine
The Hood
Initially detachable, this year it was redesigned to fully attach so it fits as close to the head as possible to cut out wind.
The Shell 
Vaute founder Leanne Mai-ly Hilgart worked with a mill to develop the organic, tightly woven cotton moleskin she uses for the outer layer here. "It's much heavier and more wind- and water- resistant than regular wool," she says. That heaviness is what allows cotton, a naturally colder material, to compete with wool (which has natural heat properties) in terms of warmth and protection, according to Parachuru. "To make cotton water resistant, you have to make it difficult to stretch — it has to be very tightly woven."
The "Down" 
It's filled with layers of lightweight Primaloft, a down alternative that unlike down remains insulated even when wet. For the first time this year, the coat is filled with Primaloft Eco, a 100 percent recycled version.
Weight
4 pounds.
Vaute Couture's Mark
—Lauren Levy
And Why Spending Under $500 Is Fine, Too
The cheapest, warmest coats vetted by the professionals.
Photo: Courtesy of the vendor
"This uses metallic microdots to reflect heat back to the wearer, like those marathon blankets." —Frederick Reimers, jacket reviewer, Outside magazine