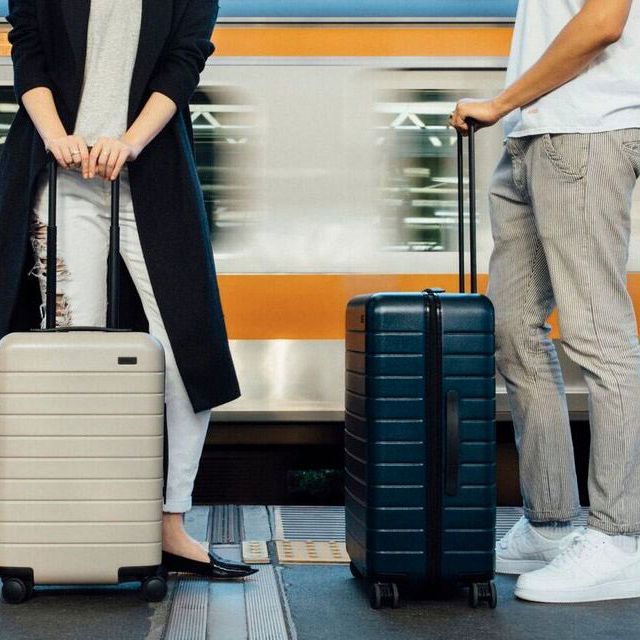 Photo: Courtesy Retailers
You may have heard there's a smart-luggage ban coming, and if you've been planning on breaking in your new smart suitcase this holiday weekend, you'll want to make sure it's safe to fly before you head out to the airport. That's because this ban on smart luggage will start on Monday, January 15 — though not every airline is affected and neither is every bag with a battery built into it. To better understand the specifics of the ban, I spoke with representatives from American and Delta, two of the airlines implementing these new regulations on smart bags, to find out what rolling suitcases are affected, which types of smart luggage to avoid, and why, exactly, smart bags are a hazard in the first place.
What is the smart luggage ban?
Starting on Monday, smart bags that do not have removable lithium-ion batteries will be banned from flights on American Airlines, Delta, Alaska Airlines, and Hawaiian Airlines, either as a carry-on or a checked piece of luggage. The policy varies slightly depending on which airline you're flying, but if you have plans to travel with any of these carriers, do not show up at the airport with a suitcase with an integrated battery.
And what is the problem with the lithium-ion battery in my smart luggage?
The risk of fire — and this isn't a new concern. Remember exploding Samsung phones in 2016? Or hoverboards on airplanes that were catching on fire? Those were both because of failing lithium-ion batteries, and the fear of fighting flames while flying is why the Federal Aviation Administration has had rules banning lithium-ion batteries from checked bags since since 2013. And though there haven't been any fires on airplanes due to smart luggage, most airlines don't want to take any chances.
What if my smart luggage has a removable battery pack? Does this affect me?
If you've got a smart suitcase with a removable battery pack — like those from Away or Raden — you're good to go. You can store a carry-on suitcase with a removable battery pack in the overhead bin, even if it's still got the battery pack in it, though you will have to remove the battery if you're planning on checking your luggage or are asked to check it at the gate. You can, however, bring that battery into the airplane cabin in your carry-on.
If these batteries are so dangerous, why is it okay to have the battery in the cabin but not the cargo hold?
The risk of fire doesn't decrease when you put a lithium-ion battery in the cabin of the airplane versus in the cargo hold. It is, however, hypothetically safer for a battery to catch on fire in the cabin, where there are people who can put it out, than to let it burn in the cargo hold where no one can deal with the problem. As Ross Feinstein, a spokesperson for American Airlines explained, "We have cargo fire-suppression systems in the cargo holds, but if that doesn't work right, there are no other options until you get on the ground." Flight attendants are also trained to fight battery fires, and there are more options to put out a blaze in the cabin without landing the plane, including fire extinguishers and fire-containment bags.
Hold up. If you're allowed to keep the removable battery in your carry-on suitcase, then why can't I bring my smart suitcase with an integrated battery if I'm using it only as a carry-on?
Imagine you have a suitcase with an integrated battery, and you've been planning on bringing it as a carry-on. You get to the gate or onto the plane, and there's no room in the overhead compartment, so you're asked to check it at the gate or planeside. "We're not going to start removing other passenger's bags to accommodate your bag on that aircraft," says Feinstein. "We're also not going to knowingly place that smart bag in the cargo hold of the aircraft." If you can remove the battery, you don't have this problem; when a flight attendant or other airline employee asks you to check your bag, you take the battery out, then your bag can be checked without risk of exploding in the bottom of the aircraft, which, again, would be very bad.
What if I have a suitcase with a non-removable battery?
You may be out of luck. "For the first few weeks, we'll most likely rebook them on a later flight, but they're not going to be able to travel with that bag," says Feinstein, emphasizing, "It's not going to fly. We're not going to introduce the safety risk on our aircraft for that customer." Delta will also offer to rebook customers who show up with a smart bag with an integrated battery so they can go home and repack in a less-smart suitcase. A Delta spokesperson also noted that the airline has spare suitcases at pretty much all of its airports for customers to use, and you might be able to use one if you ask nicely — but it'll be your responsibility to dispose of your smart bag.
Can't I just avoid those four airlines?
For now, but it looks more and more likely that these regulations on suitcases with non-removable batteries will become an airline industry standard. CNN has reported that both Southwest and United Continental are considering similar regulations, and IATA, the international authority on global air transportation, has issued similar guidance. And where IATA issues a guidance, "basically all carriers around the world tend to follow it," says a Delta spokesperson.
But my bag's manufacturer says it's FAA-approved!
About that: "The federal government doesn't approve batteries," says Feinstein. "It's not helpful saying batteries 'FAA-approved' or 'TSA-approved' because that's not the case."
I still want a smart suitcase — so what should I get?
Definitely one with a removable lithium-ion battery. Some brands that make hard-side suitcases with easily removable batteries include Away, Raden, and Arlo Skye.
If you want a soft-sided suitcase with a removable battery, try Marlon. Just remember to take out those batteries before you check any of these bags.
The Strategist is designed to surface the most useful, expert recommendations for things to buy across the vast e-commerce landscape. Some of our latest conquests include the best socks for traveling, travel shoes for men and women, dopp kits, rolling luggage, weekend bags, travel necessities, and portable speakers. We update links when possible, but note that deals can expire and all prices are subject to change.
Every editorial product is independently selected. If you buy something through our links, New York may earn an affiliate commission.