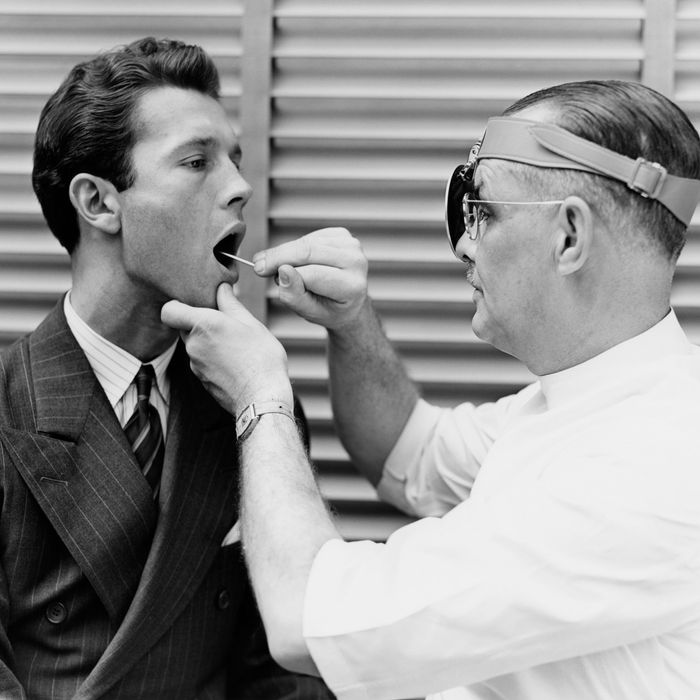 Photo: H. Armstrong Roberts/ClassicStoc/Getty Images
If you think you've seen more coughing co-workers, feverish family members, or sneezing subway riders than usual, you're probably not imagining it. Flu season is in full swing, and this year's outbreak is one of the worst in years. The number of flu cases is still going up, both in New York City and across the United States, and the U.S. Centers for Disease Control and Prevention estimate that at least 700,000 people will be hospitalized because of the flu by the time it's all said and done.
The bad news is that it doesn't seem to be letting up anytime soon; flu season usually lasts until March, according to Andrew Pekosz, professor of molecular microbiology and immunology at Johns Hopkins University Bloomberg School of Public Health. But there are some concrete steps that you can take now that'll prevent the spread of flu and help you avoid getting sick in the coming weeks.
"The best thing New Yorkers can do is get their flu shot," says Julien A. Martinez, assistant press secretary for the New York City Department of Health and Mental Hygiene. "It is not too late to be vaccinated." That's because the flu season lasts until March, so, as Pekosz explains, "even if you got immunized today, for instance, you won't get immunity for another two or three weeks, probably. But that would probably give you protection to the strain that'll emerge in February or March, toward the tail end of the flu season." If you live in New York City, you can find out where to get a flu shot by calling 311, texting "flu" to 877-877, or using the Department of Health's NYC Health Map, though they do recommend that you call the location to confirm availability before showing up.
But getting a flu shot doesn't mean you're immune to the flu. You should still take steps to prevent the spread of the virus, so below we've got some advice from experts about actions you can take (and things you can buy) to fight the flu this season and stay healthy throughout the year.
In many Asian countries, people who are feeling under the weather will don a surgical mask before leaving the house as a courtesy to those around them, and given how serious this season's flu is, you might be tempted to do the same before you hop on the subway. However, Pekosz notes, "Your standard surgical masks aren't incredibly effective at preventing flu transmission, because the virus and droplets are small enough to get through those normal surgical masks."
Where a surgical mask can be helpful is in maintaining distance between people. "Though it may not be as good at preventing the virus from leaving your respiratory tract, it is good to remind other people to stay a few more feet away from you and limit how close they get to you, and therefore reduce their chance of getting infected."
If your goal in wearing a mask is to stop a virus in its tracks, you'd want to wear what's called a N95 mask, which, according to the CDC, "blocks at least 95 percent of very small (0.3 micron) test particles," and is way more effective at preventing the spread of airborne viruses in true public-health emergencies. (It should be noted, however, that the CDC "does not generally recommend face masks and respirators for use in home or community settings," so wearing one of these in public might be overkill.)
The easiest, and arguably best, thing you can do to prevent the spread of flu — along with any number of viruses, bacterial infections, and diseases — is wash your hands regularly with soap and water. "Any soap works well at killing both viruses and bacteria, so washing frequently with regular soap is the best thing to do," says Pekosz. And literally any type of soap, whether it's a Strategist editor–approved bottle of Aesop hand wash or the cheapest bar of whatever drugstore brand, will do, and it doesn't even need to be antimicrobial to be effective. "The critical thing," Pekosz explains, "is to make sure you do it frequently during the day, because just washing your hands once isn't really going to affect things, because you're constantly touching things."
Keeping a bottle of alcohol-based hand sanitizer in your bag or on your desk isn't a bad idea, either, but that doesn't mean you should be using it all of the time. Pekosz calls hand sanitizer "a good backup," and really, you should only use it "once or twice during the day" to supplement good hand-washing hygiene. "If you can wash your hands, I would wash your hands," says Pekosz."If you can't wash your hands, then using Purell is a good secondary way of making sure your hands are clean."
"It's during those early stages where all of us try to power through and get our work done that we have the greatest likelihood of infecting others," says Pekosz, so he recommends that you work from home the day you start to feel any respiratory symptoms, like coughing, sneezing, or a sore throat. But if that's not possible, it's especially important to maintain good coughing etiquette and hygiene — by sneezing or coughing into the crook of your arm — even when you think you're alone. "Sneezing or coughing out loud will fill the air with aerosols and droplets," says Pekosz. "Some of those can hang around for a significant amount of time after you've coughed. So even if you cough in an empty room, if someone comes in two or three minutes later, they can potentially be exposed to the virus that you're infected with." (It's good practice to always follow this coughing etiquette, though, in no small part because you can be infected with and spread the flu even before you start showing symptoms.)
If you do need to blow your nose, don't use a cloth handkerchief or your sleeve. "Disposable tissues are the best thing to use," says Pekosz, "as long as you don't collect them on your desk and you immediately throw them in the trash, so no one else can come in contact with them." But by the time you're sick enough to amass a pile of tissues, you really shouldn't go in to work. You might be miserable at home in bed, but at least you know that you're not going to infect anyone else — or get sicker yourself.
The Strategist is designed to surface the most useful, expert recommendations for things to buy across the vast e-commerce landscape. Some of our latest conquests include the best women's jeans, rolling luggage, pillows for side sleepers, ultra-flattering pants, and bath towels. We update links when possible, but note that deals can expire and all prices are subject to change.
Every editorial product is independently selected. If you buy something through our links, New York may earn an affiliate commission.