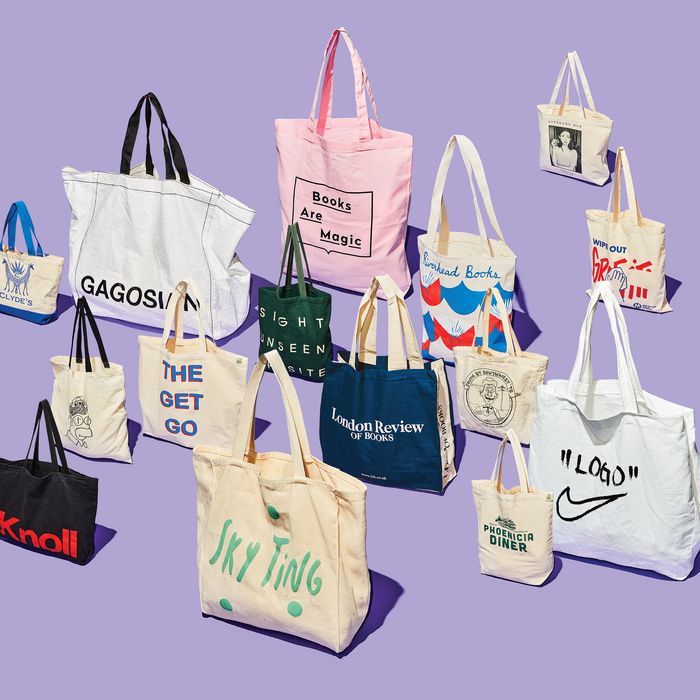 Trophy bags.
Photo: Bobby Doherty/New York Magazine
About a year ago, stylish, young Korean women began visiting the London Review of Books' Bloomsbury bookshop in droves. They weren't Jenny Diski fans — rather, they were after the canvas tote bags for sale by the register. Then the phone calls started: people from South Korea asking to buy hundreds of the bags at once. "I assume they were selling them," says Claire Williams, event coordinator at the store. "Because no one needs that many totes." Upon further investigation, she found that the Korean tag for the bookstore on Instagram turned up pages and pages of photographs of the bag slung over chic shoulders: Evidently, the shop's nondescript tote had become a thing. No one knows exactly who started it or what
it is about the plain canvas bags that fed the hunger—the simple roman type? The graphic color blocks? But there's no denying that prestige tote bags are on the rise. Something from WNYC announcing that you did your part to end the pledge drive is no longer enough: Totes communicate in a more nuanced language now—they are the nautical flags of the F train. A Judd Foundation option does a fine job of informing strangers you've been to Marfa, but a bag from the Get Go market there demonstrates a more discerning awareness of the local culture. Recently, a stranger offered to buy vintage collector Brian Procell's discontinued ripstop Gagosian bag, after seeing it on Instagram, for $1,200. Procell, of course, declined.
Photo: Bobby Doherty/New York Magazine
The Cobble Hill bookstore hadn't been open a year when a woman came in and bought 20 totes to sell at her pop-up shop in Japan. A month later, she bought 100 more.
Photo: Bobby Doherty/New York Magazine
This little grocery store in Marfa has been open for years. But in the last 18 months, its bag has been tagged over 450 times on Instagram (#TheGetGo), in locales as far afield as France.
Photo: Bobby Doherty/New York Magazine
In September, Off-White collaborated with Nike on a series of ten sneakers. For each pair purchased in person, the buyer got a matching tote. Now, they go for up to $80 on eBay.
Photo: Bobby Doherty/New York Magazine
These totes are sold in the lobby of BAM's main building, as well as across the street at Fort Greene's beloved Greenlight Bookstore — so wearing one is a good indication that you spend a significant amount of time on Fulton Street.
Photo: Bobby Doherty/New York Magazine
Sold in Bloomsbury, but unusually popular in Seoul.