Trophy bags.
Photo: Bobby Doherty/New York Magazine
About a year ago, stylish, young Korean women began visiting the London Review of Books' Bloomsbury bookshop in droves. They weren't Jenny Diski fans — rather, they were after the canvas tote bags for sale by the register. Then the phone calls started: people from South Korea asking to buy hundreds of the bags at once. "I assume they were selling them," says Claire Williams, event coordinator at the store. "Because no one needs that many totes." Upon further investigation, she found that the Korean tag for the bookstore on Instagram turned up pages and pages of photographs of the bag slung over chic shoulders: Evidently, the shop's nondescript tote had become a thing. No one knows exactly who started it or what
it is about the plain canvas bags that fed the hunger—the simple roman type? The graphic color blocks? But there's no denying that prestige tote bags are on the rise. Something from WNYC announcing that you did your part to end the pledge drive is no longer enough: Totes communicate in a more nuanced language now—they are the nautical flags of the F train. A Judd Foundation option does a fine job of informing strangers you've been to Marfa, but a bag from the Get Go market there demonstrates a more discerning awareness of the local culture. Recently, a stranger offered to buy vintage collector Brian Procell's discontinued ripstop Gagosian bag, after seeing it on Instagram, for $1,200. Procell, of course, declined.
Printed Matter
This double-handled tote has duel credentials: It was designed by the nonprofit bookstore-slash-art-space Printed Matter, and produced by millennial-favorite reusable-bag company Baggu. As for the quote on the front — if you don't know who said it, it might be best not to approach this tote's wearer. (It's the contemporary artist Lawrence Weiner.)
Big Yellow Tote
Everybody.World was started by a couple of American Apparel alums out in California who were ready to make their own socially conscious brand of basics. Last year, they released this massive bright-yellow tote that can carry just about everything. Now, you'll see it on design-focused PR girls and anyone who might regularly hang around the Standard in L.A.
A not-so-subtle way to communicate that you've recently been to Donald Judd's eponymous foundation in Marfa or his live-work space turned gallery in New York. You can't buy this one online, but you can stop by 101 Spring Street in New York or 104 South Highland Avenue in Marfa and get one for $25 without even taking the tour.
At its anniversary party, Dimes gave away 50 of these tote bags. The restaurant's newer tote is less exclusive, but still popular among DJs — it fits vinyl records just right.
This tote came with a purchase at the preeminent pharmacy of the Upper East Side. It will soon become even more exclusive, as Clyde's recently closed for good.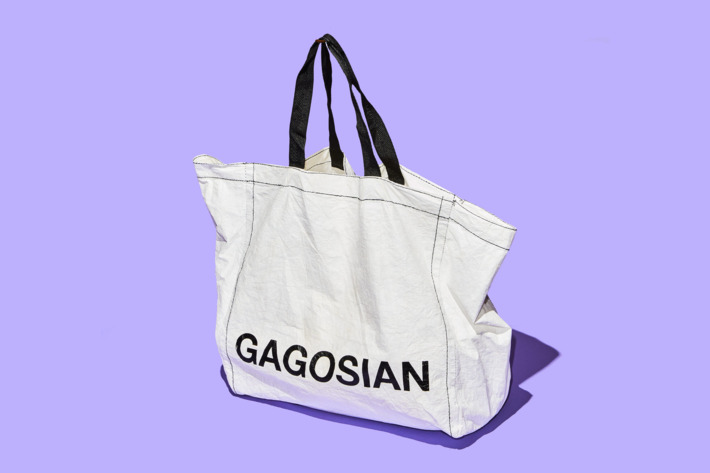 This bag was available for sale at the gallery's Upper East Side shop years ago, but has since been discontinued.
You cannot buy this Knoll tote — it's given away to VIP clients and friends of the brand — which is why owning one has become a status symbol for architects and creative directors.
Grove Atlantic debuted this at the launch party for Literary Hub, its online venture — asking Joan Didion to lend her likeness before she agreed to those Céline ads.
The Catskills diner's owner claims that the bag got him a book deal: "The publisher said she'd seen a lot of the tote bags in her office and decided to check us out."
Associate publisher of the Penguin Random House imprint Jynne Martin likes to send this bag to carefully selected friends in media. She has spotted it at the Frida Kahlo House in Mexico City.
Two-hundred-and-fifty design and fashion people who were at Sight Unseen's annual design show got a tote — plus Jenna Lyons, whom co-founder Jill Singer hunted down with the express purpose of offering her a bag.
This Chinatown yoga studio opened in 2016 and is where Carine Roitfeld does her "practice." Every time owners Krissy Jones and Chloe Kernaghan print more totes, they sell out within weeks.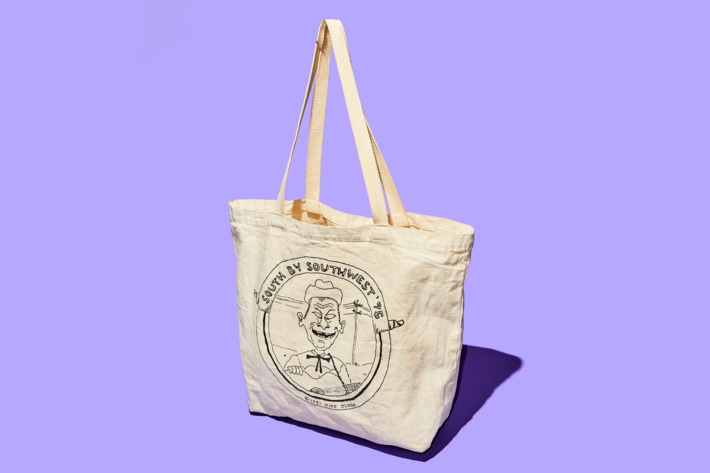 Mike Judge, the creator of Beavis and Butt-Head, Office Space, and Silicon Valley, drew this promotional tote for the 1995 South by Southwest festival.
The ex–graffiti writer Kimou Meyer (a.k.a. Grotesk) designed but never sold these, giving them away instead to his fellow middle-aged reformed vandals.
Any self-respecting gallerist knows that the be-all-end-all status art-fair tote is Frieze's 2015 collaboration between Shane Campbell Gallery and streetwear designer DRx Romanelli, which was made out of leather, suede, flannel, and the reincarnated remains of bags from previous Frieze fairs. But in lieu of that impossible-to-find bag, this slightly more generic version will do just fine.
If you live in Williamsburg and don't worship the Tarlow family and their restaurants, move out. Prove your neighborhood know-how by carrying around this big whale — it'll signal that you lived there before the finance bros moved in.
David Chang celebrated Momofuku's ten-year anniversary with — what else — some sick merch. This tote, along with a Jason Polan–designed egg tee, was available to buy during service at the original Momofuku Noodle Bar for four days in 2014.