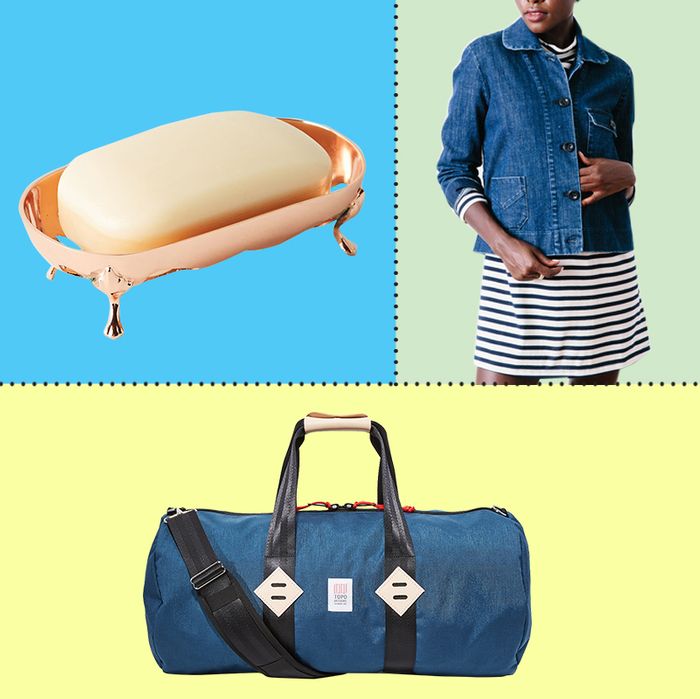 Valentine's Day is almost upon us, and while there are only a few days left to get those last-minute gifts, there are plenty of great deals to be had if you're still shopping (for your valentine or for yourself). We sniffed out some of the best things on sale online, from cheap Uniqlo to a crazy-cheap Moschino throw.
This has unfortunately sold out at Nordstrom, but you can still buy it (at full price) at the Walter site.
In skin-care circles, vitamin C is known for its brightening effect. This serum from California brand Ojas fights hyperpigmentation with a few drops morning and night.
Still looking for a great duffel? This handsome blue version from Topo (we like the contrasting leather details) works for the gym or a weekend away.
How cozy does the faux-fur lining of these plaid slippers look?
Men, it's not too late to get a high-ankle winter boot — this all-black version of the Timberland was made for sleet season, but looks office-appropriate, too.
This delicately marbled pillow was vegetable-dyed in Nigeria.
They're practically giving this cardigan away.
We're dreaming of spring already, when this will look "off-duty model" casual under a shearling leather jacket paired with sneakers.
Imagine wearing this ring and looking down at your fingers every time you need to be transported to the Amalfi Coast.
Photo: Christine Han/Christine Han Photography
You can't really have enough denim jackets, especially when they have interesting details like these oversize buttons and a rounded (but not quite Peter Pan) collar.
A great starter food processor (and housewarming gift, incidentally) for the cost of two movie tickets.
We're still experiencing logo-mania, which makes the repeating Moschino on this wool throw very on-trend.
A very luxurious-looking long and tall tote bag that says, "I would never dream of putting groceries in this thing."
A more workday tote bag (with a cool triangle quilt pattern) that you could bring to work or the gym — or the grocery store.