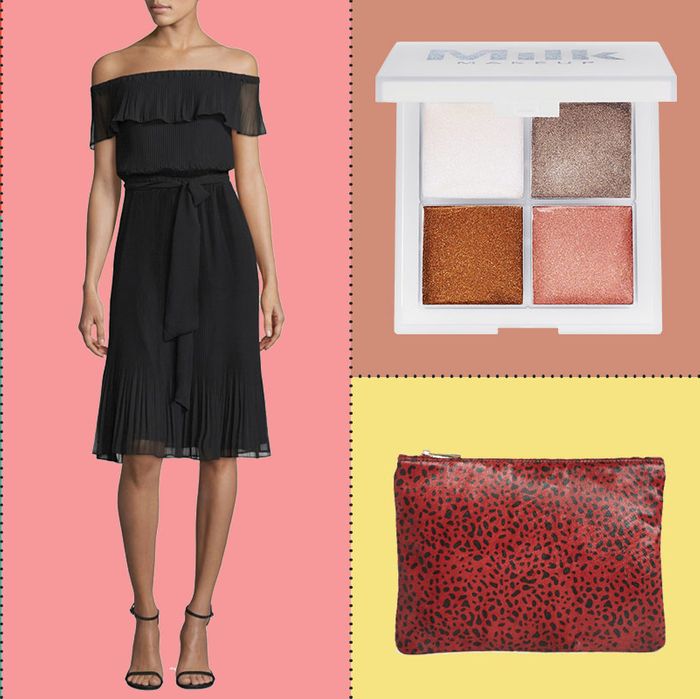 Did the topsy-turvy weather this week drive you a little nutty? We were confused, too, breaking out our T-shirts way sooner than we were ready to. It's official, though — with February coming to an end and spring upon us, we're ready to dress for warmer temps. This week, we sniffed out the best on-sale dresses, heels, and easy shirts from brands like Everlane, Sergio Rossi, Margiela, and Converse.
If you've been meaning to try an off-the-shoulder dress, this is a very sweet one.
This Lacoste sweater is busy in a very understated way.
Yes, Everlane's Choose What You Pay sale has been going on for some time now, but we sort of overlooked their spring-y stuff … until two days ago, when it was 71 degrees out, and we started dreaming of wearing mules with no tights.
Our neighbor has one of these Ring video doorbells (which lets you see and chat with whomever's at the door via your iPhone) and it seems very cool.
This calf-hair clutch looks a lot more expensive than it is.
This right here is a very good price for a pair of classic Ray-Bans.
Photo: REVOLVE STILLS #2
If you've always wanted a pair of metallic-silver ankle boots, now's your chance.
We love the one five-star review for this neoprene iPad case from Incase: "Excellent."
If you're looking to be a little more glossy and glowy, this Glitter Glaze eye, cheek, and lip palette from Milk Makeup should do the trick.