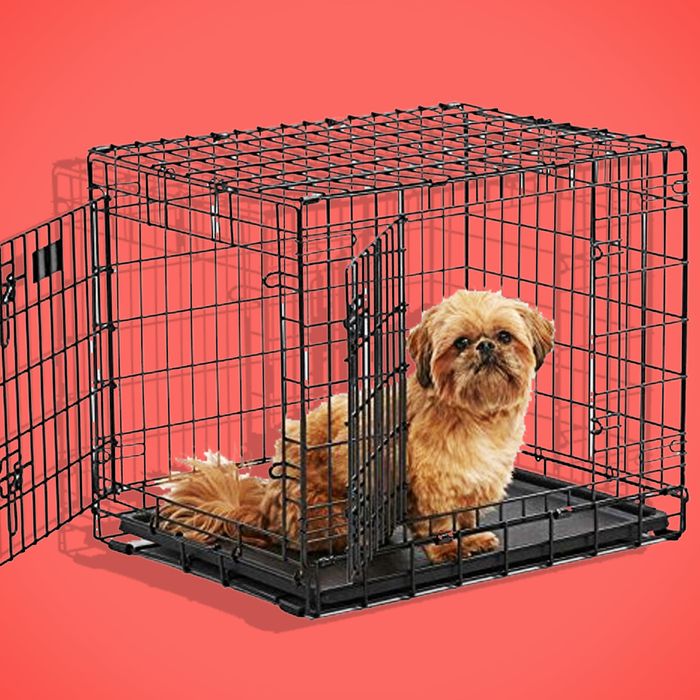 My pup escaped from every kennel — until I found this one.
Photo: Courtesy Retailers
I have a 13-pound Chihuahua mix named Pippin. He's about two years old and impossibly cute. He's also a Houdini dog.
When I leave the house and he's in his crate, he will escape. He will chew through bars that I can't bend myself; he will squeeze out of a locked door; he will even, with super-dog strength, tip the crate and escape out through the bottom grates.
When I first got Pippin, I bought this crate from Amazon. It was cheap and looked sturdy enough with a single lock, and bars that looked to be strong enough to withstand a puny pup. But after a night out, I came home and Pippin greeted me at the front door, his tail wagging in that guilty sort of way. (He also knocked all the plants off of my windowsill; there was dirt everywhere.) This happened a few more times, so I decided to set up a camera and watch the escape artist at work. Turns out, he slithered right through the top corner of the door without disrupting the lock.
I thought I had outsmarted Pip when I got my second crate from AmazonBasics, which had a double-locking mechanism and no space for him to sneak out the door. Unfortunately, the cheap bars were putty to Pip's jaw, and after a few hours at home, he had warped the whole top of the crate and could slip right between the bars. Frustrated, I did some duct-tape maneuvering to see if I could keep him in once and for all. But no, he escaped again, this time from under the crate — he somehow moved it several inches across my room — and greeted me, tail between his legs, at the door when I got home. Luckily, I had not yet replaced the plants on the windowsill.
So then I did some real research. What I found were exorbitantly expensive crates that looked more like bomb shelters. Sure, they were durable, but they would make my apartment look like a militarized zone. If your dog is not just a Houdini but also a Hulk, crates like this one or this one might be necessary. But I suggest trying the Ultima Pro first. This was suggested by my friend and colleague whose dog, a 90-pound Lab mix, has similar jail-breaking abilities (and jaw strength). After looking at the Amazon reviews, it seemed that this crate was the happy medium between strength and good looks. Well, as good as a crate can look.
While it's about twice the price of the original crate I purchased, the bars of the Ultima Pro are thicker and stronger. Plus, the grates are significantly smaller, so Pippin can't warp them with his monster jaw or squeeze through them with his tiny body. There are two doors, both with double-locking mechanisms, so his attempts to escape are all futile.
I've had this crate for a long time now. It has withstood many a late night out. Now, when I return home, Pip is still in there; tail wagging, knowing full well that his Houdini days are over.
If you're looking for a different style of dog crate, here are some highly reviewed options from Amazon, according to hyperenthusiastic pup-owners.
"Okay, so when I say I did hours of research on the internet to figure out the very best crate to buy for the money, I am NOT exaggerating lol! I had borrowed the typical black wire crate when we got our puppy, but he soon grew out of that as it was for a puppy or small dog to begin with. It did the job, but was an eyesore. I wanted to find a beautiful and completely solid option that would look great in our house forever and grow with our puppy. This crate is AMAZING. Really beautiful (we got the espresso, which is more brown). This newer model has a removable plastic sheet that covers the front door in case you have a chewer (which ours is not), but it looks nice and is a GREAT option for people who are training."
This crate comes in two sizes ranging from 30 to 40 inches.
"I am BEYOND happy with this purchase! Trying to find a travel crate large enough for both of my furkids (Great Dane and Boston terrier) that doesn't cost an arm and a leg, and that doesn't take up a lot of space in a car … Well, it has been a bit stressful. I was a bit worried when I ordered the 42-inch Soft Crate by Go Pet Club, but apparently there was no reason to be! Let's talk about the travel case — it's not a fancy, frilly thing, and it holds both the crate and floor mat snugly, like it should. No mechanical errors with the zips or handles. Second, the crate's floor mat: It's not too thick, not too thin, and both kids seem to like it. The sheep's wool top is very soft! Now, the crate itself! This is definitely large enough for both my 97-pound Great Dane and my 23-pound Boston terrier to snuggle up inside, but still be able to give one another space, if needed. The setup is really easy; all you have to do is zip the front and back panels together. I like the ventilation windows, and the option to put them up or down. I know it didn't say this in the description, but there is actually a pocket on both of the long sides, which will come in handy for holding treats, a few toys, and leashes."
This crate comes in sizes ranging from 18 to 48 inches.
"I have two 65-pound golden retrievers. They both absolutely love this crate. I use it for car travel, and for when we're outdoors for an extended period of time and I can't have my hand on her leash the entire time. It's very well made, and I love the fact that it's got two different entrances for them, so you can lean it against a wall and still be able to get the dog in and out, no matter which side of the crate you block. You can also Velcro the entrances open, so the dog can just hang out in the crate without being locked in. It also has clips on the zippers for when you have the doors closed, to make sure that the dog can't unzip it from the inside (such a simple, but very good idea!)."
This crate comes in sizes ranging from 21 to 42 inches.
"Where was this when my big guy was a small guy and was able to maneuver his way out of ANY/EVERY CRATE … And I mean that literally; he would bend anything and squeeze out. Bars and wires, EVERYTHING … Since I bought this, I haven't had to worry about anything. I think I have had it for over a year or close to a year now. The only thing he was able to do was dent the locks a little bit. I have bought every single crate on the market, and this one's the best. The tray at the bottom is removable, of course, and it's amazingly light to push around on those tires. They also have brakes and locks, so it won't move once locked. My big guy is a 100-pound German shepherd. He is big and fits perfectly in there and still moves around in it."
This crate comes in two sizes ranging from 35 to 40 inches.
"This was EXACTLY what we needed for our two 90-pound Labs. There is TONS of room in it for them to move around, stand, even jump up somewhat (mine think they are kangaroos). There is also more than enough room for a water bowl and their bed, and the plastic removable tray is a nice touch, making for an easy cleanup if needed. The large side and end doors are very well designed. Mine go in and out of the large side door without any issues. In fact, the side door is so large that I (at six feet and 255 pounds) can easily get in and out of it to change their water, bedding, etc."
"I found this kennel after visiting my aunt and seeing hers. I'm so glad she recommended it! We bought this kennel for my miniature dachshund, Clyde. This kennel is the perfect size for him to get really comfortable! If you are asking yourself if the top load door really makes a difference, the answer is yes. Yes it does. First, Clyde is a longhair dachshund and we live in Texas. He sleeps in his kennel and loves to sleep there. The top door allows SO much more airflow that Clyde has been so happy in it! Second, we travel a fair bit. Clyde rides best in the car in his kennel. With two people and two dogs, a car can get crowded. Using the front door with stuff next to it in the seat isn't always possible. We can pack everything the way we want and use the top door to take him in and out for potty breaks! Plus the extra airflow makes an even bigger difference on a Texas road trip! It came disassembled, but I was easily able to put it together in about ten minutes (and that is with the dogs inspecting the new 'thing' in the house)."
This kennel ranges in size from 19 to 24 inches.
The Strategist is designed to surface the most useful, expert recommendations for things to buy across the vast e-commerce landscape. Some of our latest conquests include the best women's jeans, rolling luggage, pillows for side sleepers, ultra-flattering pants, and bath towels. We update links when possible, but note that deals can expire and all prices are subject to change.
Every editorial product is independently selected. If you buy something through our links, New York may earn an affiliate commission.