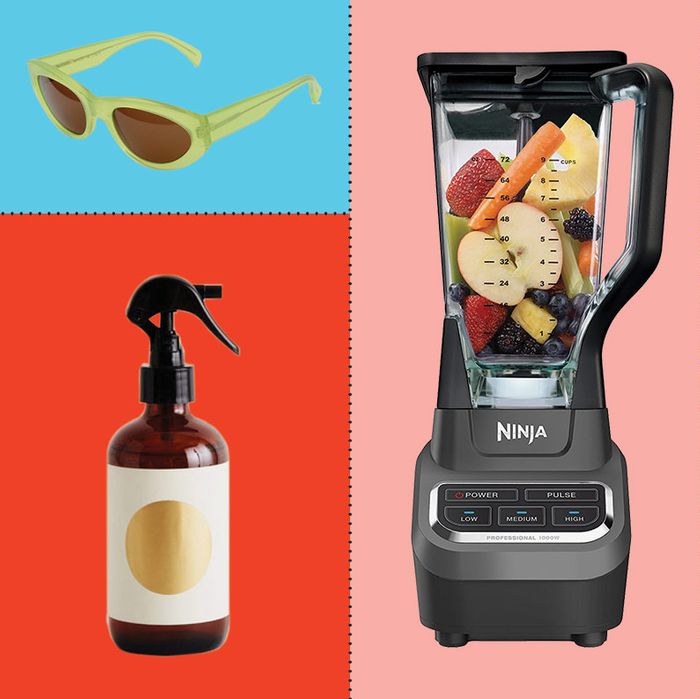 If you follow our biweekly feature Your Shopping Cart, you know that we have some eerily good intel on what things you all are buying. It led us to think that, as Strategist editors, we could turn the tables and highlight all the things we've been buying ourselves. As you'll notice, it's both a blessing and a curse to be a Strat editor; we're picky, but sometimes we just have to get on with it (it's online-shopping expertise meets IRL needs). Below, what we all bought in February.
Okay, so I know that last month I recommended the Agent Nateur deodorant. Well, after a few weeks of use … I realized I wasn't smelling so great. So, I listened to two of my best friends, who both LOVE Aubrey Plaza's (via Judy Greer) favorite nat-deo, the Real Purity Roll-On, and it is leaps and bounds better. I am not not a sweater, and my underarms have been as dry as a bone since I started using it about a week ago!
Maxine wrote about the Ninja Professional Blender as a deal of the day in early February, and her headline, calling it an "affordable Vitamix alternative" sold me. I love it; this thing is powerful, it's super easy to use and to clean, and I've been very much enjoying my banana, blueberry, peach, coconut, and soy milk morning smoothies!
My husband got a terrible, terrible case of the flu earlier this month. I very much did not want to catch it, so for a few nights, I slept on the pull-out in our living room. I used our "guest" duvet, and in the process, realized it was on its last legs, and that we needed a new one. Since our comforter is a twin, I realized I could do something fun: buy a cheapie from a kids' department! I settled on this lovely lady from PB Teen, and it was the best $29.99 I've spent in a while.
I found this shearling-lined Levi's jacket at a thrift store, and I've been impressed with just how warm it is! On these is-it-spring-or-is-it-winter days, I've been wearing it and have found it to be just right for these weird-weather times.
I was immediately intrigued by a Facebook ad for these floating shelves and bought them in each of the three colors for my bathroom. They're made of plastic, so they're not the world's sturdiest things (I've been using them to hold hair stuff and toothpaste rather than a candle), but they look just great, especially with that staggered stacking effect.
If you buy $75 worth of stuff on Of a Kind, it's free shipping, so I added this Golda Hiba mist to my cart (they got me!). It's the same mist that Aubrey Plaza recommends, and the soap form is what we're calling the next Aesop. The smell is not what I expected. It's not sweet or fragrant, necessarily, but super resinous, which makes sense because the only ingredients are Hiba essential oil (from centuries-old trees in Aomori, Japan) and distilled water. I've been spraying it judiciously on my pillowcases before bed to start associating it with sleep.
A few weeks ago, a friend came over to watch The Bachelor, and after washing his hands at the kitchen sink asked, "Where's your towel?" I told him to grab a paper towel, which, even as the words were coming out of my mouth sounded so wasteful and dumb. I remembered a Slack conversation I had with Grub Street editor Alan Sytsma, who recommended cheap tea towels ("I will ALWAYS advocate for simple kitchen towels over oven mitts. Watch any cooking vid and the chef always goes for a towel to grab anything hot"). I bought a dozen the next day, and they're great.