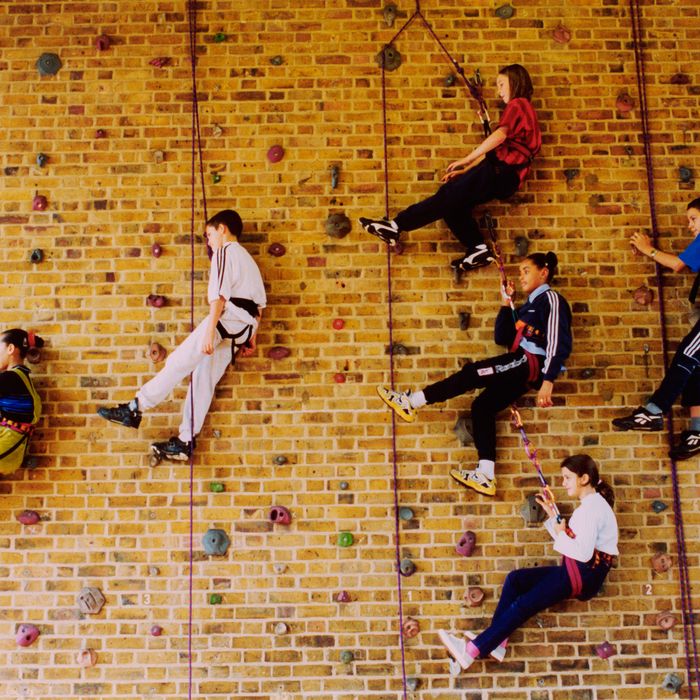 Photo: Photofusion/UIG via Getty Images
If you're getting into climbing — and a lot of people are; according to the sport's de facto trade magazine, Climbing Business Journal, 43 commercial gyms opened last year in the United States — then "you're going to need a good pair of shoes," says Pat Enright, owner of MetroRock climbing center, opening soon in Brooklyn. That's true across bouldering (scrambling around on shorter walls with floor pads to catch your fall) or belaying (climbing walls around 50 feet high, but with the safety net of a harness and rope).
At the moment, there's a ton of product to choose from. "It's crazy because the climbing industry is just exploding on all ends," says Jennifer Tanaka, an instructor at Rockreation climbing center in Los Angeles. Enright agrees: "It's really hit or miss on which climbing shoe is going to fit your feet, and everybody has differently shaped feet," he says. "When I'm fitting people, I look at their feet: Certain brands lend themselves to a wider foot versus a narrower foot." There are also noteworthy differences between beginner shoes and more advanced ones, and vegan choices for climbers who prefer not to wear leather. To parse the best of the gear — including harnesses, required for top-roping — we talked to instructors who know what makes for the best climb.
"The cheaper it is, the more it's designed for the beginner. A beginner shoe is going to fit much more comfortably and it won't be as difficult to put on your foot. You buy them for their comfort. But La Sportiva is still a classically leather-bound shoe that will conform to your foot, and the Tarantula is a good climbing shoe for beginners." —Enright
"The harder you climb, as you're starting to really push yourself, you want that shoe that's going to give you that advantage. More downturn — that's the curve in the arch — allows for a better or more exact foot placement, for incredible tiny footholds. You want them to be very tight; you don't want your foot turning inside the shoe. But you don't want to feel pain. Imagine ballerina slippers — you're going to take them off when you're not climbing, so you want something easy, like Velcro." —Enright
"For some reason, don't ask me why this is, it just seems to be the case that Five Ten shoes are made for a narrower foot. It was purchased by Adidas, recently. The Rogue is their beginner shoe." —Enright
"As you start moving up in skill, the Moccasym is an interesting shoe. There's no laces, there's no Velcro — it's a slipper. Some people love this, and Five Ten has sold this the longest. It's a weird shoe because most shoes continually expand if you apply pressure, but the Moccasym is really guilty of it, so when you put it on it's snug — maybe too snug — and over time it gets that perfect fit. You wait a little bit longer, it expands more, and then it goes beyond the perfect fit, and you can't do anything about it. So you get a new pair. But people stand by it." —Enright
"My favorite brand is Five Ten. The rubber that they use has four different ingredients in it and is the tackiest rubber I've found. The Anasazi Pro has been a longtime favorite of mine. They're flat, but still have a pointed toe." —Tanaka
"I also wear the Hiangle. These are aggressive and will help you toe in really well because the edging on these is really good. That, plus the way the shoe molded." —Tanaka
"Beginners don't need a super-high-end shoe. Until you get your footwork dialed in, you're going to get a lot of wear on the toe box, and you're just going to drag your feet on the wall. When you're more experienced, you are more precise. But until then, you want something cheaper that's more of an all-around-er." —Kate Mullen, owner of the Stronghold in Los Angeles
"Women often have lower-volume feet. Men have longer feet, but also thicker feet. But if you squeeze your foot, if you're a woman, there's just less volume. If you have high arches or not as bulky of a foot, you just need a different shoe. One shoe that we sell at our gym that's pretty popular is the Evolv Shakra, and it's a version of their popular men's shoe. I've been wearing it for three years, partly because I'm vegan, so I don't wear leather." —Mullen
Photo: BUTCHADAMS
"Black Diamond, they're out of Utah, they've been in the climbing business forever. You can get good harnesses from them — you really don't need to spend more than $50 for a harness. After you've been climbing for a while, then you start getting picky and you want this or that, and then you can upgrade." —Enright
"I use a harness that's from Arc'teryx. It's very light and it has a cool color — mine is blue — but it's also got leg loops that have buckles, so you can adjust the size and constriction around your legs. And it has a waist that you can adjust. It has that sleek look." —Enright
Photo: Siegel Yannick/Kalice Siegel Yannick
"Women definitely should consider buying a special harness. Everybody's body is different, but the typical woman has wider hips and should definitely look into getting something like the Petzl Luna. One other thing I want to mention for women: Something without adjustable leg hoops would be good, but if women are wanting to wear ski pants for ice climbing or mountaineering, or if their weight will be changing, they should make sure they have adjustable leg straps." —Mullen
"At our gym, we also have pregnancy harnesses. People get really into climbing and they can't imagine giving it up for even a few months. We keep the Mountain Mama from Mad Rock around; it allows many of our customers to climb even into their third trimester. It's not available online right now, but there are other full-body pregnancy harnesses out there to choose from." —Mullen
"If you're top-roping, the rope is going through some carabiner. Companies like Black Diamond are always coming up with stuff that's a little different, but you definitely need a locking carabiner, and a screwgate. Every carabiner has got a gate that swings open and close, but with a locking carabiner, it can lock in place. The most basic one Black Diamond sells is the positron carabiner, and you don't really need more than that." —Enright
"We're in Los Angeles, and our best climbing areas are often in desert or semi-arid locations without restrooms. Poop does not decompose in the desert as nicely as you'd like, and it's important to reduce impact by carrying it out." —Mullen
The Strategist is designed to surface the most useful, expert recommendations for things to buy across the vast e-commerce landscape. Some of our latest conquests include the best women's jeans, rolling luggage, pillows for side sleepers, ultra-flattering pants, and bath towels. We update links when possible, but note that deals can expire and all prices are subject to change.
Every editorial product is independently selected. If you buy something through our links, New York may earn an affiliate commission.