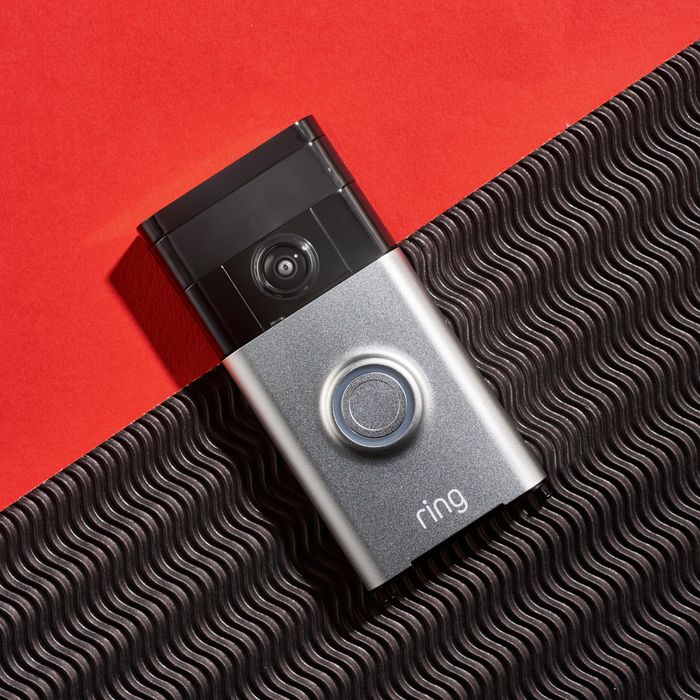 Photo: Neil Godwin/T3 Magazine via Getty Images
In the last few months, Amazon bought two seemingly similar companies: In December, the retail giant bought Blink, a video doorbell system, and then in February acquired Ring, maker of the eponymous smart doorbell and a host of other security cameras, for $1 billion. In other recent and parallel news, Nest (which Google bought in 2014) debuted its own long-awaited video doorbell, the Nest Hello. That is set to be sold by most major retailers except for, obviously, Amazon.
That's a flurry of smart-doorbell news. Consumers can buy these devices now, but that doesn't mean everyone knows exactly how they work or why they need them — especially at a time when connected security cameras and smart locks are fairly affordable measures to take toward a secure and so-called smart home. Do they make your home safer? Can they be easily hacked? Do Amazon Prime members have to buy a Ring? Or a Blink? Or both? I spoke with several smart-security and home-automation gurus, as well as representatives from Nest, about what to look for in a smart doorbell, and whether or not they really do make your home more secure.
First things first, what is a smart doorbell?
A smart doorbell is an internet-connected doorbell that relays a livestream video from a front porch to the homeowners' phone app. Affixed to the outside of any door frame, most smart doorbells are activated either when a guest presses the button or when built-in motion sensors detect movement nearby. Basically, they're designed to show you everything happening on your welcome mat — from packages and people arriving to any unwanted guests or potential home intruders — whether you're at home but away from the door or hundreds of miles away.
Why is there suddenly a smart-doorbell craze?
Ring, né Doorbot, was the first video doorbell to enter the market and became fairly well-known for founder and CEO Jamie Siminoff's rejected pitch on Shark Tank back in 2013. ("I just don't see the progression" to becoming worth $90 million, said Mark Cuban.) Siminoff invented the device to be able to answer the door if he was too preoccupied to hear the doorbell, but also espoused the device as a hidden preventative measure for staving off "porch pirates" who steal unopened packages — a problem that seems to be increasing as more people shop on Amazon and online. In 2017, researchers at Ring concluded that nearly one in five U.S. homeowners has been a victim of package theft. "Porch pirating" especially sees a spike around the holidays — during the 2017 season, the New York Times reported on the nationwide problem, and said that while local law-enforcement officers were stepping up efforts, the problem could be remedied with video-connected doorbells.
What makes smart doorbells different from smart locks or basic security cameras?
They definitely have overlapping functions, in that each device creates a digital layer of security that is accessed through the user's phone. But whereas a smart lock allows homeowners to lock or unlock their door from far away, or to grant remote access to someone like a babysitter or Airbnb guest, a doorbell does not actually open a door. And while a smart doorbell provides a video of activity happening on a doorstep, it doesn't behave like a smart security camera and keep an ever-watchful eye over, say, the living room.
Equipped with a video camera, intercom, and two-way talk options, most smart doorbells allow users to answer the door with what feels like a FaceTime call. More expensive smart doorbells let you do more. The Ring 2, for instance, offers night vision, while the Nest Hello has developed "familiar face" alerts that use facial-recognition technology.
Maxime Veron, director of Nest's product marketing, says it's "all about the convenience" when you decide to invest in a smart doorbell. "The next time the UPS guy comes to the door, you won't get a slip on your door saying you weren't there when you actually were."
But what about security — should I be worried about hackers?
The short answer is that the average homeowner should be fine as long as they keep internet-connected devices regularly updated to the latest (and therefore most secure) software versions.
The slightly longer answer, according to Paul Hibbert, a blogger with a popular YouTube channel dedicated to home-automation tutorials, is that smart video doorbells can be a bit of a double-edged sword. "All footage is recorded to an off-site server, so there's no way that a burglar or hacker could remove or destroy the footage," he says. The disadvantage to this is that with more popular models, you have to pay a monthly subscription fee just to access the footage taken from your own home. But Hibbert says that the likelihood of someone hacking your home is slim to none, especially since video footage isn't stored directly on the camera. "Even lesser-known brands bought abroad are becoming much more difficult to hack these days, as they strive to compete with their most expensive alternatives," Hibbert says. "Only the cheapest cameras are at risk of serious attack."
Veron echoes that point: "No matter what brand you choose, don't go for an unknown brand. It's very easy for companies to do cheap cameras by short-circuiting security."
Smart-doorbell features to consider
Installation hardware
It would be a cruel twist in logic if the device you buy to prevent theft then gets stolen, but it is a shiny $200 gadget that's being left on your door frame. Ring and Nest both require a special tool to remove it from the wall. This doesn't make it impossible to steal, but both Ring and Nest offer free replacements if the device is stolen.
Power and compatibility requirements
Regular old ding-dong doorbells need about 16 volts to operate. If you've got an older home with finicky wiring, however, there might not be enough juice to power a smart doorbell. If you don't already have a doorbell, you can either have a transformer installed with low-voltage wires or you can buy a battery-powered smart doorbell, like Blink, which runs on basic AA batteries. Just know that you'll have to recharge the unit regularly or invest in a power source, like Ring's solar-power charger.
Subscription services
A smart doorbell will still work without an app subscription, but paying for one gives you access to stored video footage and additional functions. Ring and Nest do not save footage or video clips without a subscription. August saves video for 24 hours, and SkyBell provides seven days of rolling cloud storage.
Video quality
If your primary purpose in installing a smart doorbell is to be able to see exactly who's at the door, you definitely want to pay attention to video resolution and camera perspective. For that, 1080p is considered the HD standard, but 720p should do the job.
The most obvious perk to the Ring is that as Amazon's newest doorbell, it syncs easily with Alexa and the Echo. It's also too soon to tell, but you could guess that at some point, Prime members could also opt into access of their footage. Smart-home enthusiasts have had issues with the original Ring, so go for their second generation if you want simple installation for a reasonable price.
Nest Hello is the newest (and smartest) addition to the smart-doorbell market with face ID, high resolution, and one streamlined app. Just as the Ring will sync with the Echo, the Nest Hello will sync with Google Home devices, making this item a good choice for someone going for a Google-fied home.
Because it's battery-operated, and half the price of the Ring, this one is good for renters. Blink can also be used indoors as a regular security camera.
SkyBell launched a few years ago on Indiegogo, and has since become the favored gadget in the smart-doorbell space, outside of Ring and Nest. The SkyBell video camera has gotten great reviews from gadget experts for its high-fidelity motion detection, 1080p video resolution, and because it doesn't require a subscription for free cloud video storage.
August began as a smart-lock company, with beautiful hardware designed by Yves Béhar. It has since expanded to the doorbell camera, so if you really want to lean in to connected home stuff, August already has a good-looking ecosystem of gadgets on the market.
If a Ring, Nest, or Skybell feels like too heft a commitment, the Zmodo goes for only $80 (which likely explains it's also an Amazon top seller, along with the company's now in-house brands) and has earned plenty of praise from gadget reviewers for working just as well as the fancier models.
The Strategist is designed to surface the most useful, expert recommendations for things to buy across the vast e-commerce landscape. Some of our latest conquests include the best women's jeans, rolling luggage, pillows for side sleepers, ultra-flattering pants, and bath towels. We update links when possible, but note that deals can expire and all prices are subject to change.
Every editorial product is independently selected. If you buy something through our links, New York may earn an affiliate commission.