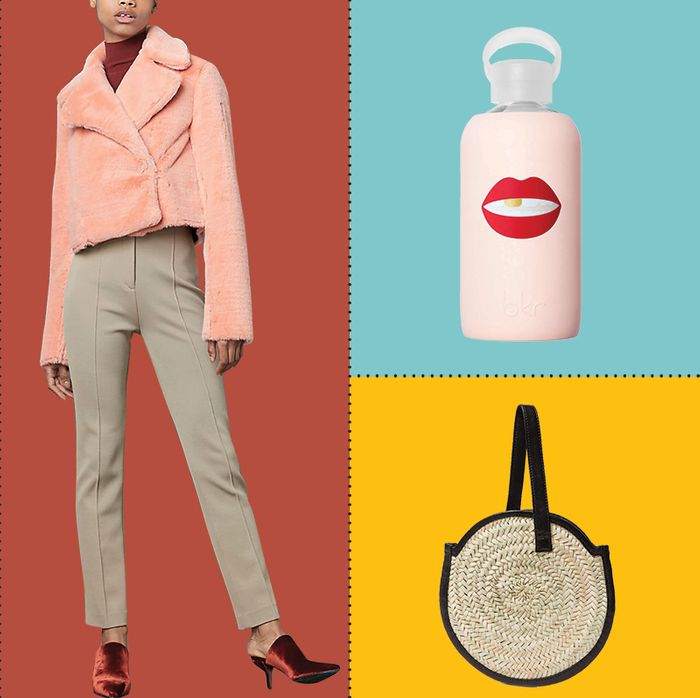 We covered lots of great sales this week — Canada Goose coats, COS dresses, fancy dog accessories, expensive-looking accent chairs from Walmart, a Madewell backpack — but turns out there are even more great sales we didn't get to. Which is where this, our weekly roundup comes in. Below, the best of the rest of the internet's sales bins.
This sweet little Michael by Michael Kors black dress features a cool chain collar.
Also from Michael by Michael Kors: a festive polka-dotted jumpsuit, perfect for spring.
2018 is up and running, but that doesn't mean you can't start a new planner. This one, from Moleskine, is 63 percent off.
These velvet Mary Janes from Prada won't ever go out of style.
Over at Yoox, a whole bunch of goodies are an extra 35 percent off their already on-sale price. First up, these Y-3 sneakers with a nice pop of blue and mint.
Next up: These See by Chloé sparkly sandals featuring a solid wooden heel.
A fun gingham number from Yoox's Italian-made house line George J. Love.
This is one of the more handsome dog beds we've seen in a while. (For more dog beds on sale, click here.)
Yesterday, we wrote about all the wonderful dresses that were 50 percent off at COS, but that's not to say there aren't other wonderful COS things on sale. Case in point, these black pants that are cropped at exactly the right spot that we think they should be cropped.
Last week, we were shocked to see a Moncler puffer on sale. This week, we were shocked again to see several more: including this lovely floral jacket that's a whopping 60 percent off.
There's also this men's two-tone down bomber that's a perfect March or April jacket.
This comfy rib-knit bralette from Madewell also comes in a muted pink and tan.
Those who have BKR water bottles tend to be obsessed with their BKR water bottles. This one, which is 50 percent off, features some sassy lips.
This Kerstin Florian Caviar Eye Crème is meant to smooth out those pesky lines around your eyes, as well as decrease puffiness. And yes, it contains a tiny bit of actual caviar. (For more of our favorite eye creams, click here.)
Rainy season is nigh, and you'll want some classic Hunter rain boots to keep your feet dry. These ones are "packable," meaning they "can be squashed, rolled, and folded into submission."
In the spirit of Get It Together Week, store your scallions, garlic, and red-leaf lettuce (or, anything really) in this stately wire basket.
This "European"-style play kitchen (which won a European Product Design Award) comes with a Miele-style sink with a gooseneck faucet, an LED-lit fridge, and a glass-top stove.
Diane von Furstenberg just added a ton of stuff to its sale section, like this cropped silk top adorned with delicate red flowers.
For those looking to get in on the faux-fur cropped-jacket wagon, look no further.
There's something a little '90s Delia's catalogue (in a great way) about this nylon tote.
This Japonesque lipstick is made from Tsubaki oil, which means it goes on creamy.