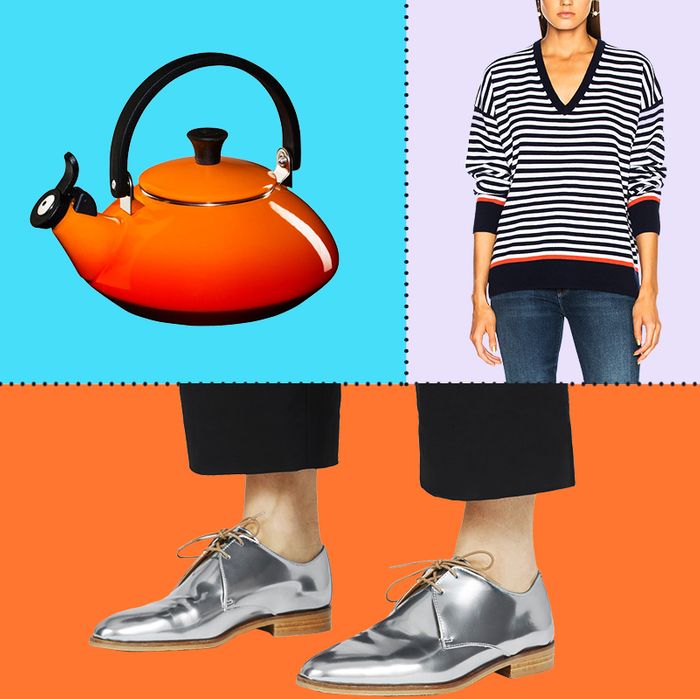 This week's deep dive into the internet's sales bins includes something for everyone: from a dainty white T-shirt, to a discounted Woolrich parka, to a funky $149 chair for the living room, to a man-bun kit.
We have never met a little scalloped-edged tee we didn't like, and this Rag & Bone tee is no exception.
Photo: 18-01-30 michaelathomsen AM2 B2 benbrubaker W
Now's the time to get next year's winter coat. Why, you ask? This incredibly warm (and rarely on sale) Woolrich Arctic Parka is 30 percent off.
A very good price for a combo blender, juicer, smoothie-maker, and grinder.
This sleek little leather chair has excellent reviews, including a very convincing one from Emily B. who wrote: "I LOVE this chair! So modern and looks way more expensive than it is. Get it!"
Photo: REVOLVE STILLS #2
This is one handsome A.P.C. boot.
We are not 100 percent sure how we feel about shirts with that little cut-out neck thingy, but the kids sure do like them.
Photo: REVOLVE STILLS #1
Another thing the kids love? Rihanna's Fenty by Puma line.