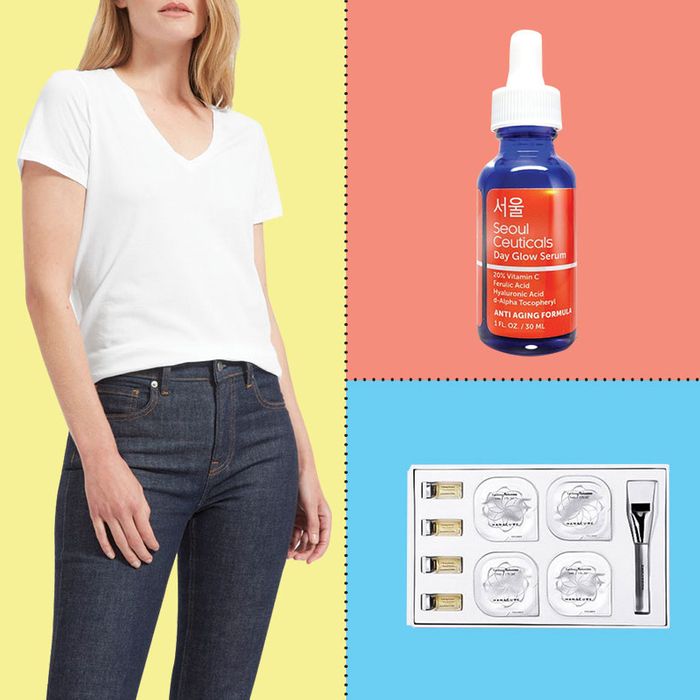 Photo: Courtesy Retailers
Welcome back to Your Shopping Cart, wherein we break out the top five products that you, devoted Strategist readers, all bought in droves. Think of this as the tl;dr of the Strategist: If your like-minded brethren are buying these items, maybe you'd like to, too.
We're trying something new this installment (and from now on). Instead of a top five, we'll be highlighting the Strategist's top ten; it's the same Strat best sellers you love, doubled. This week, we have a repeat winner, with the Gold & Snail eye patches beloved by beauty writer Rio Viera-Newton taking the cake. The runner-up, yet again, is the set of zit-zapping patches from Korean-beauty brand Cosrx, just ahead of a surging old-lady face mask (which likely got a boost during our Olympics-themed Made in Korea week). In fourth, we have a pair of VPL-resistant underwear, and in fifth, it's the bounce-preserving hair wash from Hairstory. These, plus a well-reviewed beard trimmer, a top white T-shirt, the best side-sleeper pillow, a Microsoft veteran's favorite bag, and a cheap Korean dupe for SkinCeuticals CE Ferulic serum.
2. The Google Doc I Send to People Who Ask About My Skin
These $5 pimple shrinkers are little cellulose dots you put on a pimple to absorb excess oil. As Viera-Newton said in her guide to post-pimple popping care, they work best on pimples that have exploded or are just about to: "These Cosrx Pimple Patches are your very best friend. If I were only allowed to select one product to use in these emergency situations, pimple patches would no doubt be my girl. However, there are certain circumstances in which the pimple patches work better than others. At the risk of once again giving TMI, the product works best on 'open wounds' so that it can go in and suck all the oil and bacteria out of the blemish."
3. I Tried the 'Old-Lady' Face Mask That's Trending on Instagram
Made in Korea Week not only let us find new Korean products worth discovering, but it also helped us spotlight old favorites worth revisiting. That was enough to jumpstart interest in the Hanacure "old lady" mask, which Viera-Newton reviewed last fall: "Compared to other masks in my regimen that typically target one issue, this mask covers quite a few bases: It's good for calming blemishes, providing a plumpness that fills fine lines, and brightening dull spots. After four uses, I noticed an elasticity in my skin that I hadn't seen before, though the brightening effect subsided after 24 hours."
5. The Shampoo Replacement I Only Have to Use Once a Week
The Hairstory drops two places from last time, but you're still a fan of the not-shampoo. Writer Molly Young uses the stuff just once a week: "But the results are wild. My long hair air-dries perfectly, with no 'squeaky' texture. It is shiny and falls in loose waves, like it did when I was a kid. I don't need to blow-dry it. My chronic flaky scalp (sorry!) is gone forever. I customarily wash my hair every three days. With New Wash, once a week. When friends remark that my hair looks nice, it's fun to say, 'I haven't shampooed in six months.' Which is technically accurate."
6. What's the Best Beard Trimmer?
Writer Kurt Soller told us about this handsome beard trimmer from Wahl — the brand trusted by barbers all over the world — after testing a dozen to find the best one for preserving that effortless stubble (it makes a great gift): "I appreciated the incredibly sharp, pro-level blade; heavy stainless-steel body; and long-lasting battery (a four-hour charge) that this one offered. If you ignore any of its bonus features and beard guides — those plastic combs that come with most of these, and usually feel flimsy and useless — this tool is right for men who want an incredibly close shave without pulling out an electric foil razor or regular razor blade."
7. What's the Best White T-shirt for Women?
The Everlane V-neck T-shirt that we talked about in our guide to stylish women and their favorite white T-shirts continues to be a hit, though it falls a few places this week from fifth. Says Elizabeth Rose, a server at Cafe Gitane: "I like the Everlane V-neck because of the company's transparency. It's an ethical issue — I like to know where the clothing is made. And I like this specific shirt because I wear a lot of necklaces, so the depth of this V shows them."