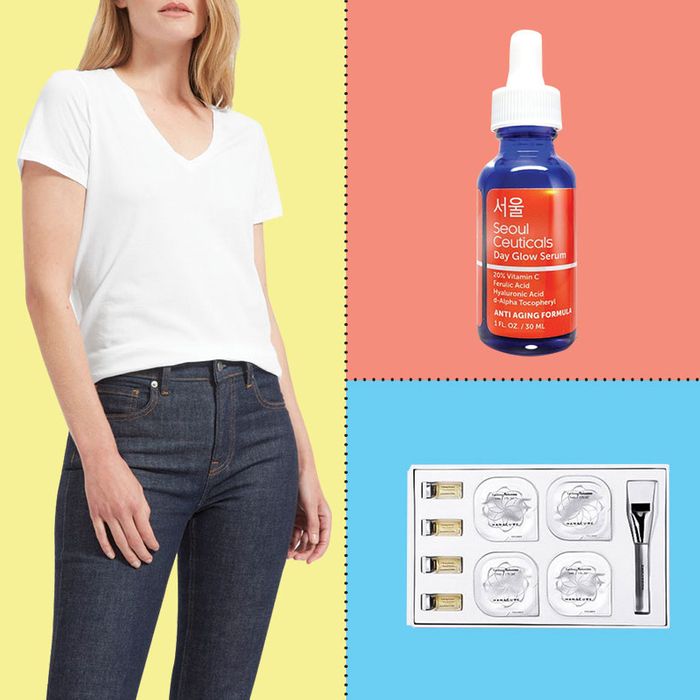 Photo: Courtesy Retailers
Welcome back to Your Shopping Cart, wherein we break out the top five products that you, devoted Strategist readers, all bought in droves. Think of this as the tl;dr of the Strategist: If your like-minded brethren are buying these items, maybe you'd like to, too.
We're trying something new this installment (and from now on). Instead of a top five, we'll be highlighting the Strategist's top ten; it's the same Strat best sellers you love, doubled. This week, we have a repeat winner, with the Gold & Snail eye patches beloved by beauty writer Rio Viera-Newton taking the cake. The runner-up, yet again, is the set of zit-zapping patches from Korean-beauty brand Cosrx, just ahead of a surging old-lady face mask (which likely got a boost during our Olympics-themed Made in Korea week). In fourth, we have a pair of VPL-resistant underwear, and in fifth, it's the bounce-preserving hair wash from Hairstory. These, plus a well-reviewed beard trimmer, a top white T-shirt, the best side-sleeper pillow, a Microsoft veteran's favorite bag, and a cheap Korean dupe for SkinCeuticals CE Ferulic serum.