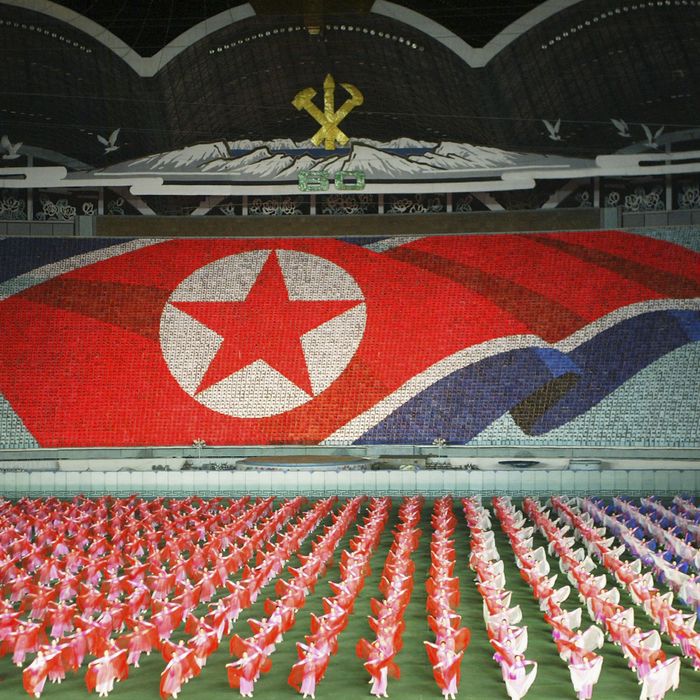 Photo: Chung Sung-Jun/Getty Images
Welcome to Reading Lists, comprehensive book guides from the Strategist designed to make you an expert (or at least a fascinating dinner-party companion) in hyperspecific or newsworthy topics. Up first: a selection of books about North Korea, recommended by researchers, professors, authors, and public-policy scholars.
For our North Korean primer, we consulted a knowledgeable group that includes Barbara Demick, author of National Book Critics Circle finalist Nothing to Envy; Jonathan Cheng, the Seoul bureau chief at The Wall Street Journal; John Park, director of the Korea Working Group at Harvard's Belfer Center for international affairs; Jieun Baek, author of North Korea's Hidden Revolution; Darcie Draudt, Ph.D. student in political science at Johns Hopkins; Bruce Cumings, a historian of East Asia and a professor at the University of Chicago; Isaac Stone Fish, senior fellow at the Asia Society's Center on U.S.-China Relations; and Suki Kim, author of Without You, There Is No Us.
Each of these experts sent us a list of books, from their favorite defector memoirs to the most thorough overviews of the Kim dynasty. The titles ultimately included on this list were recommended by at least two experts. One notable absence: novels written by authors currently living in North Korea. Over email, Meredith Shaw, a Ph.D. candidate at USC, explained the gap thusly: "The novels produced by the Party are intended as internal propaganda, and as such are naturally not translated into English." The list that follows is a literary portrait of North Korea, told instead through hard-nosed reporting and some remarkable memories.
Every single person I spoke to said that to learn about North Korea, pick up Nothing to Envy by Los Angeles Times journalist Barbara Demick. It's a part-novelization of interviews with over 100 refugees from Chongjin, North Korea. Demick covers the famine of the 1990s, the route the main characters took to Seoul, and the effects of the 2009 currency reform. "Demick researched this book while serving as the L.A. Times Beijing bureau chief, and she would travel up to the North Korea border region to talk to people living there illicitly from North Korea," Darcie Draudt says. "The book tells a very empathetic and relatable account that talks about regular needs of people who happen to live in North Korea, and includes even a love story." Adds Jonathan Cheng: "This title tops many North Korea reading lists for a reason. Demick paints a vivid portrait of life, told through the eyes of the people who lived it."
Andrei Lankov, a Russian scholar who lived as an exchange student in North Korea in the 1980s, published this history text in 2013. It's a crowded topic — a search of "history of North Korea books" turns up some 54 million results on Google — but nearly every expert, author, and professor I spoke with cited it as their favorite expert-yet-readable background of the nation. "This book is by far the most comprehensive backgrounder on North Korea, by one of the most knowledgeable scholars of this country," Jieun Baek said. It begins after World War II and at the regime's start in 1948, and carries through to the present, and argues that the nation's survival against all odds demonstrates that its leaders are not irrational, but rather brilliantly calculating.
Understanding North Korea means understanding the three generations of Kims, a lineage referred to in North Korea as the Mount Paektu Bloodline. According to Demick and Bruce Cumings, a historian of East Asia, no one explains the family better than Bradley Martin, in this 900-page book. "This big, fat book is a very accessible account of what makes North Korea tick," Cumings says. "It's one of the first books I would read if I wanted to learn about North Korea and didn't have much of a base of knowledge." "This encyclopedic book could have benefited from an exacting editor," says Cheng, "but it does a good job of reflecting decades of travel to the North and tea-leaf-reading on its leaders by a longtime Korea hand."
A spate of memoirs have been published by North Korean defectors in recent years; experts tend to believe that many of them are (at least somewhat) sensationalized accounts. Most everyone I spoke to agreed that Aquariums of Pyongyang, written by Kang Chol-hwan, who was imprisoned in the Yodok concentration camp for ten years as a child, represents the best of the genre. "Aquariums came out way before all of the many, many others," says Suki Kim, author of another book on this list (see below). "It is by far the most believable of all of them. And the author, who ultimately became a reporter in South Korea, is a true intellectual, who is able to speak about his experience with nuance."
Hyeonseo Lee grew up in a rarified version of North Korea: Her mother had a high songbun (the nation's political caste system), and grew up with no shortage of food, a pet dog, and clothing made overseas. That is, until the famine hit and her mother and brother's attempted escape from the country landed them both in a Laotian jail. Lee's book, which recounts her efforts to free her family, was nominated for numerous awards, and Lee's 2013 TED Talk was viewed over 17 million times.