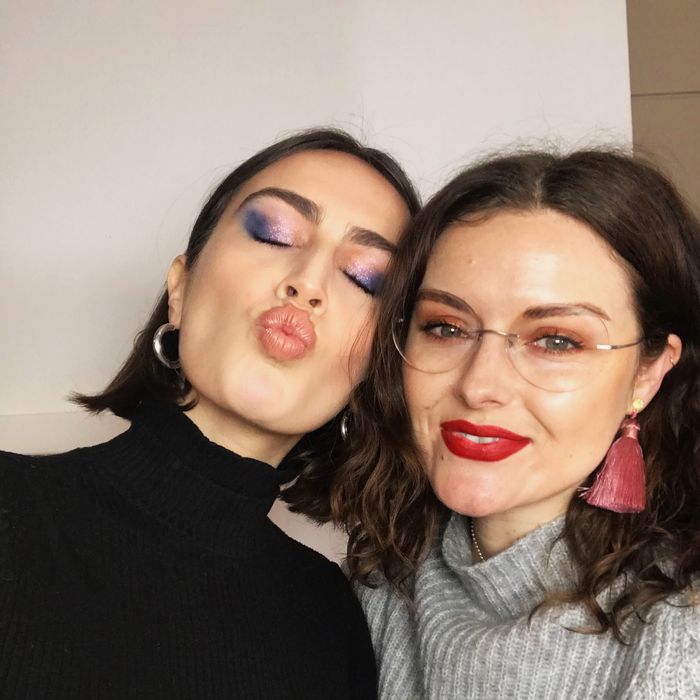 If clean, glowy skin and a statement eye is your thing, you've likely already heard of makeup artist Katie Jane Hughes. If you haven't, sprint, full speed, to her Instagram page. She manages to consistently strike a balance been natural and daring — her feed is full of looks that juxtapose barely there makeup with a noticeable-from-a-mile-away pop of color on the eyes or lips. Her photos on Instagram (her preferred platform to share her work) are impeccably curated, and she often takes to her Stories to dispense beauty advice, and break down how she achieved her most popular and well-liked looks. When I met her at her house in Brooklyn on a recent Tuesday afternoon, she caught me staring at the bottles and tubes of NARS and Charlotte Tilbury stacked on her desk and asked if she could do my makeup, to which I answered, "Absolutely fucking yes." While she worked on my face, we gabbed about some of her all-star products — all of which I'm beyond excited to share with you guys.
So yesterday, Makeup by Mario and Kim K. posted you, which — oh my fucking god. How did it feel?
It was pretty wild. So, a few people DM'd me and were like, "Are you dying right now?" and I was like, "What the fuck's happening?" I was really, really, really flattered. I love his palette so much. You just can really tell it's made by a makeup artist. I'm buying a second one.
Run me through five products that if you don't have with you on set, you'll lose your shit.
This is surprisingly easy to answer. No. 1: Micellar water from Bioderma. If you don't have this in your kit …
Then I don't know you.
Exactly. If you don't have it, you get funny looks from models, funny looks from talent, literally everyone's like, "Where the fuck's your Bioderma?" It's the industry standard makeup water. It's just so good; it gets everything off without stripping the skin. By the way, your skin is insane.
Is it? I extracted last night after coming home wine drunk from a Knicks game.
Are you really going to say, "Is it"? You really can't tell you've done any extracting.
Well, that means a lot to me. More than you'll ever know. Okay, so hit me with product No. 2.
So my second one would have to be Weleda Skin Food.
Okay, can [clap] we [clap] talk [clap] about [clap] this [clap] product!! What's up with her?
Have you tried it?
No!! I've never tried it. I saw Lisa Eldridge use it on Kate Bosworth, who's the most beautiful girl in the world to me, and her skin looked so glowy and incredible. What's the tea?
Okay, here's the deal. This is going to sound kind of weird. It's kind of like … adult diaper-rash cream, for your face. If you have any dry patches, it sinks right in, helps it immediately. If you want to do a foundation look that's glowy, but also very natural and doesn't look like it's there, it's the perfect base product. It's a wonder product. You have to try it to understand.
What else?
I use this thing from Ardell called stroker brow, and it's this eyeliner for your eyebrows. And it's just so good at flicking on little hairs on your eyebrows. I use this a lot because I have no eyebrows because I plucked them all off when I was younger.
Your eyebrows look strong though.
Well, that's because of this Ardell product!
Another product I love is the Stretch Concealer from Glossier.
No way. I'm a concealer addict and I don't have that.
You need to. It's the first step to complexion for me. It gives me just enough coverage to basically see what else needs to go on the skin, but it's dewy and reflects the light in this really pretty way. I don't even think about it as a concealer, I use it more like a solid tinted moisturizer. I buff that everywhere and it just makes the skin look so good.
Do you feel like that concealer looks good on all different complexions? I guess my hesitation was that it wouldn't match me properly because there aren't that many shades.
There are only five shades, but they've oddly managed to really find neutral pigments that kind of adapt to the skin. I also love a liquid lipstick. My favorite is the NARS Powermatte. I'm wearing it right now. It's so velvety and comfortable. It just feels like I have lip balm on or something.
She's beautiful.
It also comes in 15 shades. Right now, I'm wearing the shade "Don't Stop." Another thing I love is M.A.C's Fix+. I don't use it to set makeup, but I use it to liquefy an eye shadow, to wet down an eye shadow to make it pastelike. The glycerin in it makes the eye shadow stay on the skin. It can transfer if you have really oily lids, so you might need to use something else, like a Make Up for Ever Aqua Seal.
Do you prime your eyelids?
Nope.
You just let them rock. Which I think that's also why people really resonate with your makeup looks. It can be glam, but even when being glam, it's also somehow still natural. Another random question I have for you, I saw on your Instagram Story that you got a facial at Daphne. How was it? Dying to go.
You should go. The Biologique Recherche facials are also incredible.
Biologique is, sadly for my bank account, just what works so well for my skin. I use P50 and also Masque Vivant.
I don't even know what that is.
It's the mask that's brown, smells like trash, looks like actual feces. Actually, could you take me through your morning skin-care routine?
It's so simple. I can't do that many things, otherwise my makeup pills and I hate that. I do Bioderma micellar water if I haven't washed my face before I go to bed.
You don't wash your face before you go to bed!!
Well, it depends. If I have makeup on, of course, but if I haven't put makeup on, and I've washed my face earlier, it's okay. I also like the natural oils from my skin. If they're nice oils and not sweaty, sticky oils, I'll sometimes even kind of leave them and just mist. But if I micellar, I'll go in with a serum. I love the Caudalie serum called Premier Cru. It lifts and tones the skin. It was also allegedly five years in the making. Some Harvard scientists were behind it or something very official.
C'mon, scientists!
I also love anything brightening. Right now, I'm using this face cream called C-Rush from Ole Henriksen. It has vitamin C in it; it, like, quenches the skin; it has an orange tint — all very brightening for the skin.
Do you have any all-star K-beauty products?
Glow Recipe sells the best K-beauty products. There's this apricot solid oil from Blithe that is so, so good.
Any mask you die for?
Here's the thing. I hate sheet masks with a passion. I hate when masks don't fit around your eyes, or mouth. Also, I only wash my hair once a week. I do love the Tatcha hair mist, though. I love the Natura Bissé Diamond Extreme Mist, too. It has lavender in it. I normally hate lavender, but I love that one.
Have you tried that Make Pr:em mist? It's so fire. It's not really a setting spray; it's more like a toning spray. Any other all-stars you want to mention?
Honestly, you know what I love? Body Hero Oil from Glossier. It smells so good and I love shaving with it. I admittedly have a soft spot for it because I did the campaign, but I'm also obsessed with the scent. Also, the Billie Razor.
Wait, I am SCREAMING because this always comes up as a sponsored post for me on Instagram. What is it?
The Billie Razor is the shit. The head pivots a lot, and I think it just gets everything. I haven't cut myself yet, haven't changed my razor head either, and it's been like a month. It's got a magnet, so it just sits on the wall of my shower. It never gets funky.
You know what else I love? The Caudalie body scrub.
Wow, I've never even heard of that.
I hate scrubs that leave an oily finish on my skin. I want it to emulsify and wash away like a milk. So that one makes my skin feel amazing and soft. It also smells creamy and nice and soft and warm.
Sounds like it might be too rough for my skin, but incredible for yours. What's your highlighter of choice? Your makeup is always so glowy.
Glossier Haloscope. That balm core with the light, not-super-shiny highlight on the outside. It's just perfect for dewy looks.
Me too, girl. I love putting it on my lips, too. Eyelids. Nose. I smash my face in it. The other one that I love is the Dew Pot from Make Beauty. It's insane. By the way, I'm seeing a Charlotte Hollywood Flawless Filter on your desk over there.
I love them. The first time I used it, I hated it because I used too much. If you use too much, it's extra; but if you use the right amount, it's unreal how beautiful it is.
Do you mix it into your foundation?
Yes, mixed it into my foundation today. It depends on what consistency your foundation is. If your foundation is really thick, I wouldn't put it under because you're not going to see it. I change my foundation every week. At the moment, it's Surratt Surreal Skin. It's a bit pomade-y and texture-y, so it stays tacky on the skin. I know some people hate that, but I actually love it because you'll never look dry. I also like Les Beiges from Chanel — that's the most luxurious, full-coverage foundation that I use. Today, I'm wearing the Illusion from Hourglass foundation.
Is that the stick one?
No, it's in a squeeze tube. I like the stick one on oily skin, my best friend likes that. But the Illusion one is so, so, so nice on my skin. But I mix all my foundation with texture anywhere. Whether that be something already on my skin from my skin care, like Weleda Skin Food or Sea Rush, it's always going to get sheered down. Makeup is all dependent on skin care. If the skin care is prepped right for you, then your makeup should last no matter what it is. That's why I don't use primers. I really believe you can prime your skin with the right skin care.
Speaking of Glossier, how do you like the Lidstars? I've found that they actually get kind of patchy on my eyelids, but I'm super determined to make them work. I wasn't that hyped on them when they first came out, but when I tried them out, I actually really liked them. The ones that I thought I'd like I ended up thinking were whatever, and the ones I did like, Cub and Herb, were the ones I probably never would have chosen.
I love all the shades. I did the shoot for the campaign, so I got them a while ago, and I didn't touch them for a while because I find it hard to sit on content when you're not allowed to do anything.
Okay, lastly, I see you have a ton of candles and perfume bottles everywhere, which speaks to me. Do you have a favorite scent?
I love Frédéric Malle Portrait of a Lady. It's super rich and expensive-smelling — which it is. It's interesting that everyone just wants to smell expensive. It's like a universal requirement when it comes to perfume-buying. I also really love most Comme des Garçons fragrances; they're really woody with a lot of depth to them. My favorite affordable fragrance is Margiela by the Fireplace; it's cozy, sexy, and smoky. Like you're wearing a beautiful smoking jacket with a red lip. I don't really get too adventurous with my candles. I like getting them as gifts.
The Strategist is designed to surface the most useful, expert recommendations for things to buy across the vast e-commerce landscape. Some of our latest conquests include the best acne treatments, rolling luggage, pillows for side sleepers, natural anxiety remedies, and bath towels. We update links when possible, but note that deals can expire and all prices are subject to change.
Every editorial product is independently selected. If you buy something through our links, New York may earn an affiliate commission.