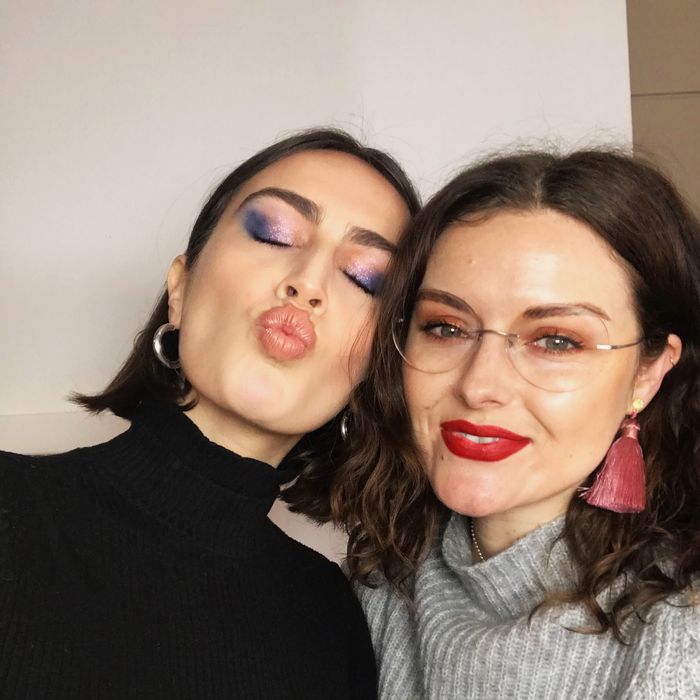 If clean, glowy skin and a statement eye is your thing, you've likely already heard of makeup artist Katie Jane Hughes. If you haven't, sprint, full speed, to her Instagram page. She manages to consistently strike a balance been natural and daring — her feed is full of looks that juxtapose barely there makeup with a noticeable-from-a-mile-away pop of color on the eyes or lips. Her photos on Instagram (her preferred platform to share her work) are impeccably curated, and she often takes to her Stories to dispense beauty advice, and break down how she achieved her most popular and well-liked looks. When I met her at her house in Brooklyn on a recent Tuesday afternoon, she caught me staring at the bottles and tubes of NARS and Charlotte Tilbury stacked on her desk and asked if she could do my makeup, to which I answered, "Absolutely fucking yes." While she worked on my face, we gabbed about some of her all-star products — all of which I'm beyond excited to share with you guys.
So yesterday, Makeup by Mario and Kim K. posted you, which — oh my fucking god. How did it feel?
It was pretty wild. So, a few people DM'd me and were like, "Are you dying right now?" and I was like, "What the fuck's happening?" I was really, really, really flattered. I love his palette so much. You just can really tell it's made by a makeup artist. I'm buying a second one.
Run me through five products that if you don't have with you on set, you'll lose your shit.
This is surprisingly easy to answer. No. 1: Micellar water from Bioderma. If you don't have this in your kit …
Then I don't know you.
Exactly. If you don't have it, you get funny looks from models, funny looks from talent, literally everyone's like, "Where the fuck's your Bioderma?" It's the industry standard makeup water. It's just so good; it gets everything off without stripping the skin. By the way, your skin is insane.
Is it? I extracted last night after coming home wine drunk from a Knicks game.
Are you really going to say, "Is it"? You really can't tell you've done any extracting.
Well, that means a lot to me. More than you'll ever know. Okay, so hit me with product No. 2.
So my second one would have to be Weleda Skin Food.
Okay, can [clap] we [clap] talk [clap] about [clap] this [clap] product!! What's up with her?
Have you tried it?
No!! I've never tried it. I saw Lisa Eldridge use it on Kate Bosworth, who's the most beautiful girl in the world to me, and her skin looked so glowy and incredible. What's the tea?
Okay, here's the deal. This is going to sound kind of weird. It's kind of like … adult diaper-rash cream, for your face. If you have any dry patches, it sinks right in, helps it immediately. If you want to do a foundation look that's glowy, but also very natural and doesn't look like it's there, it's the perfect base product. It's a wonder product. You have to try it to understand.
What else?
I use this thing from Ardell called stroker brow, and it's this eyeliner for your eyebrows. And it's just so good at flicking on little hairs on your eyebrows. I use this a lot because I have no eyebrows because I plucked them all off when I was younger.
Your eyebrows look strong though.
Well, that's because of this Ardell product!
Another product I love is the Stretch Concealer from Glossier.
No way. I'm a concealer addict and I don't have that.
You need to. It's the first step to complexion for me. It gives me just enough coverage to basically see what else needs to go on the skin, but it's dewy and reflects the light in this really pretty way. I don't even think about it as a concealer, I use it more like a solid tinted moisturizer. I buff that everywhere and it just makes the skin look so good.
Do you feel like that concealer looks good on all different complexions? I guess my hesitation was that it wouldn't match me properly because there aren't that many shades.
There are only five shades, but they've oddly managed to really find neutral pigments that kind of adapt to the skin. I also love a liquid lipstick. My favorite is the NARS Powermatte. I'm wearing it right now. It's so velvety and comfortable. It just feels like I have lip balm on or something.
She's beautiful.
It also comes in 15 shades. Right now, I'm wearing the shade "Don't Stop." Another thing I love is M.A.C's Fix+. I don't use it to set makeup, but I use it to liquefy an eye shadow, to wet down an eye shadow to make it pastelike. The glycerin in it makes the eye shadow stay on the skin. It can transfer if you have really oily lids, so you might need to use something else, like a Make Up for Ever Aqua Seal.
Do you prime your eyelids?
Nope.
You just let them rock. Which I think that's also why people really resonate with your makeup looks. It can be glam, but even when being glam, it's also somehow still natural. Another random question I have for you, I saw on your Instagram Story that you got a facial at Daphne. How was it? Dying to go.