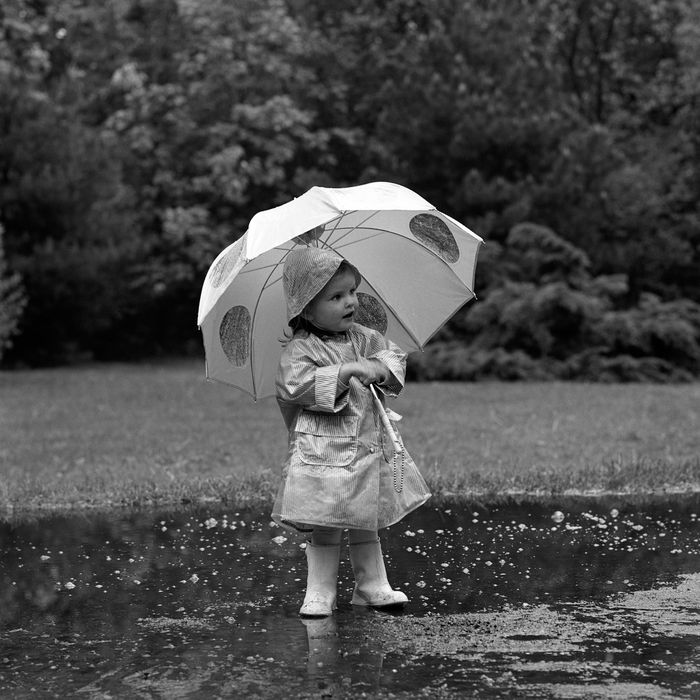 Photo: SuperStock/Getty Images/SuperStock RM
Here at the Strategist, we like to think of ourselves as crazy (in the good way) about the stuff we buy, but as much as we'd like to, we can't try everything. Which is why we have People's Choice, in which we find the best-reviewed products and single out the most convincing ones. (You can learn more about our rating system and how we pick each item here.)
And while we've written quite a bit about umbrellas before — including a WWII-era beach umbrella, umbrella strollers, and our editor-tested list of the best umbrellas, — here we've rounded up the best umbrellas as praised by the most enthusiastic reviewers on Amazon.
Best-rated umbrella
With over 5,000 five-star reviewers from verified purchasers — and a ranking in the top 10 of our list of the best umbrellas — the Teflon-coated Repel travel umbrella is quite well-regarded. "Marty Poppins (Mary's cousin) would be proud to own this heavy duty, rain repellent, truly automatic umbrella. It's sturdy design makes it virtually windproof as well, for those long trips above the skyline while traveling to the next nanny assignment." Purchasers say it's compact, sturdy and "virtually windproof." Many say the Teflon coating really helps make it waterproof, as well: "The droplets stay pooled on top of the fabric and I'm able to easily shake them off," explains one. But more than anything, reviewers praise its durability, with one reviewer saying, "Best umbrella I've ever had. I bought it after looking online for one that wouldn't fall apart at the first gust of wind in a rainstorm. After using several times in a huge rainstorm with heavy winds, it seems to be indestructible." Another reviewer explains, "The little umbrella held up in the gusty wind on the second floor at the Eiffel Tower. It was raining cats and dogs when we were up there, and the Teflon kept us dry while we were taking photos."
Best-rated (less expensive) umbrella
"This umbrella is just awesome," writes one reviewer. "It can stand strong against the whipping wind and look cute while doing so. I was initially nervous about the price, thinking it would be poorly made, but it was quite the opposite." Purchasers praise this umbrella as stylish, affordable, and durable. Many love the fashionable look of the "bubble" design, but they also highlight its functionality: "You can see where you're going through the plastic and you don't have to tilt it in the direction of the rain because you're covered from all sides." The manufacturer makes a few different versions of this umbrella; we tested out the original model and it made our list of best umbrellas, but this "women's" version is about $10 less expensive.
And now, some micro-picks for every type of umbrella you might be looking for.
Best inverted umbrella
"So, I'm 33 and the fact that someone thought to redesign the classic umbrella to be more functional blew my mind. I will say that the way this one looks when it's rolled up still seems odd to me, but my god, it's so functional," raves one reviewer, and this concept of an "inverted umbrella" was new to many other purchasers, but most ended up enthusiastically embracing the design. "It really does change your mind in what to expect from your umbrella," writes one reviewer who adds, "It's wonderful how the wet side is hidden within and the umbrella stands up all on its own." Over 250 reviewers praise the unique design for keeping them dry when getting in and out of their cars. As one explains, "I was doubtful, but now I am SOLD on this umbrella. The way it closes up, you can get in the car, bring the umbrella in with you, and you do NOT get a lap full of water." As one satisfied purchasers sums it up, "My new inverted umbrella is 'the bomb.' It does exactly what they advertise and keeps me from dumping all kinds of rainwater on my head and in my car. Bravo, Sharpty!"
Best reverse folding umbrella
Purchasers say this reverse folding umbrella has similar benefits to the Sharpty inverted umbrella featured above — "The reverse fold [ensures] you don't get soaked as you close your umbrella while getting into the car" — but since it also folds, it's more compact than other inverted umbrellas. "It's shorter than the regular long-size reverse umbrella. Easy to carry and does not take up much space." Another purchaser feels the same way: "We have other full-size reverse folding umbrellas which we love, but we wanted one that would fit in computer bag or backpack. This umbrella was just what we needed. And we were pleasantly supplied that when open it is noticeably larger than regular mini umbrellas."
Best golf umbrella
This umbrella has made multiple appearances on the Strategist. It made a cameo in an article tracking down a character's umbrella on HBO's Succession, followed by a ranking in our list of the best umbrellas, where it got top marks for dryness. Online reviewers seem to agree with much of our writers' analysis. "I have owned quite a number of umbrellas over the years," one writes. "I tend to prefer the golf-size umbrellas because of their wide coverage. I was SO impressed with the size, quality, and durability of this particular umbrella that I went back and bought a second one." Another purchaser says, "Gigantic. And amazing. I walk the kids to school in this when it's raining pretty hard, and the three of us can fit under it no problem. As big as it is, it collapses quite tightly and the included sleeve is very helpful in keeping it nice and tight." One reviewer underscores the umbrella's durability, highlighting the "double canopy design, which makes it virtually indestructible in high winds." "I will NEVER buy another umbrella," they add. "This one, quite simply, is THE BEST."
Best travel umbrella
Citing its portability, wind-resistance, and sturdy build, many reviewers say the LifeTek is the one to get for rain protection while traveling. "It's the best performing travel umbrella I've ever owned. Opens wide enough to stay dry, and the extra wind protection is greatly appreciated in our gusty South Florida storms," says one reviewer. An international traveler says, "This now well-tested umbrella is the bomb. I was in the Baltic region in late April and put this thing to the test. It held up extremely well against the battering winds in Estonia, Russia and Copenhagen." Another purchaser brought this along on a trip to the Netherlands in Belgium, explaining, "In the past, I have used small, compact umbrellas for travel and have not found them very sturdy, especially in windy conditions," they say, adding that while the Lifetek is "a little larger and heavier" than some travel umbrellas, it's worth the tradeoff thanks to its performance and durability. Many reviewers still think it's plenty portable, with one saying, "It fits perfectly in the side pocket of my backpack." Plus, it ranks at #17 in our list of the best umbrellas.
Best stick umbrella
This stick umbrella was first recommended to us by a Seattleite, who told us, "I prefer an umbrella to be a bit on the larger side." And though it's not the most portable, many Amazon reviewers still prefer it to the more popular collapsible models. "Getting one of these long umbrellas instead of a collapsible one is the best decision I ever made," writes one purchaser. "I keep a tiny one on my backpack for emergencies, but when I know rain is coming, I always bring this tall one with me. It's easier to keep track of, has a bigger canopy, and is so much stronger against the wind because there are fewer joints wobbling around." One reviewer, who appreciates its "classic style," says they get a lot of compliments whenever out and about with this umbrella. "It looks like a $100 plus umbrella with the wood handle and nice tip."