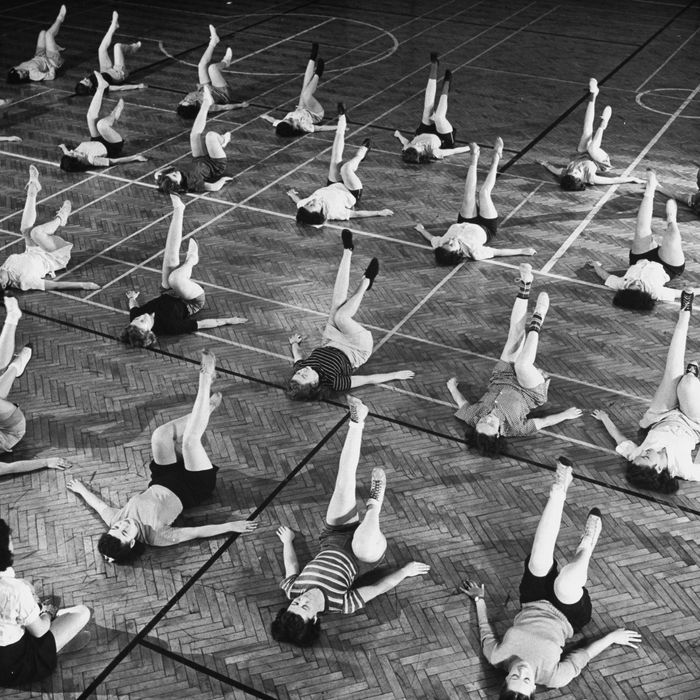 Photo: Herbert Gehr/The LIFE Picture Collection/Gett
When I reached out to fitness-fanatic friends to talk underwear for this story, the most common response was something like, "Ugh, I can't find workout underwear that doesn't suck." Surprisingly, even these women who spend hours repping it out at the barre, turning up the resistance on the bike, and clocking miles on the treadmill struggle to find underwear that stays in place, isn't visible under leggings, and wicks moisture away to keep intense workouts from feeling, well, swampy.
To find the best underwear for various types of exercise, I asked fitness instructors, studio owners, and experienced exercisers to share their Holy Grail underwear picks with the rest of us. Here's a roundup of the thongs, bikinis, hipsters, and briefs that got rave reviews, and similar pairs that meet the experts' strict requirements.
Through all that lifting and tucking, barre classes devote a lot of attention to sculpting a strong butt — attention that shouldn't be stolen by visible panty lines. Physique 57 instructor Morgan Bontz loves teaching class in these seamless thongs that "lay flat" under leggings and "don't bunch up or show texture like lace thongs."
Bontz's other go-to is this thong style from Commando — a Strat-favorite brand. It's lightweight and breathable enough to handle a full slate of sweaty classes. The "great nude shades" are invisible under even her lightest-color pants, a good option if your workout-leggings wardrobe extends beyond basic black.
For even more varied skin-toned options, ThirdLove offers five different "naked" shades in their seamless thongs and other underwear, as well as fun colors like teal and seafoam. With a laser-cut hem, this thong will definitely go unnoticed.
Kaitlin Vandura, owner of several New York Pure Barre studios, prefers the "comfortable, breathable, and cute" thongs from Hanky Panky (also a favorite of Shark Tank's Barbara Corcoran), which come in a rainbow of bright colors and are one of the few lacy varieties that stay hidden under clothing.
These hipsters from Spanx have a full-lace backside if you love lace but want more coverage than a thong. Like all Spanx pieces, they create a smooth, even shape without making themselves known through your clothes.
When you're on all-fours doing donkey kicks with a taut pulley attached to your ankle, there's nowhere for panty lines to hide. Amanda Freeman, founder and CEO of SLT, says that these sleek Cosabella G-strings are the "only way to ensure that your neighbor and instructor won't catch a glimpse of your undies mid-class."
Calvin Klein also offers a barely there option that can stand up to any demanding reformer moves. Made from a nylon-elastic blend, this thong feels smooth against the skin and won't create any lines or ridges that would show through workout leggings.
Aditi Shah, director of the 200-hour teacher-training program at Yoga Vida and co-creator of Mindful Morning, looks for brands "that are organic or have a sustainable mission" and are still invisible under tight-fitting yoga pants. She said the "very comfortable ecofriendly options" from Boody are a favorite among yoga instructors, since they're both seamless and made from sustainable bamboo.
All of Danish brand Organic Basics' underwear is made in Turkish factories that earned the Global Organic Textile Standard certification for ecology and social responsibility. Their SilverTech collection blends soft organic cotton with naturally antibacterial silver thread to banish odor in sweaty classes.
For a restorative or slow-flow class where you won't be sweating much, Shah likes the comfort of Lively underwear, even though they're "normal, non-sports-geared undies." Designed for round-the-clock comfort, one pair of Lively underwear can go from work to a yoga class to dinner. Their styles are soft on skin and suitably stretchy for moving through meditative sun salutations.
Available in hipsters, bikinis, and thongs, the underwear from GapBody's jersey Breathe line are among the softest I've tried. They probably wouldn't stay in place for intense running or interval training, but they're perfect for low-impact exercise like yoga and gentle stretching.
Running underwear is a tricky subject. Most quality running shorts have a built-in liner, and running tights are often designed with a moisture-wicking gusset that makes going commando an option year-round. Jess Movold, running coach at Mile High Run Club, usually goes without underwear, but when she does opt to wear a pair, she chooses this Lululemon thong that she calls "almost unnoticeable."
Another runner I spoke to saves her Madewell mesh thongs (also available as a bikini) for days she knows she'll be going running. The thin microfiber and mesh make them as comfortable as going sans underwear.
I bought a few of these Aerie thongs on a whim during a Black Friday sale, and they've become my go-to running underwear. They feel impressively soft and natural for the price (currently seven pairs for $29), and even though I've worn and washed them a ton (and I am not a delicate laundress), they haven't stretched out or lost their shape.
When it gets cold out, I find that adding underwear under my running tights is a must for staying warm. These boy shorts protect my butt from freezing temperatures and strong winds, and are made from wool, which wicks moisture away just as well as synthetic blends, but feels way softer in sensitive areas.
I've written about these incredible fleecy Sugoi "bun toasters" before here, but they are the ultimate underwear for keeping your thighs and butt warm on the coldest days.