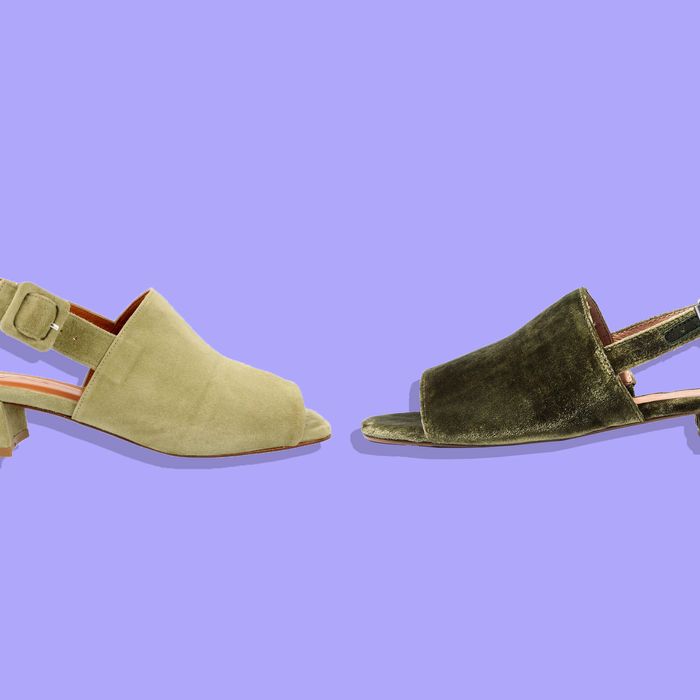 A spendy shoe and its cheaper counterpart.
Photo: courtesy of retailers
I had the sandals in the shopping basket and my credit card in my hand when I came to and realized, You nut, you can't afford $397 (plus tax and shipping) sandals! They were beautiful sandals, to be sure: black suede slingback mules with a simple metal strap, made by an Australian company called By Far. I desired them greatly.
But we mourn; we move on. We look for sandals that capture some of the original sandals' understated elegance. We fail. We buy a pair of cherry-red Urban Outfitters sandals that we like fine, but don't fall head over heels for. They look good with our cropped jeans, and we're doing okay! Less happy than we might be had we purchased the Perfect Sandals. But less anxious, too, as we narrowly dodged spending several hundreds of dollars on shoes we'll wear for two months.
Below, please find ten too expensive summer sandals that will break your heart, along with their closest cheaper counterparts, to help you try to move on. Let's not think of it as settling. Let's think of it as financial self-care.
Let's get this the hell out of the way: These are the sandals I wanted.
And a much-cheaper — and really, quite similar — alternative.
And perfectly nice Urban Outfitter copycats.
The prettiest green suede sandals that I lusted over for all of summer 2017, and frankly have yet to get over.
And these are, y'know, nice and green, too.
Beautiful, elegant Mansur Gavriel mules.