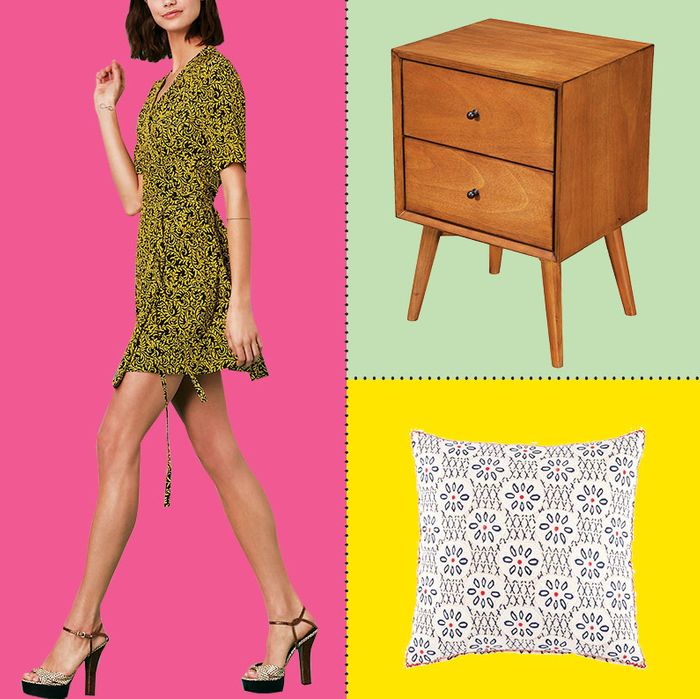 Photo: courtesy of the retailers
We got a little carried away today with the deals — but we just kept finding new ones! Below, the on-sale goodies we unearthed (including a lot of Mother's Day–appropriate gifts, like a Cuisinart blender, a pair of elegant gold earrings, and an iPad mini).
A bright-red tee adorned with two cheerful and floppy bows. Update: This is sold out in red but still available in grey.
A handy little eyebrow kit that's actually Dior's first foray into eyebrow-kit-land.
Freshen up the living room this spring with a delicately-floral-strewn John Robshaw pillow.
Who knew that Steve Madden made such elegant sandals?
For those who are feeling a little rough around the edges: an anti-wrinkle kit featuring a booster serum, a moisturizer, and an eye treatment from Juice Beauty.
A striped A-line miniskirt from T by Alexander Wang featuring a leather trim waistband. (Here's its original listing before it sold out on the Alexander Wang site.)
Not your standard retro Casio watch.
These Marni sandal-slash-sneakers are from a few seasons ago (which is why they're popping up on Yoox), and they are just fugly enough.
These men's Vans high-tops can double as work shoes.
Photo: REVOLVE STILLS #1
What a dainty little coin purse from See by Chloé.
Anything under $200 is a good price for a DVF wrap dress.
A stripy clutch to get you through weddings season.
Photo: 18-01-29 Accessories AM1 B3 tedketterhagen W
And now a pair of earrings for yourself: some plastic Rachel Comey danglers, the official cool-girl earring of 2018.
Photo: 18-03-23 oksanajager PM2 B4 raypfeiffer W
Photo: 17-09-25 Accessories AM1 B2 dylanremis W
Some sensible, non-hideous, and faux-fur-lined rain boots from Tretorn.
Photo: 17-12-26 Accessories AM3 B2 tedketterhagen W
A fancy pair of Birkenstock-y sandals from Joshua Sanders.
Photo: 18-01-26 katelynparker PM2 B2 benbrubaker W
Not to get too personal, but we are thinking of buying these A.P.C. slip-ons for ourselves!
Photo: 17-11-13 edwingill PM1 B8 dylanremis M
Another A.P.C. item: a simple sweatshirt in a very nice shade of "caramel."
A bunch of AmazonBasics products are on sale right now, including this bright-white backpack that feels very "fashion" to us.
Lots of positive reviews for these 400-thread-count AmazonBasics sheets, including someone who kept it simple: "So soft and gorgeous. True luxury." We're sold!
As we noted yesterday, select pieces from Amazon's sort of "country cottage"–inspired furniture line Stone & Beam are on sale. We quite like this lamp with a concrete base.
A bra for when you don't want to wear a bra, courtesy of True&Co.