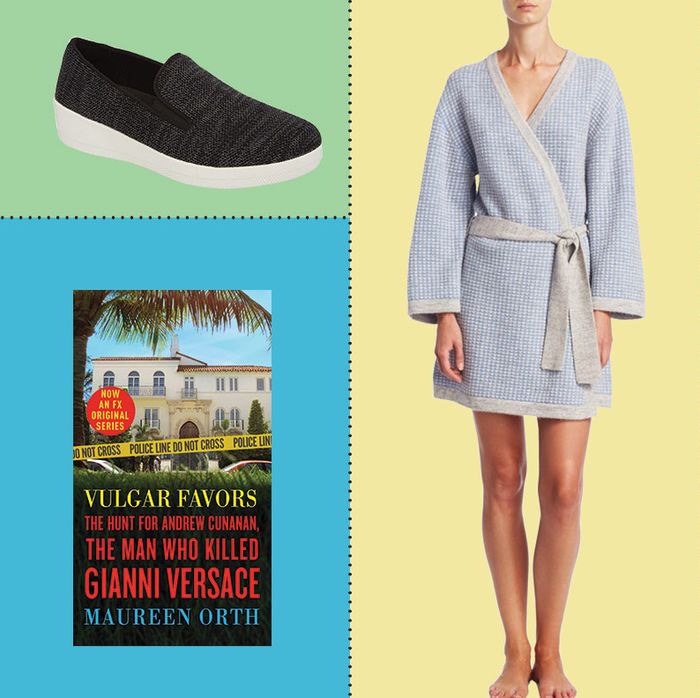 Photo: Courtesy of the retailers
To be a Strategist editor is to live with the constant burden of always having the perfect gift ideas. But for you, our dear readers, it's a burden we're happy to carry. Presented as part of our Mother's Day extravaganza, here's what we'll be gifting our moms this year. (You might want to check out what we gifted last year, too.)
In addition to giving her a selection of novels set during World War II that I've collected from the office giveaway table (it's a Mother's Day tradition!), I'll be giving her a new watch. She's been wearing the same cheapo Quartz-brand watch for the last … 15 years or so, and the band just broke, which means that I think it's time for an upgrade. I love this super-simple and elegant watch from Swiss brand Mondaine. It's not over-the-top at all, and just my mom's style I think.
Last year, my mom read Kathleen Hou's post about the Buly 1803 scented rock and asked me to get it for her. I laughed because I thought she was kidding. Then she asked me again, "but only if you can get it for free." (She doesn't quite understand how my job works.) So this year, I will be getting her the fragrant porous rock, and if she asks, I got it for free.
From time to time, my mom will get fixated on something and become unable to talk about anything else. We've survived a Jell-O-salad phase, and a potpourri-sachet phase, and now we're all about the FitFlop loafer. I didn't know FitFlops made anything other than butt-firming flip flops, but according to my mom, their loafers have the world's most comfortable soles. Last year, while visiting girlfriends in Taipei, her travel shoes became so painful that she popped into a store. The salesperson suggested these, and she liked them so much she went back days later and bought two more pairs. Well, now she'll have four.
My mother is an inveterate bath-taker. And luckily for my sister and me, who sometimes never know what to get her, she's always receptive to new bath products. These salts hit a sweet spot: My mom loves the brand Naturopathica, and turned me on to its very refreshing Oat Cleansing Facial Polish, and because she's also very active, she swears by magnesium to help soothe tired and overworked muscles.
Is there a phrase for when someone gifts you something, and then you buy them the same gift later? My mother bought me and my boyfriend a Le Creuset French press over the holidays, and has since been asking me if the ceramic keeps the coffee hotter than an ordinary glass pot does. I think it does? And even if that's a placebo effect, it feels and looks good. Yield Design is a small husband-and-wife product studio based out of St. Augustine, Florida, and they make beautiful, modern stuff — like this ceramic French press, that I think will look very hip in my mother's kitchen.
More ceramic coffeeware: I was recently introduced to this company from Asheville, North Carolina, that's reinvigorating the old ceramics industry there, and making hefty, beautiful pieces like plates and bowls. Their coffee mug is kind of extraordinary. It feels really smooth and sturdy in your hand, and I swear makes coffee taste better. My mom can pair this with her cool new French press.
Plants love my mom. Indoor, outdoor, on the brink — all varieties. She is a master home gardener; whenever she doesn't pick up her phone, it usually means she's out back working in the yard, which is often. When she is on her phone, she's usually texting me progress-report-style photos of whatever's blooming: From the lime tree to the sweet-potato vines and so on. So while it's an obvious one, I like to give her plant stuff. She's definitely happy to receive a well-established, already-on-its-way plant, but what she really loves are just straight-up bulbs. If I'm back home, I'll grab her a few from the garden store, but this service easily arranges direct-to-mom delivery.
And what goes better with a bulb than a nice giant planter? I'm thinking this exposed-clay one from Helen Levi.
You're going to call me repetitive and uncreative (see Mother's Day gifts from last year), but if I really want to gift something my mom will actually use — and I always do — it's gotta be something for the bath and made by Jo Malone. She actually just told me last week that she's been using the rose bath oil I got her for her birthday, so I might go for the Nectarine Blossom and Honey scent this time around.
Like most moms, mine loves a good robe. So much so that she often sleeps in or next to hers. I saw this one go up in a post yesterday, and it looks like the definition of soft and cozy. If I get all of my siblings to chip in, we can probably make it happen, and mom would never get over it.