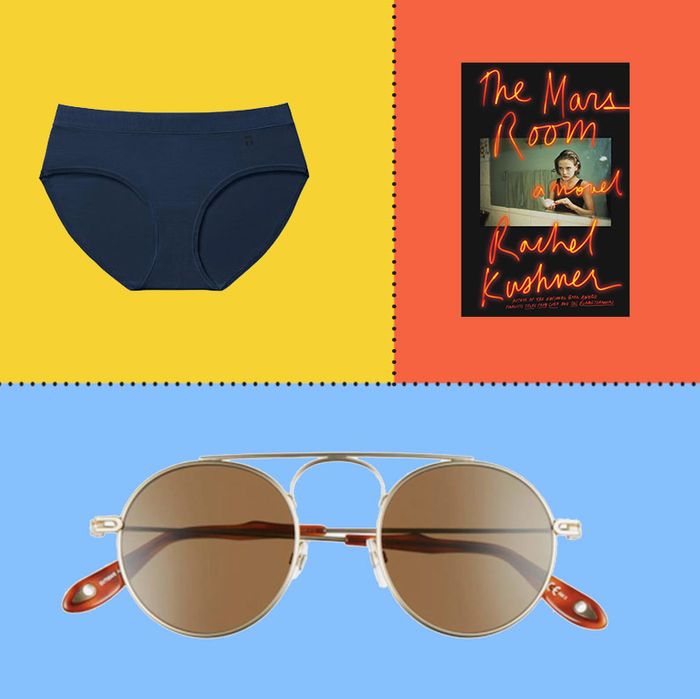 If you follow our biweekly feature Your Shopping Cart, you know that we have some eerily good intel on what things you all are buying. It led us to think that, as Strategist editors, we could turn the tables and highlight all the things we've been buying ourselves. As you'll notice, it's both a blessing and a curse to be a Strat editor; we're picky, but sometimes we just have to get on with it (it's online-shopping expertise meets IRL needs). Below, what we all bought in April.
I have a tiny bathroom with a medicine cabinet that's about the size of a phone book, with the depth of a Tic Tac box. Needless to say, there is not much room for storage. So we put a square basket on top of our toilet, and on top of that we've put our various everyday essentials: contact solution, deodorants, my various face creams, my makeup bag, my husband's electric toothbrush — and it's gotten crowded. And my makeup brush accidentally falls into the toilet approximately once a month. I investigated getting one of those over-the-toilet shelf thingies to solve our storage problem, but they all looked a little rickety, and a lot of them required drilling into the wall, which seemed like a lot of work. Then I stumbled onto this little Yamazaki cart, and it is a game changer! It lives right underneath our towel rack, and despite being insanely narrow and not too tall, it holds quite a bit of stuff. We've pretty much cleared off the top of our toilet — plus, it was a breeze to put together.
Rarely do I get makeup from the office giveaway table that I actually purchase for myself when it runs out: This BareMinerals BareSkin concealer is the exception. I am not really a concealer connoisseur, but I do know that it feels a little more "wet" than most concealers (which sometimes feel a little chalky and dry to me); it goes on easy, and is incredibly easy to blend in.
They haven't arrived yet, but I just bought a pair of these woven ballet flats from J. Crew. I am going to Portugal on vacation in a few weeks, and they feel very "wandering the narrow cobblestone streets of Lisbon." I like that they're breathable — kind of a cross between a flat and a sandal. If I like how they fit, I might get them in red, too!
So Zayn's antics drive me a little bit crazy, but I do think he has some enviable style. I saw a few photos of him in these gold aviator sunglasses that I became determined to track down, but even Instagram DM'ing his stylist yielded nothing. I eventually gave up and just bought the cheap sunglasses he wore in the "Dusk Till Dawn" video, but then one night when I was searching every combination of "gold" and "round" and "brow bar" sunglasses, I finally found them. The lenses are blacker than they look in this backlit photo, and they are just the right amount of normal, but not.
I find expensive "healthy" places annoying on principle, and also annoyingly full of delightful stuff. At Clover Grocery the other day, I bought some Casa Bosques chocolate, which I remembered reading was the favorite hostess gift of Dimes co-owner Sabrina de Sousa. $11 for a bar of chocolate is absurd, but $22 or $33 for a nice weekend thank-you isn't so terrible.
I've been going back and forth on what to do about the current sunglasses fad (cat-eye, small, futuristic). It feels too late in the game to spend my money on Le Specs, but most low-commitment, cheap sunglasses are just that — cheap. I started clicking around and landed on ASOS, where I fell hard for the gray-and-brown color scheme on these Karen Walker–esque pointy cat-eyes. They look much more expensive than they are, something I know because I asked my friend how much she thought they cost, and she guessed $200. They were $20! Mine are sold out, unfortunately, but I bet these cat-eyes would also look deceptively expensive.
This isn't the exact rug we bought, but I can't show you that one because these are all one of a kind and my "Sari" rug is no longer on the site. Lauren tipped me off to this company after they pitched her: It's the same people behind Brooklinen, running a modern, direct-to-consumer vintage rug shop. I went way down a rug rabbit hole, so I'll give the CliffsNotes here: These guys go to Turkey and take old, beat-up rugs that don't have collector value (but are still expertly knotted, handmade, and beautiful), clean them or do a new dye wash, and then sell them at a price far below what you'd find at any vintage shop in New York. My boyfriend and I bought a big orangey-red one, and the quality of it is superb. We then realized that our red bedding and red accent wall made our apartment look like Rajneeshpuram, so we bought a second, white rug from Revival, to make us look less insane.