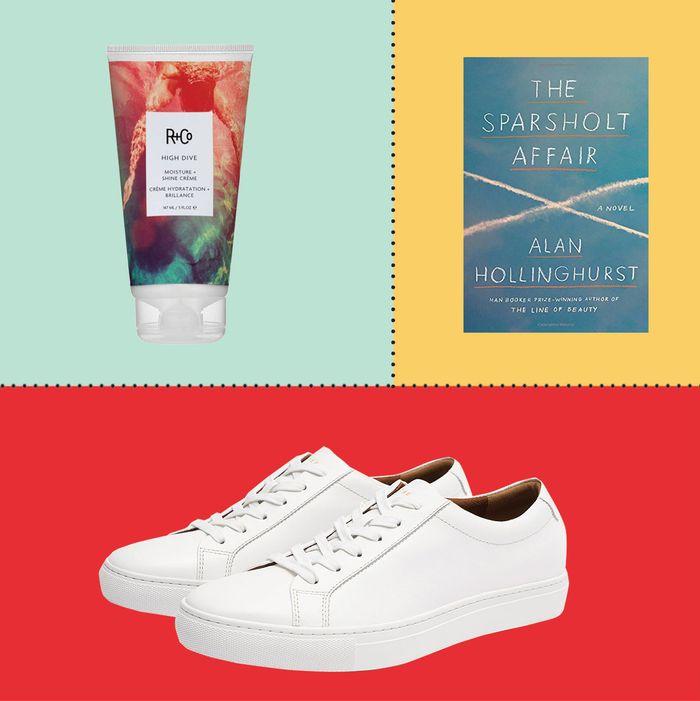 If you follow our biweekly feature Your Shopping Cart, you know that we have some eerily good intel on what things you all are buying. It led us to think that, as Strategist editors, we could turn the tables and highlight all the things we've been buying ourselves. As you'll notice, it's both a blessing and a curse to be a Strat editor; we're picky, but sometimes we just have to get on with it (it's online-shopping expertise meets IRL needs). Below, what we all bought in March.
My friend Matt was gifted this book by designer Mary Ping for his birthday, and I was so jealous, I had to buy one for myself as it is the most Strategist-y book I ever did see! It's super-dramatic '80s photographs of objects that have "It" — the Spalding rubber ball, Ivory soap, a Lacoste polo shirt, the English bull terrier, the Hershey's Kiss — coupled with fun (somewhat weird) descriptions making the case for each one. If we were ever to make a Strategist book of our greatest hits, I would want it to look like this.
It hasn't arrived yet, but I am super excited about the Harley Viera-Newton x Champion cherry-adorned sweatshirt that I just purchased. Harley's younger sister is our very own Rio, of course, and I like to support any Viera-Newton whenever I can!
I bought this Uniqlo U long-sleeve T-shirt for my husband after admiring it on my friend Josh — and I just think it's the nicest shade of orangey-pinkish-red.
Terre is the only scent I've ever used down to the bottom of the bottle, but replacing it with another one is a big commitment. For now, I've put my Old Spice on pause and replaced it with this guy, a subtler (and cheaper) way to wear the citrusy, green, just-a-bit-dirty fragrance.
This is getting embarrassing. I bought this shirt in navy and hunter green seven months ago; one month later, I bought it in gray. A few months after that, I also bought it in white and amber. This season, COS, in its infinite wisdom, brought the shirt back in a brighter green and this rust color, which is a bit redder than the amber. I bought both of them. If you're keeping track, that's one shirt in seven colors. Here's why I like it so much: It's a little loose without being oversize, and short enough to wear untucked or with a cazh front tuck. The sleeves are trim without being tailored, and the best part is that it's half-cotton and half-lyocell, which gives the fabric this heavier weight and a nice drape. If it feels too big when you first get it, don't worry; it shrinks slightly after the first wash.
Photo: Chris Paul Thompson/All rights reserved except with written consent
More white sneakers. The folks at New Republic (which I've already gone on record as being a huge fan of) were kind enough to send me their new Kurt sneakers, which I have been wearing almost every day since receiving them. The profile reminds me of the Saturdays' Dereks, but they're more lightweight. What's particularly great is that they're easy to slip on and off without unlacing, which of course means they're the ones I'm stepping into as I'm rushing out the door in the mornings.
Book club this month is reading the new Hollinghurst, so I picked that up, too. In typical fashion, I haven't finished yet, but I am enjoying the time warp to 1940s Oxford (I think I'm giving away how much I have yet to read).
IT IS SNOWING TODAY. Ugh, the wacky winter/spring weather not only made me miserable but also made it impossible to just grab my seasonal coat and walk outside — I never knew whether it'd be frigid or balmy. I needed a quick solution for keeping all available options right by the front door, and this easy-to-assemble one has worked great.
Judi Rosen, queen of butts. There's a bit of a Judi Rosen fan club at the New York office, and among the Strategist team in particular. The fandom is more than deserved. At her Greenpoint shop, Judi sized me up, gave me a pair of these indigo wash jeans (she says you can wear them for several days and they won't stretch out), and I bought them moments later. These are easily the best jeans I've bought in … maybe ever.
Rio's recent posts on products for all hair types were fantastic, to say the least. I have a recommendation to tack on, for anyone with long, color-treated, dry locks: R+Co's High Dive. My hairdresser frequently suggests it. It's a great everyday moisturizing treatment that sinks in really nicely, smooths out puffy hair, and never feels sticky or heavy.
My 30-year-old skin has finally started to dry out, which I kind of love (just looking at Clean & Clear's oil-absorbing sheets gives me post-traumatic anxiety over middle school), but this winter was harsh, and I found that I kept waking up with super-thirsty skin. I've had my eye on this stuff for a while, and am a sucker for anything that claims "legendary healing powers." It's been great: It's got oils in it, but dissolves into skin easily and gives me a good balmy glow.
Is it okay to buy stuff from American Apparel, now that Dov Charney is long gone? Either way, I did because, like a true millennial, I have a deep bond with the company's supercheap party basics. It recently had a 40 percent off sale, so I snagged a couple of easy weekend-wardrobe items.
Last summer, I went to Georgia O'Keeffe's house in Abiquiú, New Mexico. Everyone must visit. It is insane and will make you want to throw out all of your furniture and start over. The adobe house is pretty sparse, but it is selectively stocked with all this highly familiar mid-century furniture (possibly trades from her other famous artist friends, our guide hinted). I noticed that she had this Noguchi lantern hanging in there. I had always been a little indifferent about them, but in that moment, I got onboard. Then a few months ago, I got an email that the Primary Essentials started stocking them. They can be a lot, so I started with the lowest-priced one, an entry-level table lamp that I actually like better on the floor. I liked it so much, I got one for my desk, which isn't blessed with a ton of natural light. It now creates this cozy, glowy living-room feel. I bought the round one at TPE; the wonky one I ordered from the Noguchi Museum in Long Island City. Same price.