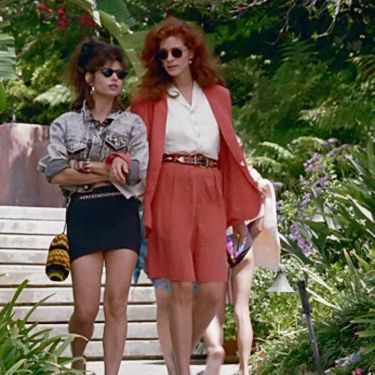 Julia Roberts, giving a master class on long shorts.
"Long shorts are stylish again," my mother told me last weekend. Then, dreamily, "I love long shorts."
"Long shorts" is a euphemism for Bermuda shorts, an article of clothing that became popular in the '40s and then again in the '90s. These truncated jeans, or extended shorts, are, as my mother wisely announced, making a comeback: Brands like the Brooklyn-mom-favorite Caron Callahan, playful French label Bless, and even the Reformation have recently released updated takes on the style. And the beautiful people have been photographed giving them a spin: This Instagram of model Paloma Elsesser is what piqued my interest in the style in the first place. This picture of Man Repeller editor-in-chief Leandra Medine didn't hurt, either.
In theory, I like Bermuda shorts: The length makes them appropriate for work and could solve the problem of how to dress comfortably for both freezing offices and sweltering commutes. But let's address the obvious: Worn incorrectly, the things can be ugly or unflattering or both. The cutoff point draws extra attention to the thigh, an area some of us take great sartorial pains to hide. But as with most things, if styled properly, this does not have to be the case. Since I haven't worn a long short since middle school (denim, Abercrombie & Fitch), I turned to the designer Caron Callahan, the Cut's fashion news writer Emilia Petrarca, and the Cut's fashion editor Lindsay Peoples Wagner, all of whom gave me some helpful pointers on how to wear these strange in-betweenies.
Accentuate your waist and ankles
"If your longer short is slightly loose," Callahan told me, "it'll look great belted with an oxford shirt tucked into them, to show off your silhouette. As for shoes, I'd go with something a little more covered up, like an espadrille." Petrarca suggested a kitten heel, or sandal that wraps around your ankles, "so your legs look longer, and not like SpongeBob SquarePants."
"Another way to go is to dress it up," says Callahan. "When I think of longer shorts, I think of Lauren Hutton in American Gigolo. Wear them with a nice blazer and a blouse."
"Or treat them like trousers, and wear them with a matching jacket, like a little summer suit," says Callahan. "This look would look great with a pair of oxfords."
Petrarca feels that looser is better, when it comes to long shorts. "I have a pair of green ones which hang at my hip," she says. "I roll up the hem to make them a bit shorter, and wear them either with a tight T-shirt or a blouse tucked into the front. If you go loose on loose, you'll look like you're at camp." But, she warns, don't wear a top that's too buttoned up — otherwise, it'll have a militant effect. "Try a floaty Nili Lotan top," she recommends.