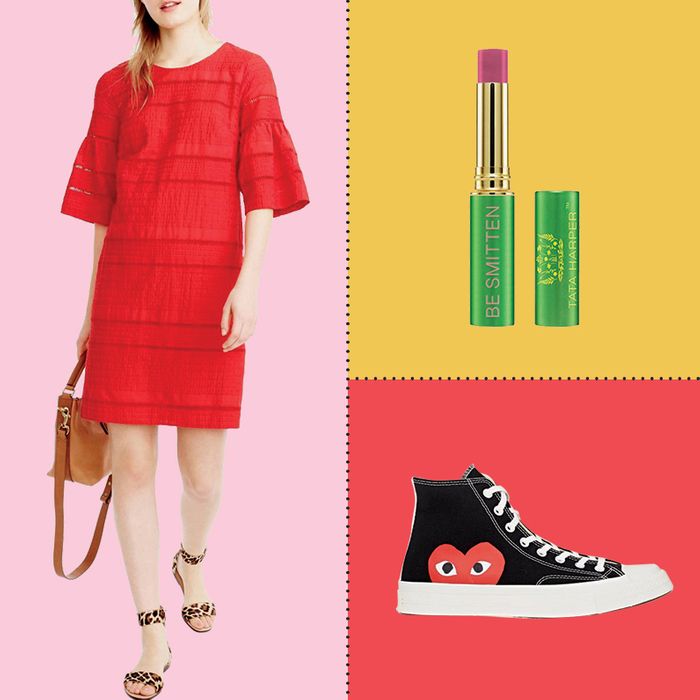 If there's any theme to this week's roundup of sales, it's that warm weather is here, kids. Get your shift dresses, sandals, and sunglasses right here, from brands like Balmain, Hunter, and Comme des Garçons Play. And if you're a beauty buff, don't miss out on the Spring beauty sale that's still ongoing.
Chuck Taylor high-tops with the peekaboo heart for making even grungy T-shirts and jeans look fashion-y.
A very-well-reviewed light-up makeup mirror that charges your USB devices and (surprisingly) plays music via Bluetooth.
The classic DVF wrap dress in a summery red floral print.
Photo: MATTHEW SAVINS PHOTO 2009
These ultracomfortable navy suede flats have a flattering shape and ever-so-slightly pointed toe.
A sturdier version of ballet flats in the prettiest shade of powdery pink we've seen in a while.
It may be warm now, but that's the perfect reason to get these highly discounted bad-weather boots.
Cut senior beauty editor Ashley Weatherford first tipped us off to the miracle of this cream for giving you "Instagram-ready skin."
We're really feeling the Studio 54 vibe of these round gold-and-black sunglasses — if these don't strike your fancy, there are a ton of highly on-sale sunglasses from Tom Ford and Gucci at Nordstrom Rack, too. Just click around.
We love the slightly loose, slightly formfitting look of these faded boyfriend jeans.