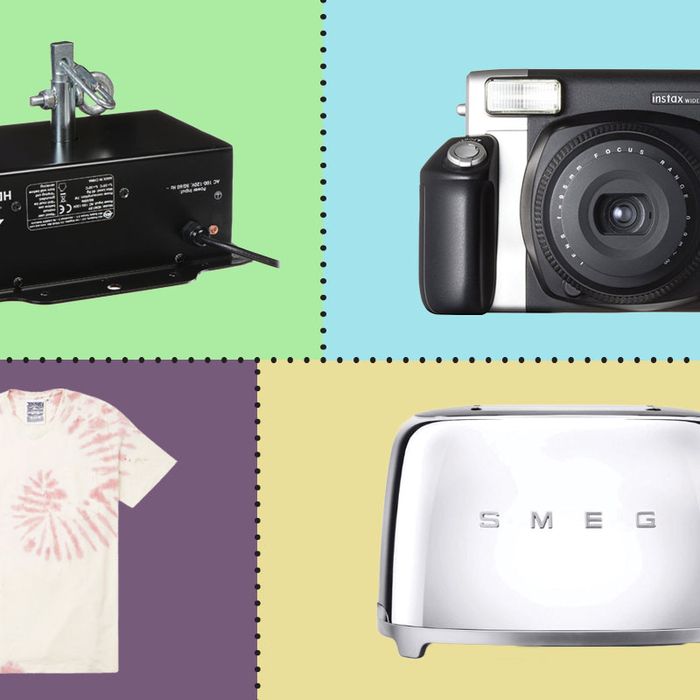 Every month, we Strategist editors tell you about the best things we've recently bought for ourselves. But what about the things we wish other people would buy for us? It's a ritual for us to share our holiday wish lists, but during the rest of the year we're also having birthdays, housewarming parties, weddings, babies, and more. So now we're spilling about the gifts we'd like for those milestones, as well. This time: senior editor Margaret Rhodes on anniversary gifts.
The only person I know who's pickier than a Strat editor is the one with whom I'm celebrating a three-year anniversary. The man will drink Yuengling out of a faded wedding koozie, but to shop with him is to analyze details most of us pass over — the way thread loops through a button, or the shade of rubber on the sole of a Vans shoe. I won't even buy a houseplant without consulting him, so in honor of our anniversary — something that's a mutual celebration, anyway — any gift-giving we do will be something we (methodically) choose and go in on together. Here's what I'm considering.
I never used to keep wine in the house. Buying just one bottle at a time gave me the illusion of handling money wisely, even if I would return to the same wine shop two days later, for the next bottle. I've grown up enough to keep a handful of bottles around the apartment, and it's much nicer. What would be even better would be to protect them from the fluctuating temperatures of a home without central air. Some slightly more mature friends of ours got a wine cooler, and it's such a luxury to be at home with wine that's 62 degrees. We just rounded up the best-reviewed wine refrigerators on Amazon, and looking at them, I think plasticky-looking ones with chrome racks are out. We are a wooden-rack kind of home. This dual-zone model — one zone for reds, another for chilled reds and oranges — is simple and handsome and feels just right.
Last summer, Will knocked over a bottle of wine and stained one of his white Jungmaven T-shirts. (These are the only kind he'll wear.) We went through rounds upon rounds of Spray 'n Wash and shocks of cold and hot water. I think the stain is gone; he doesn't. My solution: We take up tie-dying. With a little practice, I bet we could turn the (no longer) stained tee into a DIY version of a swirly, "eraser pink" tie-dye shirt from Jungmaven. I may try a light dye on some old bedsheets, while I'm at it. No idea where we'd watch the CD user manual, though.
And if that experiment fails, I'll just buy him the shirt.
We moved in together a little over a year ago, and early on established a "desert disco" decorating scheme. As I type this, I realize how much that must sound like my home is an homage to Burning Man. It's not, it's just that we both like dusky reds and oranges, and I had a big Amada Peña print that I found on the street and wanted to keep, so we decided to offset the New Mexico–centric look with some glass, gold, metallic, and marble finishes. The scales are tipped heavily toward the "desert" side right now, so I'm in the market for a coffee table that leans "disco." This is the one I want — it has Lucite legs!
But $900 is a lot, even for a joint gift. So I'm considering this marble table as a backup.
I'm also wondering if this table with actual brass cactus legs wasn't divinely made just for us.
That said, we do have a disco ball. I bought it on Amazon; it's 16-inches, and I love it. But right now it just dangles from the ceiling, so we need a motor. And because most motors can only support 12-inch disco balls, this will be expensive. Expensive, and not at all sexy. But it's an investment in the parties ahead.
The most practical gift on this list. A very beloved, very clumsy friend came over and broke our toaster. It's been months, and we need to replace it because toasting our bread on a stove-top pan is a smoky, stupid way to make breakfast. I'm sure there are all kinds of toaster technology to know about, but I'm making an unabashedly aesthetic choice here: the retro Smeg two-slice toaster, the kind where the toast jumps out when it's done. The cream color would go nicely with the ceramic French press in our kitchen, but I also like the space-age feeling of the chrome one. My fellow toast-maker can make the final call.
This one isn't really for me. I can't pretend to understand all the nuances of a car's interior, or what it's like to truly love them, but it has been made very clear to me that these retro floor mats are sick. Cocomats were made for European cars like BMWs and Mercedes, and these reissues come in several different Jacquard-like weaves, for matching to your car interior.
If all else fails: I think this is one of the best all-around gifts, for anyone, for any occasion. For trips, I've gotten into the habit of throwing a few disposable cameras into my suitcase and then rolling the dice and snapping on the go. It's liberating to not look at photos right after you take them, but I get a little cavalier about it and have more than a few useless, blurry vacation shots of a motorbike in Cambodia, or a thumb blocking out an otherwise gorgeous day in Savannah. Because the film for these instant cameras isn't cheap, I naturally take more careful pictures. And the wide prints make for excellent travel souvenirs, in the end.
The Strategist is designed to surface the most useful, expert recommendations for things to buy across the vast e-commerce landscape. Some of our latest conquests include the best women's jeans, rolling luggage, pillows for side sleepers, ultra-flattering pants, and bath towels. We update links when possible, but note that deals can expire and all prices are subject to change.
Every editorial product is independently selected. If you buy something through our links, New York may earn an affiliate commission.