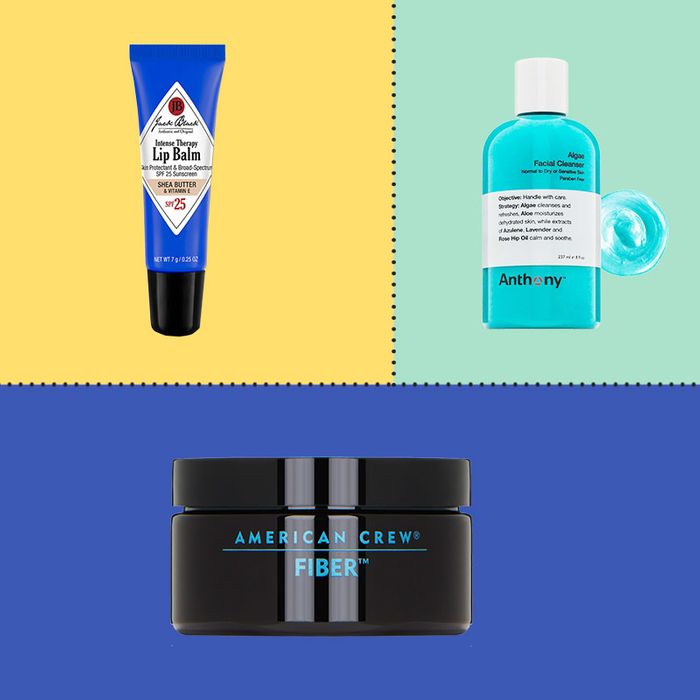 Someone once said that "good grooming is good manners," which sounds like the kind of line used to sell razors, but is actually sound life advice. When a guy has un-chapped lips, or well-styled hair, or just wears effective deodorant, it can make a huge difference. Not all grooming products are created equal, though, so imagine our delight when we noticed that a bunch of our favorite things for men were on sale today at Dermstore. Just use the code MEN20 to get 20 percent off. Below, 11 of our favorites, many of which would make great gifts for Father's Day, too.
A very aesthetically pleasing (that's the blue algae) facial cleanser that cleans without drying.
O magazine's Adam Glassman swears by this salon-grade molding paste for his perfectly tousled hair: "I'm very particular about what I put in my hair. I've tried every clay and molding paste, but this is the best. I'll come out of the shower, dry my hair, and throw in this paste, and it doesn't give my hair a wet look or crunchiness, but makes it perfectly tousled and touchable."
The Baxter shaving cream isn't part of this sale (so you don't need a code), but it is on sale and it is very good, so we're including it here anyway.
One of our favorite body sunscreens. This one from Jack Black provides broad-spectrum protection and is especially good for days in the water.
Another very vibrant wash from Anthony, this one uses eucalyptus extract for a spiffy scent that'll wake you up in the morning.
Grooming and style writer Max Berlinger swears by the Baxter clay pomade: "I have really thick hair (half-Jewish, half-Asian wiry hair) that I don't 'style' as much as I just try to contain. A little dab of this helps me to mold it without it looking and feeling greasy, and most importantly, it doesn't get flaky or oily by the end of the day, which, surprisingly, a lot of waxes do."