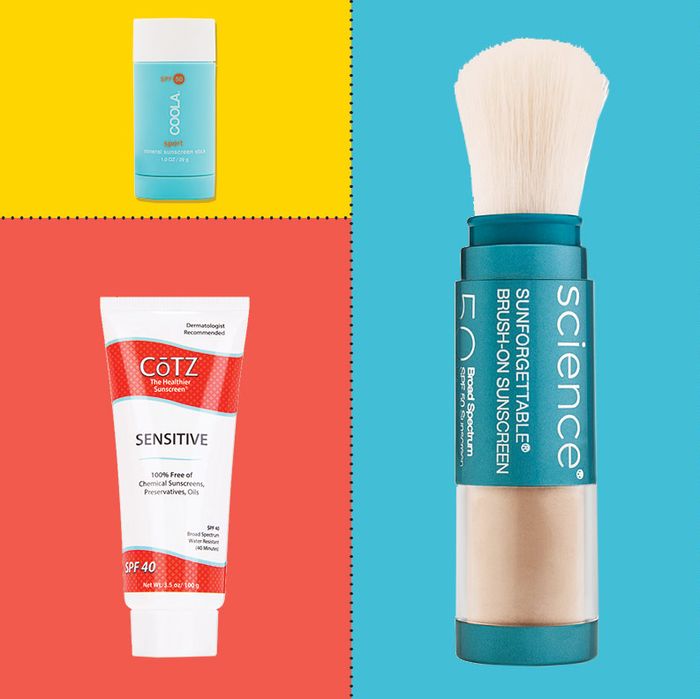 It's the first day of summer, and Dermstore is celebrating with a sale on sunscreens and summery "sun care" products — many that we love and have written about here and at the Cut. We've included some of the options we think are most worth checking out now that they're up to 20 percent off. Just keep in mind the sale only goes through June 27 (with the code "SUNFUN").
You may have read up on this new study which says the higher the SPF, the better for protecting yourself against sun-induced skin damage. So a high-SPF mineral sunscreen like this one (which is also a hit on Amazon) would make a good investment this summer. We own it ourselves and can vouch for its smooth, nongreasy texture and matte-ifying effect that's ideal for sliding on under makeup.
If you're not looking to spend more than $20 on a sunscreen this summer, here's an option the good shoppers at Amazon pointed out as one of the best oil-free mineral options out there. "It is scent-free, nongreasy, additive-free, doesn't sting, and works extremely well under my foundation and other makeup," one reviewer said.
This Rio Viera-Newton favorite is technically not included in the sale, but thankfully it's already 20 percent off right now anyway. The cool thing about this sunscreen is that it's a brush-on powder, so it's spill-proof if you choose to stock it in your purse or carry-on.
Stick sunscreens are less likely to run into your eyes (the stinging! The burning!), dermatologists have told us, so we might also suggest this sport Coola stick sunscreen, which we love for its high SPF protection and water resistance.
Writer Hannah Morrill suggested this oil-free Dermalogica sunscreen for acne-prone skin, since its "entirely matte formulation feels cool and untacky on the skin, absorbs quickly, and works almost like a primer under makeup." It's already on sale, so there's no code necessary.
Photo: Iman Adhami/Dermstore/Target
Fun fact: Frank Ocean's mom, Katonya Breaux, created this tinted mineral sunscreen with people of color in mind, to help them avoid looking ashy. It's won over editor Alexis Swerdloff, who says it works for even her very pale skin tone.
If you just want to kill two birds with one stone, here's a moisturizer with SPF 30 from MDSolarSciences that writer Lori Keong loves for its pump dispenser, creamy and hydrating finish, and "zillion skin-friendly ingredients": we counted plumping ceramides, soothing aloe vera, antioxidants, and brightening vitamin C among them.