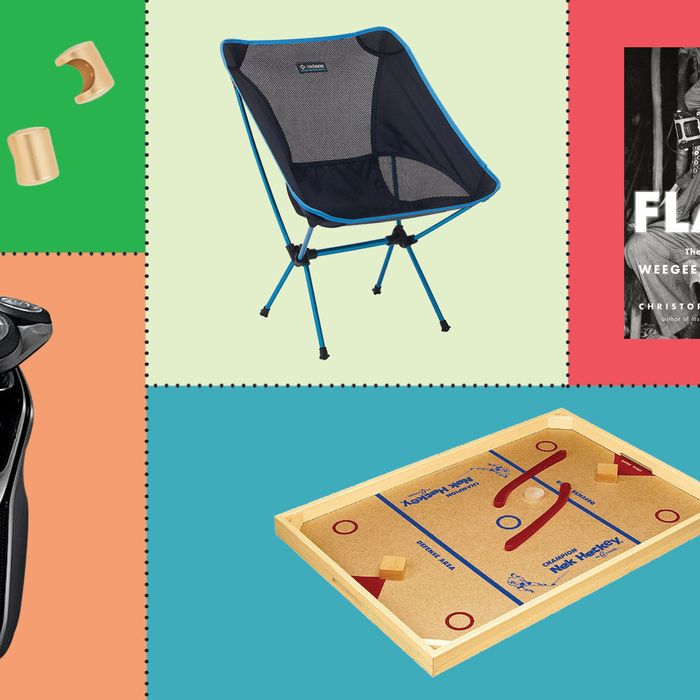 Maybe you need a human touch to your gift recommendations, or maybe your dad was somehow not one of the dad archetypes represented in our Father's Day roundup. In any case, we're here to help, with a list of what we're gifting our own dads that might tickle your (or his) fancy. Here, what the Strategist editors will be gifting this Father's Day.
My dad has gotten really into photography of late — he just got a new camera that he is very excited about — so I plan on getting him New York city editor Chris Bonanos's excellently reviewed new (and first-ever) biography of Weegee.
So I know I said I'd do this last year, but I didn't get around to buying my dad a shaver! After testing a million, this was my favorite. I know my dad needs a new one, so as much as it'd just be easier to just take one of the ones I tested and wrap it in a pretty box, that feels not in keeping with the spirit of Father's Day.
My dad still cannot bear to put a case on his precious new iPhone X, but I was intrigued by the corners Lauren described in her Strat Haul this month. Now he can protect his phone without ruining the aesthetics.
I admit that I forgot we'd be doing a Father's Day what-are-you-buying post, and already dropped in the May editors' haul that I bought a Global G-2 — the chef's knife that we recently crowned as the very best — for my dad. My dad is an exceptional guy and deserves plenty of gifts, so I'll also be getting him these Williams-Sonoma grilling utensils. My dad just retired and moved from Austin to central Oregon. With that move, he, somewhat symbolically in my opinion, sold his cow-size barrel smoker and bought a much smaller one. That doesn't change the fact that some handsome new tools are in order. Like with knife sets, there's no need for a marked-up, bloated set of grilling tools. These three essentials will do the trick.
In my dad's new life as an Oregonian, he's also joined a local conservation group that goes on camping trips. The group does a lot of planting and tending to the earth, and then, judging from the photos, lots of hanging around a campfire, drinking beer, gabbing. If that's the case, he's going to need a good camping chair. I'm partial to this super-svelte one, which has great reviews and no tacky tailgating bells or whistles like personal cupholders. That's what personal ice chests and cozies are for.
My dad reads a lot of history books, as dads do. Specifically, he's a Texas history buff. It's partly what happens when you're born there, go to college there, work on ranches there, and on, and on. But it's also because the state has a uniquely wild history. It's a weird place to love, and be from, especially in light of its current politics. For that exact reason, I'm so excited to get him the new book from Lawrence Wright, who also wrote the definitive book on Scientology, Going Clear. Wright has lived in Texas for ages now, and God Save Texas is a reported and historical look at how — in Wright's estimation — the Texas political landscape foreshadows the politics of the rest of the country. I couldn't have made up a book-jacket description more perfect. At least, for my dad.
My dad works in New York City and bikes everywhere. Like really, everywhere. The other day he told me he had biked 80 miles, on a workday. That kind of commitment takes a toll on your clothes, so I might get him these Rhone Commuter Pants, which are specifically designed for people with active lifestyles, who also need to look work-appropriate.
Editor's note: We did not consult each other, but both Lauren and Alexis picked Flash!
As of late, my dad pretty much exclusively reads biographies. I have a feeling he's going to like Flash: The Making of Weegee the Famous, the definitive biography of the lifelong New Yorker and the ultimate New York City photographer from the '30s and '40s (written by our NYMag co-worker Chris Bonanos). Another thing my dad and Weegee have in common, they both love hot pastrami.
My father is difficult to shop for. He works in the fashion industry, but mostly likes to wear T-shirts he's owned for at least ten years. He loves to golf, but absolutely loathes golf gifts (I know this because he recently said to me: "I absolutely loathe golf gifts"). Every year when Father's Day rolls around, my sister and I panic and comb our memories for times when my father has said, "I wish I had a …" But this method rarely turns up anything, and we generally throw in the towel and get him framed pictures of ourselves.
But this year, the guy threw us a bone. Over Memorial Day, I told him that I'd recently played knock hockey — a game that entails whacking a puck across a wooden board in an attempt to get it through a slot — at my boyfriend's childhood home. And he said, "I LOVE KNOCK HOCKEY." My sister and I looked significantly at one another. She ordered a set off of Amazon that night.
Last year on my dad's birthday, I got him a vintage chore jacket and embroidered my and my sister's initials onto the sleeve. Cute! Except when he (tried to) put it on, the sleeves were really short and it didn't totally close in the front. My nice gift made him feel like he may have put on a couple of pounds! So I may give it a second try. Maybe this one?
My dad has an extensive collection of tennis shoes at home (he's always up on the latest Nike drops), so I briefly thought about getting him a new pair. Instead, I think I'll just help him organize the glut of shoes in my parent's closet with a chic shoe rack. They're hard to come by, but I do love the look of Yamazaki's shoe towers, and I think he'll appreciate it.
For a gummy aficionado like myself, my dad will also be getting a package of Maynard's wine gums — they're a family favorite, but are harder to come by here. If you've never had the pleasure of trying them, they're flavored gummies labeled like wines (so you might find a port or Burgundy), but they have fruity flavors. Black-currant and strawberry flavors are the best, in my humble opinion.
My dad is an outdoorsy dad who spends a lot of time in the woods, and this season, he's been on high alert for ticks. So to give him some peace of mind, I'm planning on gifting him some tick-repellent gear. That includes tick-repellent socks and a tick-repellent bandanna for the family dog, a little bichon frise named Billie Joe who thinks he's a big hunting dog because that's how my dad treats him, because a Lyme disease–free dad is a happy dad.
My father-in-law is a proud member of the cult of the Big Green Egg and has made everything from smoked trout to flatbread pizza on the grill-smoker hybrid. I think he'll love getting more recipe ideas from this cookbook, a favorite of fellow "Eggheads."
The Strategist is designed to surface the most useful, expert recommendations for things to buy across the vast e-commerce landscape. Some of our latest conquests include the best acne treatments, rolling luggage, pillows for side sleepers, natural anxiety remedies, and bath towels. We update links when possible, but note that deals can expire and all prices are subject to change.
Every editorial product is independently selected. If you buy something through our links, New York may earn an affiliate commission.