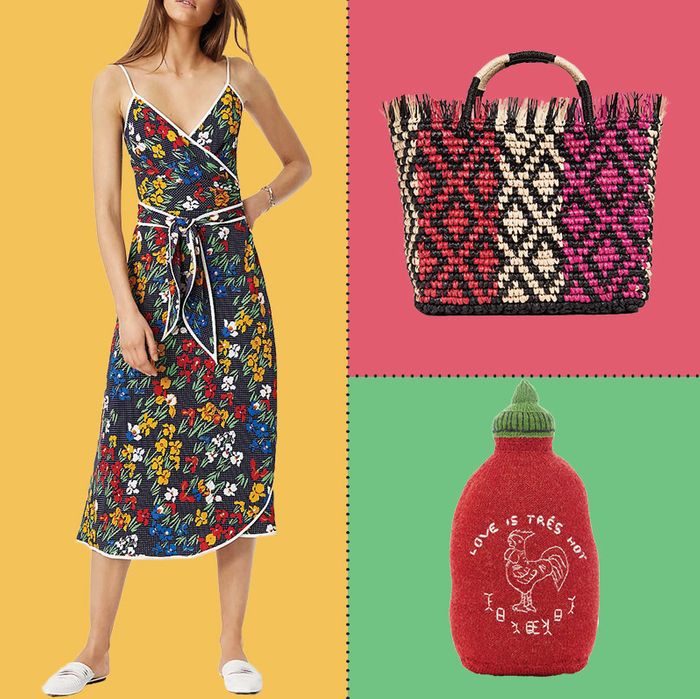 Even though there were tons of massive Memorial Day weekend sales, the discounts keep on coming. And with all the one-piece swimsuits, beach bags, and fancy pool slides that are on sale this week comes the reminder that summer is here, even if it doesn't quite feel like it in New York City. But for that, we also found some rain gear on sale that'll tide you over until the sunshine hits.
The Line's big seasonal sale keeps on delivering; this twist-front tee from Alexander Wang is a fun take on the classic baseball shirt.
Some rarely-on-sale Cire Trudon room spray for when you want the living room to smell like "a sun-baked blend of leather and tobacco inspired by mid-century Havana."
This deep-indigo denim jacket from Acne is perfect for draping over your shoulders on a chilly summer night.
A classic pair of monochromatic Newbs that will, according to the description, help "your off-duty look reach next-level chic."
These metallic mules from Halston Heritage are a whopping 72 percent off.
A pair of goes-with-most-outfits, very-comfortable-seeming Marni sandals.
The classic unicorn and swan pool floats feel very "summer of 2016." Trade up with this eye-shaped float designed by Working Girls. (They make a great boob float, too.)
Duralex makes some of the best drinking glasses around; these blue ones (they also come in pink and yellow) will give your kitchen a subtle pop.
If you can't make it to Europe this summer, this Tocca candle is the next best thing. It's "inspired by the Roman hilltop villas, this scented candle features notes of grapefruit, melon bougainvillea and jasmine."