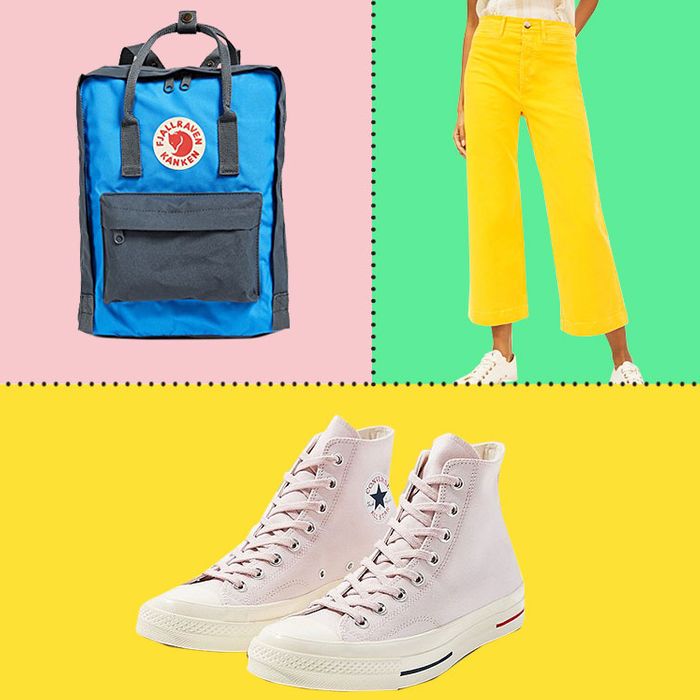 Sales: There are a lot of 'em right now. We found lots of things you'll want to wear now that it's warming up — denim skirts and sneakers — plus a few things that are technically out of season but make a lot of sense to buy now for the savvy shopper (a.k.a. you). Below, the 43 things on sale you'll want to buy, from Longchamp and Diane von Furstenberg to Martin Margiela and Adidas.
Right now, over at Spring, all Levi's sale items are an additional 25 percent off. We are very into this denim kimono — perfect for keeping around the office when the AC is on full blast.
This is a very good price for a classic "ex-boyfriend" jacket.
Levi's famous butt-flattering wedgie jeans.
If you've been meaning to pick up some pale-pink dinnerware.
A goes-with-everything pair of black Vince mules.
A travel bag from Longchamp that you can fold away and store; good for if you're planning on traveling somewhere fun this summer and want to bring back lots of goodies.
Also from Longchamp: a sweet little everyday backpack.
A warm-weather cotton scarf from Isabel Marant that'd look great draped over some shoulders.
This gift set from Lancer, the superexpensive beauty line created by Kim Kardashian West's dermatologist, features the brand's signature Dani Glowing Skin Perfector (which on its own costs $95) and Volume Enhancing Lip Serum (which is usually $42). So already, not on sale, this is a deal, and on sale (like it is now) it's a supergood deal.
These clogs from Coach feature the brand's signature turnlock. (They're also available in tan.)