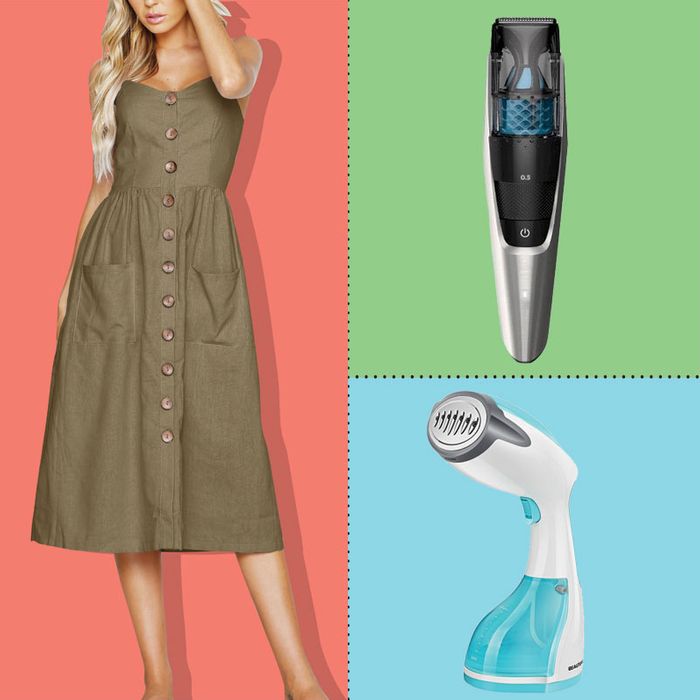 Photo: Courtesy of the Retailers
Welcome back to Your Shopping Cart, wherein we break out the top ten products that you, devoted Strategist readers, all bought in droves. Think of this as the tl;dr of the Strategist: If your like-minded brethren are buying these items, maybe you'd like to, too.
For the second week in a row, tick-repellent clothing spray topped the list, followed by a very Reformation-esque $38 summer dress. Perennial favorite, beauty writer Rio Viera-Newton's pimple-shrinking patches, dropped from second to third place. Lots of you were inspired by our hairless week picks, boosting a hair-collecting vacuum beard trimmer and antioxidant-rich ingrown-hair serum into the top five. Two appliances with rave reviews on Amazon made the list — a powerful handheld vacuum and a handheld garment steamer perfectly sized for travel. High-rise workout leggings, recommended by our senior editor, jumped from tenth to eighth place. Everlane's classic v-neck T-shirt remains at ninth place, and our deputy editor's choice for the most comfortable pillow for side-sleepers rounds out the list at No. 10.